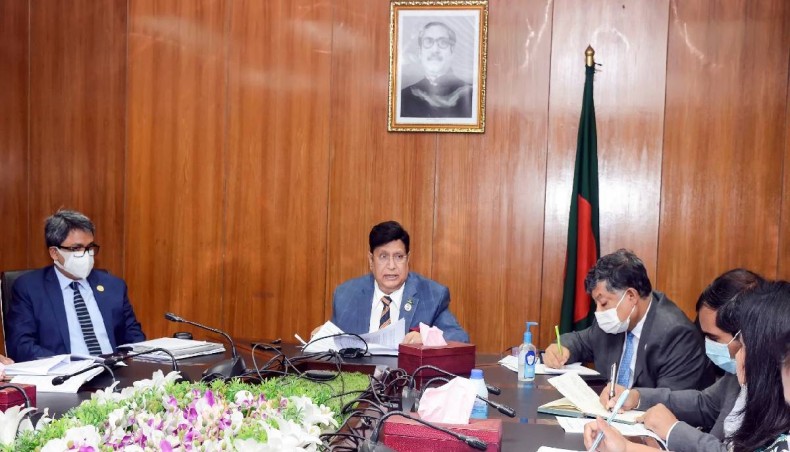 Prime minister Sheikh Hasina will virtually deliver her key speech on September 26 highlighting global issues including Rohingya crisis and vaccine with a call to ensure vaccine for all at an affordable cost.
The pre-recorded speech will be delivered at 8:00pm (Bangladesh time), foreign minister AK Abdul Momen said Monday.
The centre piece of any new General Assembly session is the General Debate which starts on Tuesday, a week after the official opening.
Foreign minister Momen briefed the media virtually on various aspects of the UNGA and Bangladesh's virtual presence. State minister for foreign affairs M Shahriar Alam and foreign secretary Masud Bin Momen were also present.
Like previous years, prime minister Sheikh Hasina will deliver her speech in Bangla.
Momen said the prime minister will highlight vaccine issue so that everyone gets access to vaccine at an affordable price.
She will also highlight steps taken by the government in addressing people's sufferings and protecting them from COVID-19 and the importance of working together to ensure availability of a vaccine for all and end people's sufferings.
Prime minister Hasina will also deliver pre-recorded speeches in a number of programmes.
The first one is scheduled to be delivered at 4:00am on Tuesday at the high-level event to mark the 75th Anniversary of the United Nations.
Sheikh Hasina, like other global leaders, is joining the 75th UN General Assembly rtually due to COVID-19 pandemic. She will also talk about climate change, migration, women empowerment and child rights, exchange of technology and gender balance.
Momen said the prime minister would emphasise that all must work together to address the global challenges.
He said Bangladesh would take up the Rohingya issue in the UNGA like previous years, especially ongoing legal procedures at the International Criminal Court and International Court of Justice.
Bangladesh will raise the Rohingya issue for the fourth time and reiterate the five-point proposals placed by prime minister Sheikh Hasina earlier seeking solution to the crisis.
Momen said he would attend a number of events virtually apart from representing the prime minister in some programmes.
The 75th UNGA session began on September 15 and this year, due to the pandemic, it is unlike any other in the organisation's history.
Momen said this year the UNGA with the theme 'The future we want, the United Nations we need: reaffirming our collective commitment to multilateralism and confronting COVID-19 through effective multilateral action', is a very important one.
Issues related to international community's support, especially development partners, for keeping Sustainable Development Goals implementation unhurt and giving equal attention to overcoming COVID-19 challenges and SDGs will be discussed this year, he said.
In light of World Confidence on Women held in Beijing in 1995, issues like women empowerment, removing gender discrimination and preventing women repression will widely be discussed this year.
The prime minister will attend high-level dialogue on Digital Cooperation: Action Today for Future Generations on September 23. On September 24, she will deliver speech at the high level roundtable on Climate Action and will highlight climate issues as the chair of Climate Vulnerable Forum.
On September 29, the prime minister will virtually attend the high-level event on Financing for Development in the era of COVID-19 and beyond.
On September 30, she will deliver speech at a summit on biodiversity.
The prime minister will also deliver speech at high-level meeting to mark the 25th anniversary of the Fourth World Conference on Women and the adoption of the Beijing Declaration and Platform for action on October 1.
The theme of the event is — Accelerating the Realization of Gender Equality and the Empowerment of all Women and girls.
Momen said he would attend a number of events including high-level plenary meeting to commemorate and promote the International Day for the Total Elimination of Nuclear Weapons.
This month, there will be no bumping into presidents or the occasional global celebrity in hectic and sometimes crushed corridors at UN Headquarters in New York.
There will be no marvelling at seemingly endless presidential motorcades on First Avenue and no 'standing-room only' moments in the gilded General Assembly Hall, as the organisation's busiest time of the year is reimagined in the time of COVID-19.
The General Debate is a globally unique occasion at which presidents and heads of states (or sometimes their deputies or foreign ministers) take to the dais, and address a world audience on an issue of their choosing.
This year, because of the pandemic, the UN said, world leaders will be staying away and have been invited to send in pre-recorded videos of their speeches which will be broadcast 'as live'.
Speeches are expected to be introduced by a New York-based representative of each state, who will be physically present.
Want stories like this in your inbox?
Sign up to exclusive daily email
More Stories from Foreign affairs