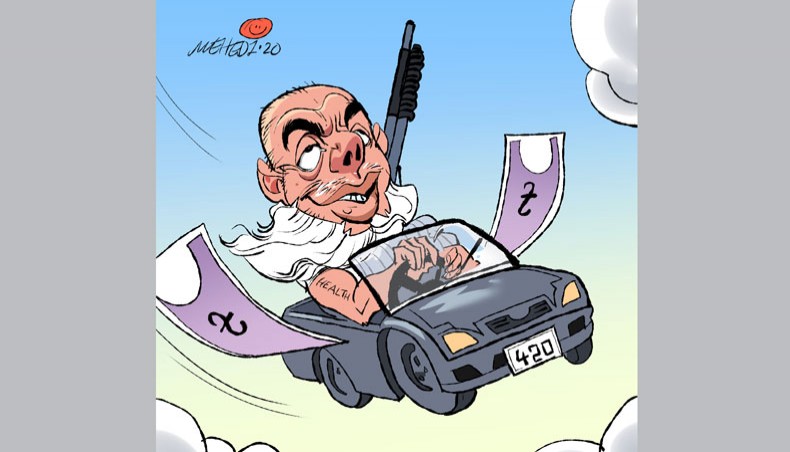 A Dhaka court on Monday placed Directorate General of Health Services driver Abdul Malek on a 14-day remand in two cases lodged over the recovery of illegal weapon and fake notes.
Malek was suspended by the DGHS later on the day.
'He was suspended as the allegations of corruption have surfaced against him. He will either be terminated or relieved from suspension depending on the investigation into the cases he is accused,' said DGHS director (admin) Hasan Imam.
Unlawful lobbying for officials and staff at different levels of the DGHS was the main source of income of the arrested driver Malek.
He has been instrumental in ensuring recruitments of hundreds of officers and staff at the DGHS since 2009 and some top officers at the department were linked to the process benefiting financially, said RAB officers.
Meanwhile, police produced the accused before the court and pleaded for a 14-day remand in custody in the cases lodged with Turag police station.
Malek's lawyer opposed the remand prayer and pleaded for his bail. However, after hearing both the sides, Dhaka metropolitan magistrate Shahidul Islam rejected the bail prayer and placed Malek on a seven-day remand in each case.
The Rapid Action Battalion earlier filed two cases against driver Malek for his alleged involvement in trading of illegal firearms and fake currencies.
RAB-1 director Lieutenant Colonel Shafi Ullah Bulbul said that the battalion lodged the cases with the Turag police on Monday morning under the firearms and special power act.
The law enforcement agency arrested Malek in Dhaka's Turag area on early Sunday.
They also recovered a foreign-made pistol, a magazine, five bullets, and counterfeit notes worth of Tk 1.50 lakh from him.
A Class-III employee of the DGHS, Malek, accumulated wealth worth of crores of taka through illegal activities, RAB officials said.
RAB officials also added that he was appointed as master roll staff in 1982 and was promoted to Class-III four years later.
His rise has been related to the clout he built up and wealth he accumulated over the years since 2009, when he started driving the car of then director general of the DGHS Professor Shah Munir Hossain.
Malek successfully lobbied for the appointments of over 100 assistant directors of health at upazila level and he cashed in on them earning several crores.
Shah Munir was also financial beneficiary of Malek's successful lobbying, said RAB investigator who preferred anonymity.
At that time, AHM Enayet Hussain, DG for health education, was also linked with the recruitment irregularities, said the investigator.
Malek was the driver of at least three director generals of the DGHS in different times since the Awami League's first tenure in 1996, said DGSH officials.
He made wealth cashing in on the position of driver of top officials by syndicating appointment and purchase at the DGHS.
He has reportedly 27 close relatives in different positions at the DGHS now.
Malek has been maintaining good relations with BMA president Mustafa Jalal Mohiuddin and Swadhinata Chikitsak Parishad chief professor Iqbal Arsalan.
He has been using their clout in manipulating the recruitment process and they have been receiving illicit financial benefits from Makel, too, said RAB officers, who quizzed Malek after the arrest.
Malek, who earns less than 40,000 per month as salary, owns three multi-storey buildings in the capital, 24 flats, a dairy frim, and some more properties worth more than Tk 100 crore, said RAB legal and media wing director Ashique Billah.
Malek's family however denied the allegations, saying that RAB officers provided false and exaggerated information about their properties and wealth.
Naznin Sultana, Malek's daughter, said that they own only a seven-storey building in Kamarpara area of Turag which was built with Tk 70 lakh loans from a bank.
'The 10-storey under construction building in Hatirpool area and dairy firm is my father's ancestral properties,' she claimed, adding that her father was not involved in any corruption and the RAB charged him falsely with firearms and fake currency cases.
DGHS officials told New Age that Malek was appointed in the last days of 96's Awami League government as the driver of a DGHS official, who later became health adviser to the prime minister.
Malek was then the driver of another DG Shah Monir Hossain, also a confidante of the ex-advisor.
Being the driver of the DG, he became the leader of the drivers' association and the third and fourth-tier employees association of the DGHS.
He also made a nexus with top doctors, including the leaders of Bangladesh Medical Association.
After the AL government returned to power in 2009, he became the driver of another DG Khandakar Shefayet Ullah.
Malek is now the driver of Medical Education wing DG AHM Enayet Hossain.
But officials said that having secured the position of the president of the drivers' association, he became so powerful that he did not only drive the car of Enayet, rather he started using his car for his personal use.
Although he was now in deputation in the medical education wing, he extended his influence to the DGHS' health services wing.
The office assistants and personal assistants of DGHS' top officials are followers of Malek, an official said, adding that he took the advantage of getting information about all appointments and procurements in the DGHS due to close links with the office assistants and personal assistants.
Talking to reporters, Enayet Hossain said that he was not aware of Malek's involvement in corruption though he was also his driver when he was the additional director general of the health services wing of the DGHS.
'I was not involved in any job appointment and procurement during the time he worked as my driver,' he said.
When approached, another former DG Shah Munir told New Age that he was not aware of any corporation of the driver Malek.
'He (Malek) was my driver. This is it. I was not part of any corruption during my tenure from 2009 to 2010. There were concerned committees who locked all appointments and deals after the requirement process,' said Munir.
Mustafa Jalal Mohiuddin said that he personally knew driver Malek, but denied any involvement in corruption, while Iqbal Arsalan's cell phone was found switched off.
Health secretary Abdul Mannan said on Monday that none will be spared if found involved in corruption.
'Many more such arrests [like that of Malek] will happen soon,' he said.
Meanwhile, the Anti-Corruption Commission has sought wealth statements from 12 employees involved in the health sector, including driver Malek's, and from their family members on the allegation of accumulating wealth beyond their known sources of income.
Earlier on October last year, ACC also summoned Malek for quizzing for his involvement in money laundering and illegal earning.
Want stories like this in your inbox?
Sign up to exclusive daily email
More Stories from Country