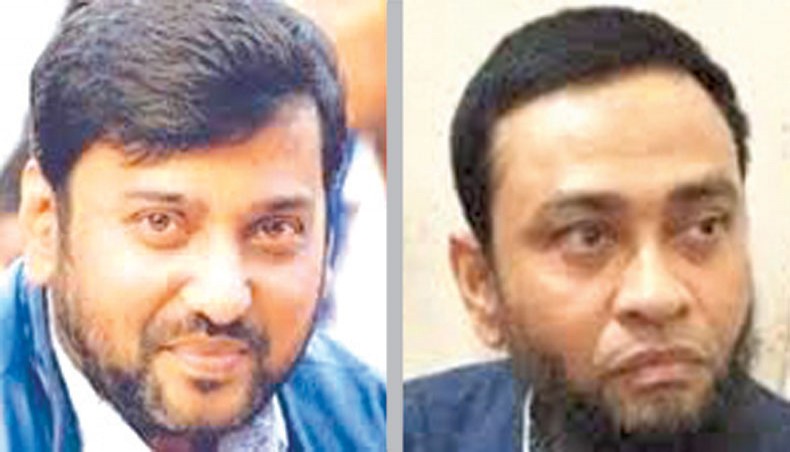 Two separate investigations by the Anti-Corruption Commission have found that the expelled Juba League leader Ismail Hossain Chowdhury Samrat and suspended health department employee Abzal Hossain siphoned huge amounts to countries abroad, including Australia, Canada, Singapore and Malaysia.
Of them, expelled JL Dhaka City South Unit president Samrat laundered about Tk 227 crore to banks in Singapore and Malaysia, said an ACC director general.
The commission investigation also found that the Directorate General of Health Services' suspended accountant Abzal and his wife Rubina Khanam laundered about Tk 40 crore by transferring the amount to Australia, Canada and Malaysia, said the commission official.
He said that ACC deputy director Jahangir Alam was investigating the allegation against Samrat and deputy director Towfiqul Islam proving allegations against Abzal-Rubina couple.
According to the commission findings, Samrat laundered the amount between 2011 and 2019 while Abzal and his wife have been using 20 bank accounts in three countries.
Secretary M Dilwar Bakth told New Age that the commission investigators detected huge illegal wealth accumulation and money laundering evidences against the accused.
Refusing to share details about the ongoing investigations, he said that the commission was now working on ways to confiscate the illegal wealth and bring back the laundered money.
ACC officials said that the commission would send Mutual Legal Assistant Requests to the countries concerned as all four countries are signatories of United Nations Convention against Corruption.
The United Nations Convention against Corruption is the only legally binding international anti-corruption multilateral treaty.
The ACC on Sunday ended a seven-day interrogation of Abzal in a case while it was set to begin another seven-day remand in another case, said ACC director for public relations Pranab Kumar Bhattacharjee.
On September 13, the commission started questioning Abzal Hossain after a court had allowed the investigators 14 days to quiz him under ACC custody in two cases filed on charges of amassing illegal wealth and money laundering.
Earlier on August 26, the court sent Abzal to jail after he surrendered before it and sought bails.
On June 27, 2019, the commission deputy director M Towfiqul Islam filed the two cases with the ACC integrated district office of Dhaka-1, against Abzal and Rubina.
One of the cases was filed against Abzal and Rubiha on charges of laundering Tk 263,76,81,175 and concealing information of wealth worth Tk 5,90,28,926 and amassing wealth worth Tk 1,51,23,044 beyond any known sources of income.
The other case was filed against Abzal on charges of laundering Tk 20,74,32,032.12, concealing information of wealth worth about Tk 2,01,19,785 and amassing wealth worth about Tk 4,79,34,449 beyond the known sources of income.
On September 13, the Criminal Investigation Department of Police filed a case against Samrat on the charge of laundering at least Tk 195 crore to Malaysia and Singapore.
Earlier on August 25, ACC investigator Jahangir interrogated Samrat at Bangabandhu Sheikh Mujib Medical University on the charge of accumulating illegal wealth.
On November 12, 2019, the commission filed a case against Samrat on the charge of amassing illegal wealth worth Tk 2.94 crore.
Samrat came under the spotlight after the RAB busted his illegal casino business at different sports clubs in Dhaka.
On September 30, 2019, the commission launched inquiries to detect the illegal wealth of the people involved in unauthorised casino operations and other illegal businesses.
Want stories like this in your inbox?
Sign up to exclusive daily email
More Stories from Country