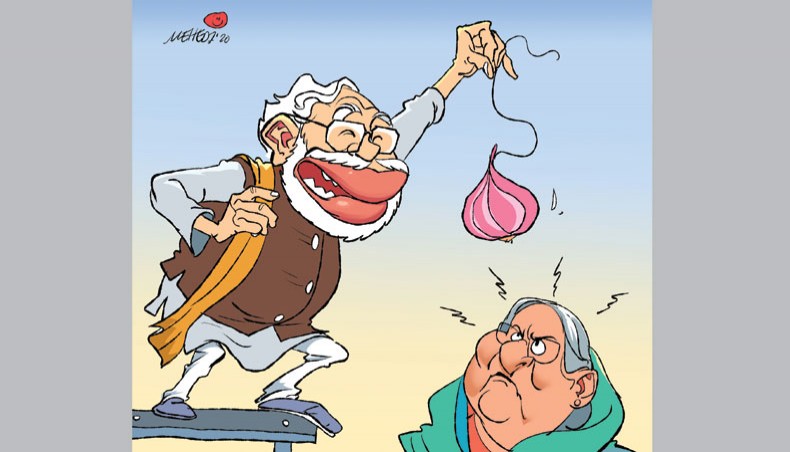 Indian authorities on Sunday once again stopped releasing onion to Bangladesh for the decision from the central government was still pending, importers said.
Importers also added that although India released some shipments of onion on Saturday to Bangladesh, no trucks with the commodity entered Bangladesh through land ports on Sunday for lack of fresh orders from the central government.
The Indian customs released onions which were supposed to enter Bangladesh on September 14, but they did not get any instruction from their government to allow any new consignments of the perishable commodity while truckload of it sat rotting for the last five days, they said.
Earlier, commerce ministry officials said that India agreed to allow 25,000 tonnes of onion for which the LCs were opened before imposing an export ban but Indian customs did not release any trucks of onion on Sunday.
According to the traders nearly 1,200 tonnes of onion entered Bangladesh through land ports on Saturday but more than 30 per cent of the product got rotten as the perishable item remained stuck at the land ports for five days.
Md Nasir, one of the Customs Clearing and Forwarding Agents at Bhomra land port told New Age that Indian authorities allowed trucks with onion entering Bangladesh on Saturday, September 19, which were supposed to enter on September 14.
He said that fresh approval from Indian government would be needed for releasing new consignments and it might be issued today.
Bangladesh deputy high commissioner in Kolkata Toufique Hasan told New Age on Sunday evening that they were in touch with the Indian authorities to make movement of the stranded onion-laden trucks smooth. 'We will continue to pursue the matter,' he said.
Traders said that both wholesale and retail prices of onion decreased by Tk 5-10 a kilogram in the city markets on Sunday as India released onion-laden trucks after four days since issuing a notification of the onion export ban on September 14.
They said that onions imported from Myanmar also started to hit the market and the price of the commodity decreased slightly due to the fresh supplies.
In a notification on Monday, the Directorate General of Foreign Trade, under the commerce ministry of India, prohibited the export of all varieties of onions until further notice.
Following the notification Indian customs officials stopped more than 600 trucks of onions at several land ports.
The price of onion shot up to Tk 120 a kg from Tk 70 a kg in the city markets on Tuesday.
The wholesale price of local onion was Tk 70 a kg while the imported item was selling at Tk 55-60 a kg at Shyambazar on Sunday.
The local onion was retailing for Tk 80-90 a kg while imported items were retailing for Tk 70-80 a kg on the day.
Meanwhile, commerce minister Tipu Munshi on Sunday launched online sales of onion at Tk 36 a kg for consumers in Dhaka and Chattogram city.
He said that a portion of onion procured by the Trading Corporation of Bangladesh would be sold through online platforms.
The minister said that both the TCB and private sector business would import huge quantities of onion from alternative sources and no shortage of the item would be experienced in the market.
Want stories like this in your inbox?
Sign up to exclusive daily email
More Stories from Trade & Commerce