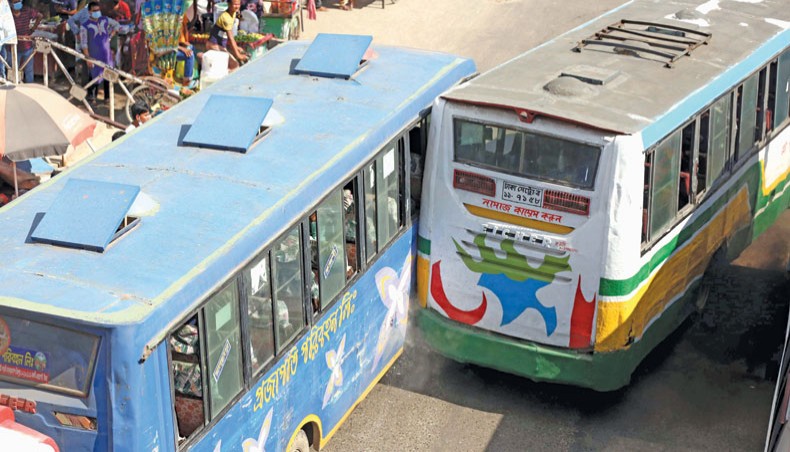 Chaos has come back to the Dhaka city roads in all forms after a pause following the recent countrywide lockdown imposed to contain the coronavirus outbreak.
Violation of traffic rules, including reckless driving, illegal parking and movement of illegal vehicles, has again become normal and even increased, observed experts.
City service buses are seen in fierce competition as both owners and drivers are trying to make up their losses they incurred during the lockdown, they added.
On city roads, the number of smaller vehicles, especially motorcycles and rickshaws, has increased after the lockdown, they went on.
Illegal vehicles like battery-powered rickshaws are seen running on main roads along with motorised vehicles like buses putting the lives of passengers at risk.
The tendency towards illegal parking on roads too has increased in different areas of the city.
On March 26, the government imposed a ban on the movement of all road public transports to ensure social distancing amid the COVID-19 outbreak.
On June 1, the authorities allowed buses and minibuses across the country to run at their 50per cent capacity and finally, since September 1, the government has allowed the bus operators to go back to normal services by withdrawing increased fare and the restriction on the number of passengers.
Currently, buses are seen to run recklessly on most of the major city roads, including Kazi Nazrul Islam Avenue, Mirpur Road, Shaheed Tajuddin Ahmed Avenue, DIT Road, Atish Deepankar Road and Satmasjid Road.
Drivers try to block the paths of other buses – even of the same company – not to let them go first.
Dhaka Metropolitan Police traffic division additional commissioner Abdur Razzaq on Saturday shared with New Age an experience in this regard.
'A few days ago I saw a bus driver blocking another bus of the same company on an empty road,' he said.
When I asked the drivers why they were doing this they said that they would get more money if they completed more trips, the DMP traffic official said.
He said that he had already talked to the transport leaders to appoint the drivers and give them monthly salaries.
'Only then such competition among buses and the tendency to block other buses will go away,' he viewed.
As the movement of battery-run rickshaws has significantly gone up in the capital the Dhaka South City Corporation mayor Sheikh Fazle Noor Taposh on September 13 announced that legal actions would be taken against all battery-powered rickshaws and rickshaw-vans.
But still these illegal vehicles run on roads in front of law enforcement agency members.
In Dhanmondi, Rampura, Khilgaon, Farmgate and Mirpur areas, countless battery-powered rickshaws are seen not only running on lanes and by-lanes but also on main roads.
Illegal parking has become a common scene on roads in Dhanmondi, Hatirpool and Farmgate areas.
Bangladesh University of Engineering and Technology's Accident Research Institute assistant professor Kazi Md Shifun Newaz told New Age that after the lockdown bus owners and workers became desperate to make up their losses.
The unhealthy competition among buses has increased on roads for this reason, he said.
'The number of small vehicles, especially motorcycles, has also increased on roads after the lockdown,' he pointed out.
Shifun said that the authorities should have taken some measures like creating bicycle lanes in Dhaka during the lockdown as a remedy for traffic congestion after the lockdown.
Passenger Welfare Association of Bangladesh secretary general Mozammel Haque Chowdhury said that if the government fully enforced the Road Transport Act 2018 the disorder on roads would not have come back.
'Again we see fierce competition among buses and parking everywhere on roads,' he said and added that without coordination among the transport owners, the workers and the authorities the disorder would continue.
Bangladesh Road Transport Owners' Association secretary general Khandaker Enayet Ullah said that they always asked the drivers to follow the rules and reminded this in regular meetings.
Police and Bangladesh Road Transport Authority executive magistrates filed cases and fined errant drivers regularly, he added.
Currently, DMP additional commissioner Abdur Razzaq said, over 4,.000 traffic police members are deployed in the capital and each month they file around 10,000 cases for violation of traffic rules.
He said that earlier they took frequent action against illegal parking by using wreckers while in recent times they reduced the frequency of this action considering the comfort of the people.
In coordination with the city corporation authorities, they were trying to designate some parking spots on the roads but most people were not habituated with this system, he said.
Razzaq also pointed out that because of the ongoing work of some mega projects like the Metro Rail and the bus rapid transits road users were also facing difficulties on roads.
A senior DMP traffic division official said that they faced difficulties to seize any vehicle due to lack of dumping stations in the capital.
Want stories like this in your inbox?
Sign up to exclusive daily email
More Stories from Country