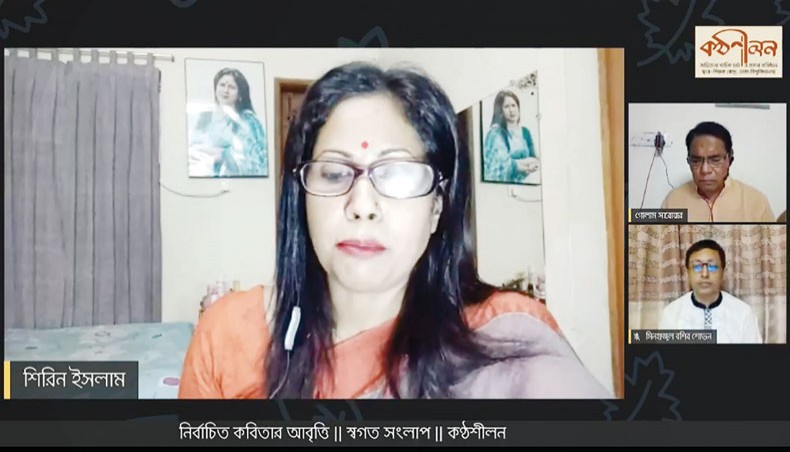 Recitation artistes of Kanthashilan entertained the audience presenting poems penned by leading poets in an online recitation show held on Saturday.
The programme, titled 'Swagata Sanglap', was organised by Kanthashilan. It was streamed live on the Facebook page of the troupe at 8:30 pm.
Recitation artistes namely Narottam Halder, Afrin Khan, Sohel Rana, Nibir Rahman, Shirin Islam, Minhazul Bashir, Raisul Islam and others participated in the programme, which was hosted by Kanthashilan president and renowned recitation artiste Golam Sarwar.
Narottam Halder commenced the programme reciting Nobel laureate Rabindranath Tagore's poem 'Ami'.
Afrin Khan recited Rasel Ashiki's poem 'Kabijanmo' and Monika Sengupta's 'Tin Kanya'.
Sohel Rana recited Sajanikanta Das's poem 'Sonar Pathorbati', Anisul Hoque's 'Manush Jagbe Kobe', Samrat Mukhopadhyay's 'Humapakhir Chana' and others.
Nibir Rahman recited Sukumar Roy's poem 'Shabdo Kalpa Drum', Tarapada Roy's 'Matal'.
Minhazul Bashir recited Shamsur Rahman's 'Kabitar Asor' and Nirendranath Chakraborty's 'Highway'.
'This was the second virtual show arranged by Kanthashilan under the title Swagata Sanglap. We have been arranging this programme to provide a platform to the recitation artistes. We have received huge response from the audience. I urge everyone to follow our programme regularly,' said Golam Sarwar.
Want stories like this in your inbox?
Sign up to exclusive daily email
More Stories from Literature