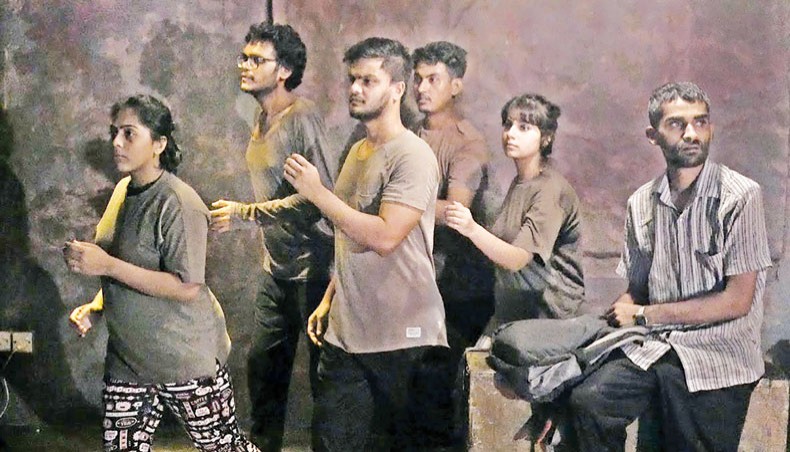 Theatre troupe Prachyanaut staged 'Hundred by Hundred', a theatre production portraying the plight of garment workers amid COVID-19 outbreak, at its rehearsal room in the capital's Katabon on Friday and Saturday.
The play was staged on the third week of Prachyanaut's month-long theatre festival, titled 'Mahala Magan', a press release said.
Mahala Magan is featuring five plays by Prachyanaut. The festival commenced on September 4 with the play 'The Zoo Story'.
The plays are staged twice a week on Friday and Saturday at 7:15 pm, and not more 20 spectators are allowed per show. The ticket price per person is Tk 200.
Hundred by Hundred has been written and directed by Saiful Journal. It revolves around a garment worker named Saju.
The play follows sufferings of Saju during the government announced general holiday which was announced on March 26 to contain the spread of COVID-19. The general holiday was not extended after May 30.
Besides, the play also highlights how the garment workers were harassed by the influential and powerful garment owners during the general holiday.
Tanjikun, Faisal Kabir Sadi, Ariful Islam Rubel, Faisal Ibn Mizan, Priyadarshini, Adrija Amin and others have acted in the play.
'Hundred by Hundred is a 30-minute play. It has received huge response from the audience. We premiered it on Friday and staged two shows of the play on Saturday,' Kazi Taufiqul Islam Emon, executive director of Prachyanaut, told New Age.
After the shows, a psychology seminar titled 'Mono Samajik Bishleshon O Bartaman' was held at the venue on Friday and Saturday. Professor Salauddin Kawser and Nasir Uddin Ahmed were present as discussants.
Prachyanaut will stage 'Colonel Ke Keu Chithi Lekhe Na', a theatrical adaptation of a novel by Gabriel García Márquez, on September 25 and 26, and, 'Faust Athoba Anya Keu', based on Johann Wolfgang von Goethe's 'Faust', will be staged on October 2 and 3.
Want stories like this in your inbox?
Sign up to exclusive daily email
More Stories from Theatre