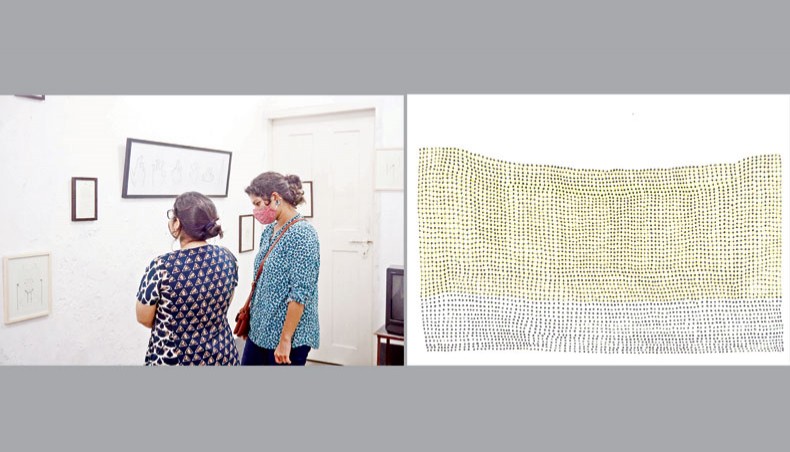 Artist Nabil Rahman has taken water as his point of entry into the world we inhabit and world that lies beyond our lived experience. In his ongoing solo titled 'Water Bodies' at Studio 6/6 in Mohammadpur, the artist seems to have taken the liberty to tackle the theme of water — found in nature and in human body and in many other places — by exploring abstract patterns and mark making akin to that of the sages of the olden times.
The 20-day exhibition, which commenced on September 7, features a total of 65 artworks including photographs, paintings, installations and a video art.
The artworks have been created using mediums like graph paper, watercolour, ink, pen, pencil, mixed media and others which address the relationship of the magic fluid with human bodies, society, nature, landscapes, turns them into patters created by mathematical figures and geometric forms. Together they form a whole to put forth a response, instead of a narrative, on and around what some refer to as the 'primordial' element of nature — water.
'This is my second solo show which I have cast around water, seen as the initial source of all the nature in this universe. Water has the ability to effect a change in all things — it is ultimate shape of natural sculpture. It also has the ability to change human behaviour,' said Nabil Rahman.
The show is an extension what the artist did in a residency.
'I displayed "Water Bodies", a series of sculptures, during my two-month residency at Bellas Artes Projects in Bataan, Philippines. Most of the works were produced during the early months of COVID-19 lockdown as part of my regular practice,' added Nabil.
'I have put my observations and thoughts into these works. I want to depict the complex relationships of water associated with the circulatory movement of blood and other fluids inside the human body and how water is also the most important element that went into the creation and nature, including landscape, the sky, etc. In a vessel, water takes the shape of the vessel. It can change shape or be formless like a river disappearing into the sea. Water can cross over, unite or even separate,' added Rahman.
To mention a few works, a painting on grid sheets organises the written numerals in a manner so that they express something about time and its relation with water. The use of coloured pens to create a pattern that expresses the rhythms of human life, reminds one of tantric images, where number and colour assume a meaning only the initiated would be able to understand.
References to nature abound in this show. An untitled black and white photograph shows trees, sky and a building seeking express a harmony between built environment and nature.
A painting on paper shows a red colour circle in the middle while in the middle of the circle a pyramid is drawn. Circles and the triangles too are used in tantric visuals and to enjoy Nabil's works his personal intention and the memory of the already established mystic languages together helps the viewer who would attempt to parse their meaning.
A particularly interesting watercolour painting shows how circles, when overlap create smaller units of various predictable and unpredictable shapes. Though it seems like a pattern at first, drawn using like black, green, red, yellow and white, the work actually portrays the different stages of human life including birth to death.
An untitled video work screened in a CRT TV shows the relationship between human body and water.
'This is our first exhibition of Studio 6/6 after the long vacation of COVID-19. The last exhibition was held in January, which was a group show. However, we have been holding the exhibition following health directives,' Ronni Ahmmed, curator of the exhibition told New Age.
The exhibition will remain open till September 27.
Want stories like this in your inbox?
Sign up to exclusive daily email
More Stories from Exhibition