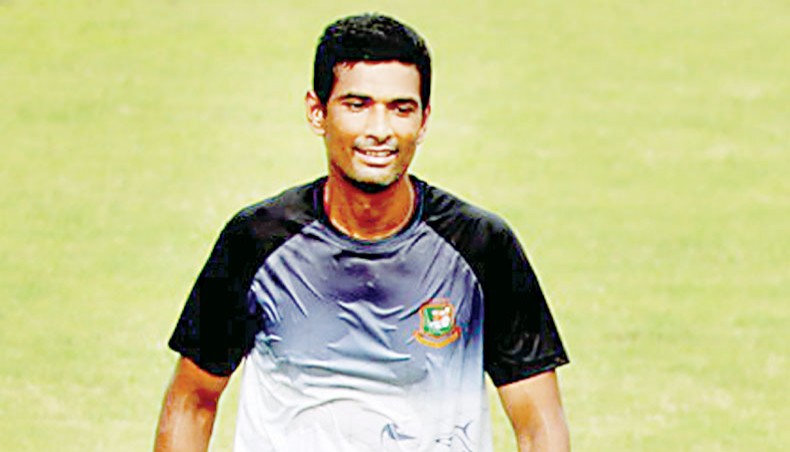 Bangladesh Twenty20 skipper Mahmudullah on Sunday was glad to once again train alongside his team-mates in their first group training session since the pandemic began and hoped that training collectively will bring more intensity in their preparation.
After training individually for a number of weeks, 27 players, selected by the Bangladesh Cricket Board, began training collectively at the Sher-e-Bangla National Cricket Stadium on Sunday.
BCB tested all 27 players for the virus before putting them together in a bio-security bubble where they will be kept secluded from any outside contact.
Mahmudullah felt energised by training alongside his team-mates for the first time in months and believed the team will hugely benefit by training together.
'After so many days, we have started team training from today [Sunday] at Mirpur. After the individual training, now we can start team practice which is good. Now we are working together with our teammates. Everyone, including me, is cheered up,' Mahmudullah told reporters after the first day's training.
'Because end of the day, it's a team game and if we train together and enjoy each other's company. It will be more effective for the team and for me as well,' said the all-rounder.
Mahmudullah, a former Test skipper for Bangladesh, is currently trying to find his way back into the Tiger's Test setup after getting dropped from the national red ball contract due to his dismal performance in longer version cricket.
After the Test match in Rawalpindi against Pakistan, it was reported that head coach Russel Domingo advised him to focus more on white-ball cricket, which was reflected by his axing from the national Test contract.
But the pandemic situation has handed him a chance to earn his place back in the Test squad as he was drafted in the primary squad for Sri Lanka tour.
The all-rounder told the media that he worked very hard during the lockdown days to improve his fitness and worked on his batting skill during the individual training sessions.
'I tried to get some benefit out of the lock-down period. I tried to improve my fitness. I spent a lot of time in tread-mill. I got the guideline from the physio and the trainer; I used to talk to them in every three-four days. We talked about what else I can do to improve. I got good results from their suggestions,' Mahmudullah said.
'Since I started individual training, I did batting practice for four-five weeks. I have to work on some personal issues. I talked to the batting coach, with his instructions I did what was needed to be done in front of the bowling machine,' he added.
Want stories like this in your inbox?
Sign up to exclusive daily email
More Stories from Cricket