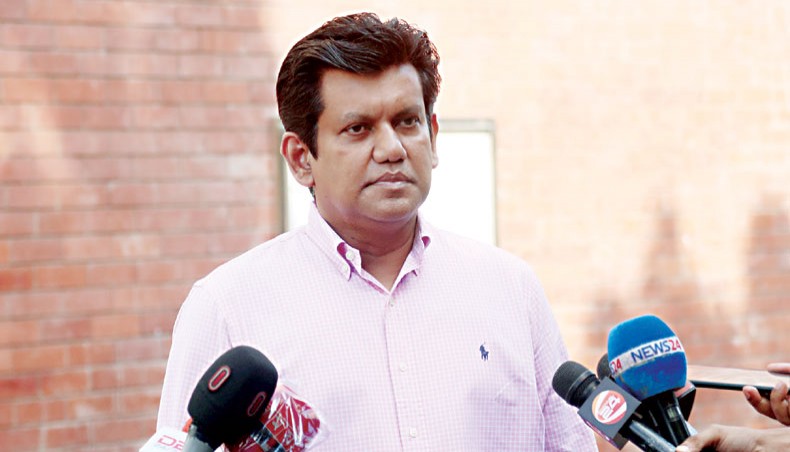 Bangladesh Cricket Board is expecting to receive a revised health protocol soon from Sri Lanka Cricket for their upcoming series, said BCB chief executive officer Nizamuddin Chowdhury.
Earlier, BCB expressed its disagreement with the proposal provided by SLC which contained two weeks strict isolation where the players were not allowed to train or even get out of the hotel room for food.
After the refusal from BCB, their Sri Lankan counterparts knocked few doors in high places and received positive responses which made the BCB CEO hopeful.
'You all know that we have given our statement, the discussion did not continue after that. So far SLC has informed us that it has presented our points to their concerned authorities and it was received positively. We hope that in one or two days, we will receive the new health protocol,' Nizamuddin said on Saturday.
BCB president Nazmul Hasan was very vocal about the lack practice facilities and logistical support proposed by SLC but Nizamuddin said that they will look into other issues after the health protocol is sorted.
'Actually we did not demand [practice in Dambula], we discussed it. Out of few alternatives, we preferred Dambula. Things will this will be discussed after we agree upon the health protocol. I think once we agree about the new health protocol, these things will not be an issue,' he said.
Nizamuddin also said that the board is thinking about alternatives for batting consultant Craig McMillan and want spin coach Daniel Vettori to return to Dhaka soon.
'Craig said that at this moment he is not mentally ready to take up the job as he lost his father. That's why he can't take the charge in this series. It's too early to take any decision but we have to look for alternative as we want a batting consultant to work with the national team real soon.
'About Vettori, we told him to come to Bangladesh first as it is very difficult to go to Colombo directly. We can work out the details after we get the health protocol.'
Want stories like this in your inbox?
Sign up to exclusive daily email
More Stories from Cricket