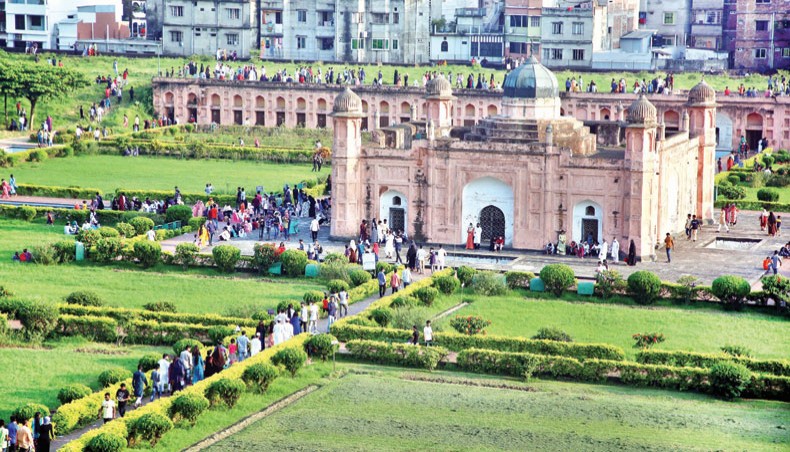 Crowd of visitors is increasing at heritage tourist sites in Dhaka and elsewhere in the country gradually as the government reopened them on Wednesday after six months of shutdown amid coronavirus pandemic.
The Department of Archaeology reopened all the 21 museums and 518 heritage sites across the country following the cultural affairs ministry's permission.
However, the National Museum, the Liberation War Museum at Suhrawardy Udyan and Ahsan Manjil were not opened yet as they run under separate authorities.
Visitors welcomed the move and demanded strict maintenance of health guidelines.
Md Hannan Mia, director general of the DoA told New Age that all the sites were getting crowded gradually but the sites in Dhaka becoming crowded rapidly with huge number of visitors.
He said that the authorities had ensured hand washing or sanitising facilities for all, but couldn't ensure maintenance of social distancing in the sites.
'We do not impose law because people visit sites for recreation, so we are requesting people to follow health guidelines,' he said.
The heritage sites of Bangladesh remained closed since the end of March, soon after coronavirus hit the country as the government had declared public holiday.
During visits to Lalbagh Fort, the 17th-century Mughal fort complex in Dhaka's Lalbagh, several hundred visitors were seen on Saturday afternoon.
A long queue of visitors was seen at the entrance of the fort where many people including children and elderly people went to take a breath there after the lockdown.
Arifur Rahman, a private university student, went to visit the fort with his friend from his resident at Lalmatia.
Arif said that he was happy with the authorities' health measures at the entrance, but people spitted haphazardly inside the fort which the authority should disinfect on regular basis.
Abdul Hannan, an employee of a non-government organisation in Dhaka came to the fort with his three children and wife to pass a leisure time.
'For last six months we were captive in the house due to COVID-19,' he said, adding that he was compelled to go there at the children's request.
Dhaka's historical Lalbagh Fort's custodian Halima Afroz said that seven foreign visitors have visited the spot since the heritage site reopened while over 7,000 people visited the fort.
'A total of 5,609 people visited Lalbagh Fort on Friday which is only one-third of the usual weekend visitors,' she said.
She said that several hundred others phoned them to be sure whether the fort was open or not.
Razia Sultana, custodian of Bogura's Mahasthangarh, one of the earliest archaeological sites so far discovered in Bangladesh, said that 1,480 people visited the Pundranagara on Friday.
Usually 2,500 people on average visit the site daily, she said.
Visitors said that authority spray disinfectants on hands at the entrance and advocate for wearing mask.
Want stories like this in your inbox?
Sign up to exclusive daily email
More Stories from Country