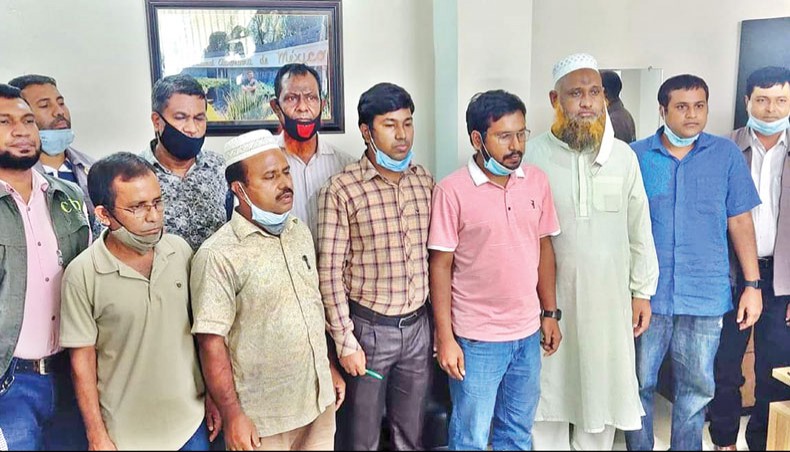 A Narayanganj court on Saturday placed eight suspended officials and workers of Titas Gas on a two-day remand hours after their arrest on charge of negligence in repairing gas leaks that led to a blast in a Narayanganj mosque killing 33 people.
Narayanganj senior judicial magistrate Kawsar Alam granted the remand plea of the Criminal Investigation Department, which is investigating the blast.
CID investigators took the officials and workers of the Titas Gas Transmission and Distribution Company into their custody on Saturday evening following the court order.
Earlier on the day, the CID arrested Titas manager Mohammad Sirajul Islam, deputy manager Mahmudur Rahman Rabbi, assistant engineers SM Hasan Shahriar and Manik Miah, supervisor Monibur Rahman Chowdhury, senior developer Ayub Ali, assistant Hanif Miah, and worker Ismail Prodhan.
Two more burn victims of the mosque blast died at Sheikh Hasina National Institute of Burn and Plastic Surgery in Dhaka on Saturday, taking the death toll to 33 in the blast that took place at Baitus Salat Jame Masjid of Paschim Talla in Narayanganj on September 4.
The deceased are Abdul Aziz, 40, and Md Farid, 50.
Both the victims had sustained around 50 per cent burns in their bodies, said Partha Sankar Pal, residential surgeon of the institute.
He said three more victims were in critical condition in the hospital's ICU.
CID deputy inspector general Mainul Hasan told New Age that they had arrested the Titas officials and workers from their residences after a primary investigation.
On September 7, Titas authorities suspended them for their alleged negligence in performing duties.
Mainul said that the mosque committee and local people had earlier lodged complaint with the Titas officials about the gas leaks near the mosque, but they did not pay any attention.
The mosque management committee also complained that Titas officials demanded Tk 50,000 in bribe when the committee approached them, CID officials said.
The Titas officials did not repair the leaks as the committee failed to pay the money, they said,
After the blast, TItas found at least six leaks in the gas supply lines adjacent to the mosque.
Titas, however, denied their responsibilities in the blast after its own investigation.
It blamed two household consumers and the mosque authorities for the gas leaks.
'The leaks were the results of damage caused to Titas' underground gas distribution line during the construction of the mosque,' said its general manager Abdul Ohab, head of the Titas investigation committee, at a press briefing at the power, energy and mineral resources ministry on Thursday.
Want stories like this in your inbox?
Sign up to exclusive daily email
More Stories from Country