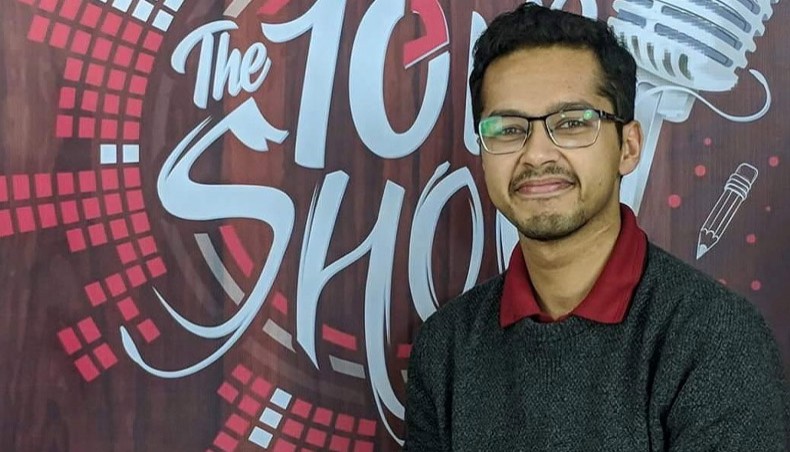 Seeam Shahid Noor is pursuing a bachelor's in applied mathematics and neuroscience at Harvard University. He has also lead business data science team for a Fortune 50 company. Besides, Noor is running a student career mentoring platform for Bangladeshi students and has been encouraging, helping and facilitating higher studies for thousands of youths, writes Mahde Hassan
WHILE many are gifted academically, it takes a hard-working person to make it into Harvard; such is the case with Seeam Shahid Noor. Ten years ago, not many could imagine a Bangladeshi being a part of an undergraduate program in the America's oldest university. However, Noor is pursuing a bachelor's in applied mathematics and neuroscience at Harvard University now, being admitted there in the class of 2021. So, what has been his path like behind the scene?
Noor was a student of Mirzapur Cadet College before embarking on his journey to Harvard. It was not until the 12th grade when he first dreamt of attending Harvard. When Seeam attended a public speaking competition in London, in which representatives from 50 countries participated, he realised that the world is much bigger than he previously thought. It actually broadened his vision.
Returning from the competition, Noor, and two of his friends, Adib and Zaman were chatting with each other one evening. Because their chat was full of positivity, confidence and courage, this considerably instilled the belief in this trio that studying in the world's top universities like Harvard was undoubtedly possible for Bangladeshi students. Afterwards, they decided that they would apply at Harvard once they had completed their HSC.
They initially listed what they already had and what they lacked, taking a close look at the admission requirements, and planned to apply after their exams. This was the beginning of Seeam's dream for Harvard. After completing his HSC exams, he simultaneously prepared for IBA admission at the University of Dhaka along with the SAT test as part of Harvard University admission requirements.
His hard work paid off; he was accepted for IBA at DU, fulfilling his childhood dream, but it left him with an insatiable need to realise his later dream to attend Harvard. He continued to persevere with his plans to be accepted into Harvard.
Noor then appeared in SAT test and obtained an incredible score, 790 out of 800. He then inclined to apply at Harvard, not because he must be accepted, but because he would then be able to mentor juniors to successfully apply at Harvard once he gained experience of their application procedures. He discovered he had lacked everything required for admission, but extracurricular activities. However, he did not quit, rather he ensured prodigious effort to prepare and attain every required stuff starting from recommendation letters to SAT score.
Afterwards, he completed his application to Harvard by December 31 in 2016; as he intended to start his undergraduate program from the August of 2017. After months of waiting, he received the news that he had been accepted into Harvard on March 30, 2017. The root of his successful application cannot be attributed to one single aspect. Seeam said, 'US university application is an intricate process. They consider every aspect, grades, standardised test score, extracurricular activities, letter of recommendation and every little accomplishment from every aspect.'
He acknowledged that he found a Facebook group named 'Bangladeshis Beyond Borders' very helpful; he received very useful recommendations related to the application process from the group. Noor advised students aspiring to study at Harvard to complete the application well ahead of time. 'If you wish to begin in Fall of 2021, for example, you should submit your application by December 2020,' he said.
For many Bangladeshis, financial affordability is a concern, while applying to the prominent universities like Harvard, MIT, Princeton and Stanford. But according to Noor it is surprisingly not a setback at all. He said, 'Students who will be accepted for Harvard will be awarded some sort of financial aid to carry on their study; in fact, I also received it.' One common form of financial aid is need-based scholarship there.'
Even if staying in the USA now, this emerging individual is attempting to aid students of Bangladesh. For this, he has developed a website, seeamshahidnoor.com, that involves a student career mentoring group, myriad educational resources and an educational interview project 'The Bangladeshi Perspective'.
Through the educational interview project, he has been encouraging, helping and facilitating higher studies for thousands of Bangladeshi youths. He wants many other Bangladeshi latent talents coming out like him inspired by the success stories.
The interviews, for instance, include successful students, teachers and entrepreneurs of our country, which help young generations learn and thrive. Guests tend to share their way to being successful and measures they employed to reach their ultimate goal. It, one the one hand, motivates the folks, and on the other hand, imparts a great deal of information about leadership, overseas studies and entrepreneurship.
On top of it, Noor is outshining many of his counterparts even prior to graduating. He has led a management consulting team advising a multi-billion-dollar company, worked in a business data science role for a Fortune50.
Admittedly, his accomplishments encourage thousands of Bangladeshi people and have set a standard before many promising individuals of this country. Getting into Harvard coming from a national curriculum background of Bangladesh is certainly not easy, and arguably very rare in our country too, but he made it.
So, what is notable is that his driven and hardworking attitude led him to success. As it stands now, everybody is capable of turning dreams into fruition provided he or she becomes painstaking and determined.
Mahde Hassan is pursuing his graduation in English at East West University.
Want stories like this in your inbox?
Sign up to exclusive daily email