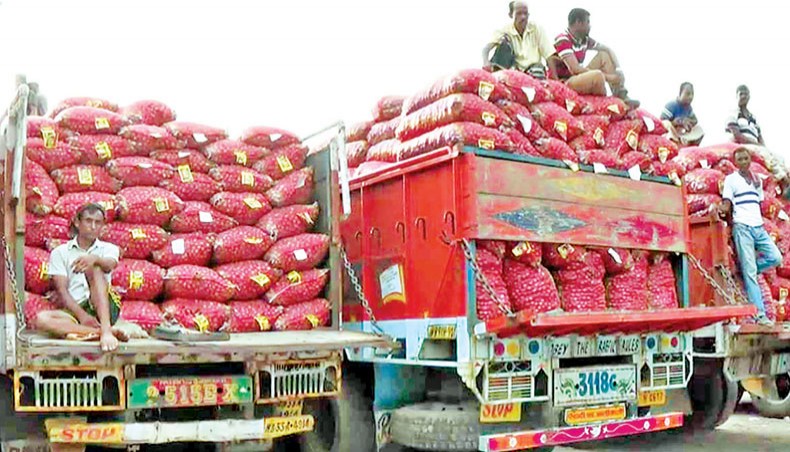 Onion-laden trucks stranded on the Indian side of the Bhomra and Hili land ports started to enter Bangladesh on Saturday after five days of an export ban on the commodity by the Indian government.
The price of onion witnessed a downward trend in the local market with the news of entering of the commodity through land ports on the day.
Traders said that despite opening Letters of Credits before the imposition of the export ban on September 14, several hundred trucks with onion had remained stuck at the land ports due to the lack of clearance from Indian customs.
They said that the Indian authorities on Friday night allowed some consignments to export and the commodity started entering Bangladesh from Saturday morning through Bhomra, Hili and Sonamasjid land ports.
A commerce ministry official said that India agreed to release 25,000 tonnes of onions for which LCs were open before the imposition of the ban.
Md Nasir, one of the Customs Clearing and Forwarding Agents at Bhomra Land Port, told New Age that a total of 31 trucks of onion entered Bangladesh on Saturday.
'We do not know the quantity of onions which would get permission from Indian authorities to enter Bangladesh. Information spreads out that the Indian authorities allowed 25,000 tonnes of onion, but we did not get such an announcement or document from the Indian side,' he said.
Mobarok Hossain, an onion importer, said that the stranded trucks with onions started entering Bangladesh through Hili land port on Saturday.
He said that more than 30 per cent onions got rotten as the perishable item remained packed in the land port for five days.
In a notification on Monday, the Directorate General of Foreign Trade, under the commerce ministry of India, prohibited the export of all varieties of onions until further notice.
With the announcement, customs officials of India stopped more than 600 trucks of onions at several land ports, failing to have clearance from the ministries concerned.
The price of onion shot up to Tk 120 a kilogram from Tk 70 a kg in the city markets on Tuesday after the export ban.
The price started to decrease on Saturday with the news of entering of the Indian produce into Bangladesh.
The wholesale price of local onion decreased to Tk 70 a kg while the imported item was selling at Tk 60-65 a kg at Shyambazar on Saturday.
The local onion was retailing at Tk 90-100 a kg while the imported items were retailing at Tk 80-85 a kg on the day.
Want stories like this in your inbox?
Sign up to exclusive daily email
More Stories from Commodities