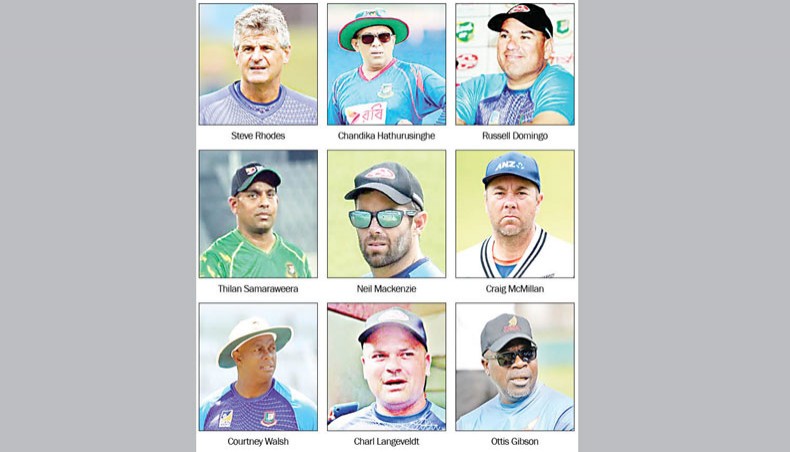 Bangladesh cricket has seen frequent changes of foreign coaching personnel at different levels in recent years, with the board hiring coaches without any set criteria and replacing them on a whim and the players being the ones bearing the consequence.
Since the ICC Champions Trophy in 2017, a procession of 30 foreign coaches have been appointed by the Bangladesh Cricket Board to work with the men's and women's national team, High Performance Unit and different age-level teams.
The Tigers have been the worst affected by this detrimental trend, who have seen four pace bowling coaches, equal number of batting coaches and three head coaches since 2017.
Bangladesh's Sri Lankan head coach Chandika Hathrusinghe left his post in November, 2017 and was replaced by a lesser known English coach named Steve Rhodes, whose name was recommended by BCB's consultant Gary Kirsten.
The Englishman was sacked from the position after Bangladesh's underwhelming show in the 2019 ICC World Cup and was replaced by former South Africa coach Russell Domingo in August last year.
West Indies' legend Courtney Walsh was the Tigers' pace bowling coach from September, 2016 to July, 2019 with Champaka Ramanayeke performing the role during the 2018 Nidahas Trophy when Walsh was the interim head coach.
After Walsh's departure former South African pacer Charl Langeveldt took the job alongside compatriot Domingo, but left the post just four months later to become the bowling coach of the Proteas.
Former South Africa and West Indies coach Ottis Gibson was appointed for the position in January this year and he is still with the national team.
Bangladesh batters were under the guidance of former Sri Lankan international Thilan Samaraweera till July, 2017 and then had Australia's Mark O'Neil as their consultant for just 30 days during their home series against Australia.
Almost a year after Samaraweera's departure, BCB appointed former South African opener Neil McKenzie as the national team's batting coach in white-ball cricket, who recently left the job to spend more time with his family back home.
Former New Zealand cricketer Craig McMillan has already been named to replace him, and he is set to join the team in Sri Lanka in October, if the series eventually takes place.
Not only the men's national team, other teams like the HP unit, Academy team and the women's national team have also been victim of constant changes in coaching positions and the board's tendency to appoint coaches for a short stint.
BCB signed Toby Radford as the new head coach of the HP team last month, replacing Simon Helmot who had left the post in December last year after a three-year tenure.
Toby was scheduled to join the HP team next month when it was suppose to travel to Sri Lanka with the national team, but BCB has now scratched the idea.
The situation is even direr for the women's national team, where BCB hires coaches for particular assignments, not for an extended period.
The women's team has been without a head coach since the World Cup when their Indian coach Anju Jain left the post to join a local Indian team.
Aminul Islam, the former Bangladesh cricketer who moved into cricket coaching after his playing days, was appalled by BCB's method of appointing new coaches and questioned the competence of the people who take the final decision on coach's appointments.
'Before asking why the coaches don't last longer, we should first ask if the people appointing the coaches are capable enough to make that decision. What is their competency? How do they decide that this person will fit the role?' Aminul told New Age.
Aminul, who served as a development officer for Asian Cricket Council, said that coaches need time to create a bond with the players, which is not possible in a short stint.
'At the end of the day, coaching is a human interaction and communication. Players have to trust the coach, the coach has to find the bright side of the player and they both need to trust each other which takes time. If you keep changing the doctor, you have to do all the pathological tests again and again but your actual treatment will never start,' he said.
Cricket officials often claim that coaches don't last in Bangladesh for too long as they want to work in Twenty20 franchise leagues, which was the case earlier this year when they had to let go of long time fitness and conditioning trainer Mario Villavaryan because he wanted a window during the Indian Premier League.
But ironically, BCB have allowed national team's analyst Shrinivas Chandrasekaran to work in IPL in past years and will do the same this year, even if Bangladesh plays against Sri Lanka during the same time.
Helmot, who worked as Hyderabad's assistant coach in 2018 while being the HP team's coach, eluded the cultural difference as one of the main factors behind short stints of foreign coaches.
'When I was taking the job, I was a bit confused because of the cultural difference. I knew that I could not bring my family here; in my first year of work I sort of locked myself in the hotel room. But later I came to know some people, went out to places and got out of my cocoon,' Helmot told New Age.
BKSP cricket advisor Nazmul Abedin Fahim felt that some foreign coaches work in Bangladesh for a short time only to advance their careers.
'Some coaches I think use Bangladesh as a platform as they can get the tag of working with a Test playing team. To get the best out of them, we have to keep them for long term,' Fahim said.
Despite the long list of problems of appointing foreign coaches, BCB keeps shunning local coaches, which Fahim felt was unfair to them.
'I think some people have reservations about it and they don't want to see local coaches doing the job. A country which is playing Test cricket for 20 years, has produced players like Shakib Al Hasan and Mushfiqur Rahim, can't even produce a coach capable enough for the HP level? I don't believe it.'
Fahim also feared that the constant changes in coaching position could have adverse affect on developing cricketers.
'For well established cricketers, the changes will not affect widely as they know their game but it may ruin some young cricketers' career. Coaches come with their own method; some players may lose their way by following multiple instructions,' Fahim said.
Young Bangladesh opener Saif Hasan said that the recently former batting coach McKenzie was trying to remodel the stance of some young batsmen.
'He was trying to change mine, Afif [Hossain] and [Mohammad] Nayeem's stance. For seniors it is easy to stick to their original stance as they can say that they have succeeded playing that way but for junior players like us, it was hard to refuse.'
But pacer Abu Jayed, who has come across three pace bowling coaches in the last three years, said he found all the coaches to be similar.
'They almost say the same things, bowl in good spot, good line, and give your best. I don't find much difference, none of them tried to remodel my action or grip or anything.'
Want stories like this in your inbox?
Sign up to exclusive daily email
More Stories from Cricket