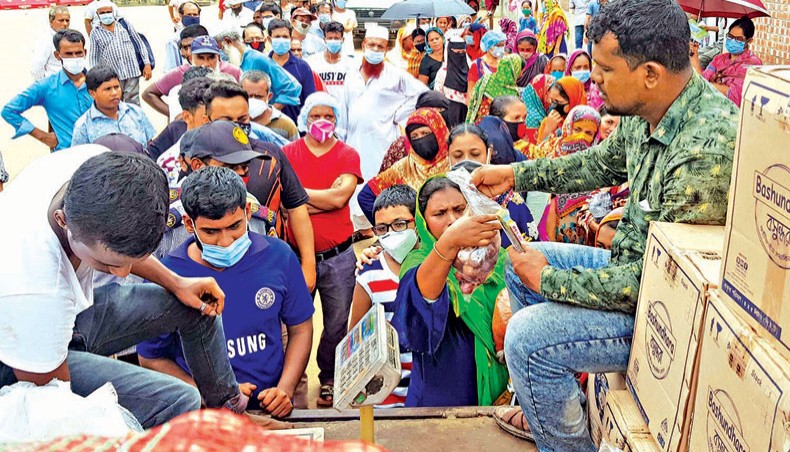 Price of the local variety of onion remained high at Tk 90-100 a kilogram on the kitchen markets on Thursday amid the government's assurance that the country had adequate stock of the commodity.
The imported variety of the item was sold at Tk 70-80 a kilogram on the day, according to the Trading Corporation of Bangladesh.
Price of the essential commodity rose to Tk 110-120 a kilogram on Wednesday, after the price almost doubled on Tuesday following an Indian ban on onion export.
Traders said that panic buying of onion had slowed down on Thursday, resulting in an easing of prices.
The commerce ministry on Thursday claimed that the onion market would become stable within one month as the government had taken steps to import the essential item on urgent basis.
The ministry also claimed that the price of the item had started to come down.
People continued to rush to the markets to buy onions, fearing a price surge similar to that seen in 2019.
Wholesale and retail prices of onions marked a sharp increase on Monday night, immediately after the announcement of an export ban by India, and the prices continued to rise every hour on Tuesday with the retail ones hitting Tk 120 a kg in the evening.
On Tuesday morning, local onions sold for Tk 75-80 a kg on most of the kitchen markets in the city and the prices increased to Tk 90-100 a kg by noon. In the afternoon, the prices reached Tk 100-Tk 120 a kg on the city markets.
Prices of Indian onions increased by Tk 30-40 a kg overnight and the item was selling for Tk 80 a kg on Tuesday.
Want stories like this in your inbox?
Sign up to exclusive daily email
More Stories from Commodities