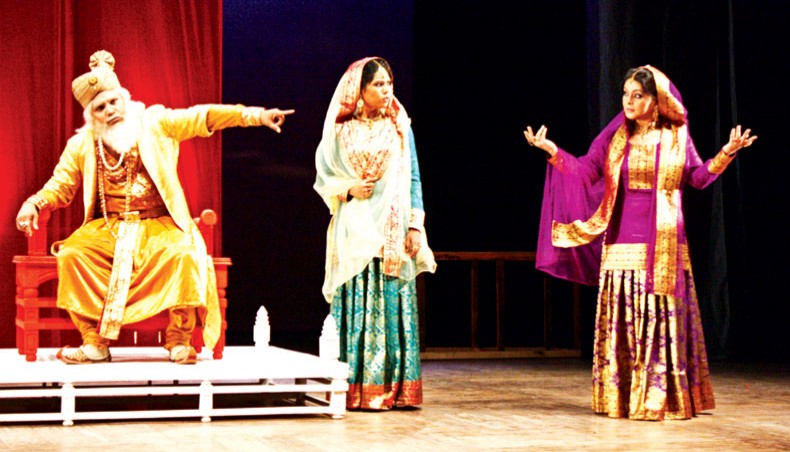 Theatre troupe Prangonemor will stage its much acclaimed production 'Aurangzeb' after a six-month hiatus at the Nilima Ibrahim Auditorium of Bangladesh Mahila Samiti at 7:00pm today amid the COVID-19 outbreak.
The troupe earlier performed its production 'Lal Jamin' at the same venue on August 28.
'Aurangzeb' is the 7th production of our troupe. We will stage its 45th show after six months at Bangladesh Mahila Samiti on Friday. A total of 22 artistes will perform in the play. The 44th show of the play was staged on March 7 at Jahangirnagar University before COVID-19 outbreak,' Sarwar Saikat, a senior member of the troupe, told New Age.
'We will stage the play following health guidelines. I hope the audience will enjoy it,' added Sarwar.
'Aurangzeb' has been written by Mohit Chattopadhyaya and directed by Ananta Hira. The play revolves around Aurangzeb, the sixth Mughal emperor, who ruled over almost the entire Indian subcontinent.
Though Aurangzeb, son of Shahjahan was devout Sunni Muslim, he imprisoned his father to get the hold of the throne and killed his brothers Dara, Murad and Suja who were also the claimants of the throne. Emperor Aurangzeb was also imprisoned by his sons, and lived the last days of his life at Ahommodnagar with his daughter Zinat.
Ananta Hira, Nuna Afroz, Ramiz Raju, Shubhechchha, Sarwar Saikat and Yousuf Polash, among others, are scheduled to perform in the play.
Want stories like this in your inbox?
Sign up to exclusive daily email
More Stories from Theatre