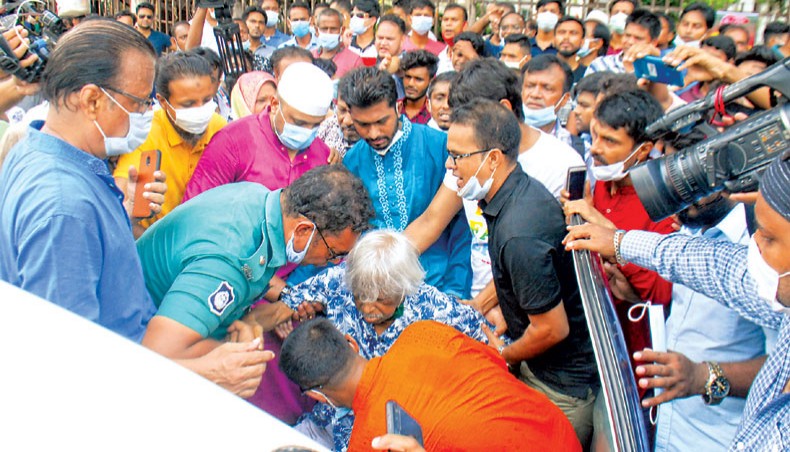 Gonoshasthaya Kendra founder Zafrullah Chowdhury on Thursday said that Indian government was conspiring to destroy Bangladesh economically.
He observed it while addressing a human chain programme jointly formed by Jatiyatabadi Muktijoddha Dal and Ranaganer Muktijoddha O Muktijuddher Prajanma protesting at the recent abnormal price hike of onion and demanding the end of border killings by India's Border Security Force.
Referring to sudden restrictions on onion export to Bangladesh by the Indian government, freedom-fighter Zafrullah said that India had stopped onion export suddenly for making the Bangladesh economy suffer.
'We need to give a final warning to the Indian government protesting at the move and also say the country that we shall stop transit facilities for them,' Zafrullah said.
Nagarik Oikya convener Mahmudur Rahman Manna said that the Awami League government had destroyed the economy of the country and country was engulfed by corruptions.
He urged the people to be united and wage movements to end the misrule of Awami League.
Bangladesh Nationalist Party joint secretary general Syed Moazzem Hossain Alal said that the Awami League government had failed to stop killings of Bangladeshi people in border by Indian BSF.
He blamed foreign ministry of the government for its failure to stop border killings.
Chaired by Muktijoddha Dal president Ishtiaque Aziz Ulfat, general secretary Sadeque Ahmed Khan, BNP central leader Shirin Sultana, teachers' leader Selim Bhuiyan, Gonoforum central leader Mostaque Ahmed, DUCSU vice-president Nurul Haque Nur and others spoke at the human chain programme.
Want stories like this in your inbox?
Sign up to exclusive daily email
More Stories from Foreign affairs