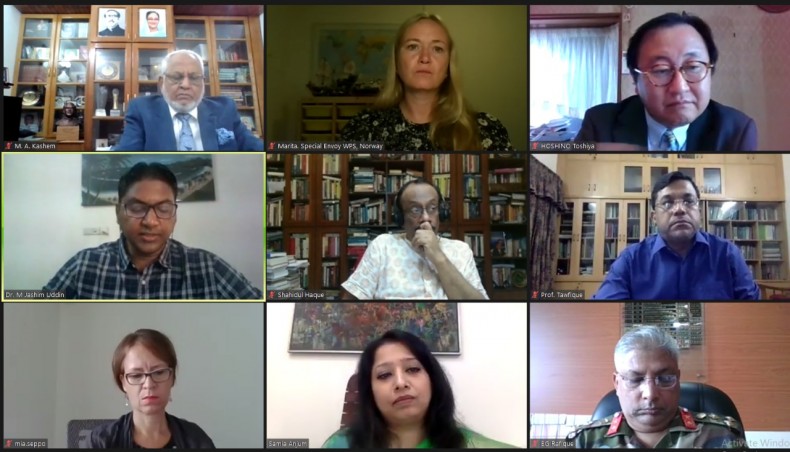 The United Nations has betrayed common people by failing to uphold their rights while overemphasising a notion of sovereignty of the member states, experts said at an international seminar on Wednesday.
Voicing the need for making COVID-19 vaccine available through UN mechanism by getting rid of 'vaccine politics' created out of business interests of a few countries, they said questions of enforcement of international covenants enacted by the global body always remained out of focus to serve the interest of the elite member states.
'You [UN] have already been betraying the inherent and indivisible human rights,' Dhaka University professor Mizanur Rahman, also former chairman of National Human Rights Commission, said in an internal seminar organised virtually by North South University's Centre for Peace Studies on 75th founding anniversary of the global body.
With limiting its focus in only civil and political rights, he said, UN has been ignoring for the last 75 years the social, economic and cultural rights of the people in the member states.
UN has failed to maintain a balance between supra-nationalism and state sovereignty, he alleged.
Relaying on too much a notion of sovereignty of the member states has made the UN a failed organisation, Professor Mizan said, adding that it could not even threaten a member state for use of force, let along actually use force to intervene in state affairs to uphold human rights.
UN has become a 'club of elite states' ignoring the majority of the states, especially the least developed ones, he said.
On a question of differences of upholding civil, social, economic and cultural rights between democratic and undemocratic countries, he replied that 'democracy itself is an integral ingredient of human right.'
Participating in the discussion from UN headquarters in New York, UN under-secretary-general Fabrizio Hochschild emphasised the need for reform in the UN mechanisms as well as rejuvenating inclusive multilateralism to resolve global challenges on attaining social equalities.
Action Aid Bangladesh country director Farah Kabir said several international quarters were trying to take advantage of international politics around vaccine accessibility, making the poorer sections of the societies vulnerable to COVID-19 pandemic.
She suggested that the UN should make the organisation inclusive, remaining above patriarchy by ensuring accountability and shared responsibility at all levels.
Senior Bangladesh diplomat Nahid Sobhan's emphasis was on rights of the migrant people in the host countries.
Migrants are nowhere to be found on the map of COVID-19 pandemic, they have become like orphans, Nahida, Bangladesh ambassador to Jordan said.
She said that the UN should become neutral, transparent and representational by focusing more on the developing societies.
Lieutenant General Sheikh Mamun Khaled, commandant of National Defence College, World Food Programme country director Richard Ragan, Norwegian special envoy Marita Sorheim-Rensvik, Osaka University professor Toshiya Hoshino, Professor Ishrat Islam of Bangladesh University of Engineering and Technology, disaster management ministry secretary Md Mohsin, UNOHCHR's Asia-Pacific section chief Rory Mungoven, Abul Kalam Azad, special envoy of Climate Vulnerable Forum of Bangladesh, foreign ministry director general Samia Anjum, Brigadier General Md. Rafiqul Islam, chief instructor of Bangladesh Institute of Peace Support Operation Training, MA Kashem, chair of NSU's board of trustees, Professor Sk Tawfique M Haque, director of South Asian Institute of Policy and Governance, M Jashim Uddin, coordinator of Center for Peace Studies, NSU professor Helal Mohiuddin and fellow Namita Haldar, among others, participated in the three sessions held on the first day of the two-day seminar.
Want stories like this in your inbox?
Sign up to exclusive daily email
More Stories from Politics