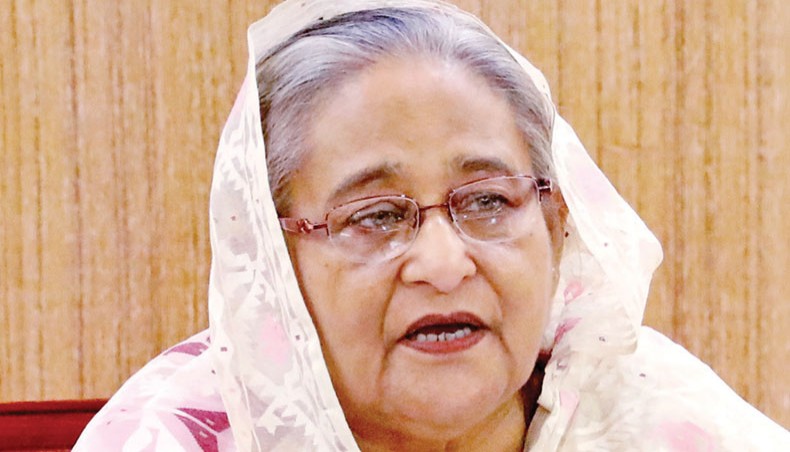 Prime minister Sheikh Hasina on Wednesday emphasised the importance of preparing a concept paper or a guideline for the next generation to lead the nation towards prosperity in future.
She came up with the remark while giving introductory speech in a meeting of the party's presidium members at Ganabhaban, her official residence.
She said that the Awami League under the leadership of Bangabandhu Sheikh Mujibur Rahman was responsible for the country's independence and the party would have to take the responsibility to find ways to inculcate in the next generation the knowledge about how the country will be run ensuring future progress.
It is true that some aspects of the system should be amended and some new ideas need to be adopted as per the demand of our time, Hasina, also Awami League president, said, adding that if a framework or a concept paper was readied then it would be easy to for the next generation to follow through.
'How much time do I have to continue with the work … I am already 74,' she pointed out.
About the increase in remittance inflow and forex reserve, the prime minister said that due to the government's timely measures in the face of the apprehension of declining reserve, the situation was now normal.
The country's economy is in good shape at this point, she observed.
She further said that her government announced a huge budget, exceeding Tk 5 lakh core, which is not a matter of joke.
The government fixed the deficit at 6 per in the budget although they had thought, if required, it would be set at 10 per cent, but that necessity did not arise, she said.
Speaking about the loss of jobs by expatriate Bangladeshis amid the pandemic, she said that it is becoming a problem for the country as many Bangladeshis lost their jobs.
'But we are bringing them back on special flights as they are the citizens of our country,' she added.
After emerging from the meeting, AL general secretary Obaidul Quader told reporters that the metering decided to give seven more days to the party's associate bodies to submit the lists of full-fledged committee who had failed to do so by September 15.
He said that the sub-committees of the central bodies were also asked to submit the lists of full-fledged committees by next seven days.
Party activists were asked to start political activism on a limited scale maintaining health guidelines, he said.
He announced that the party would celebrate the 74th birthday of prime minister Sheikh Hasina on September 28 across the country.
Want stories like this in your inbox?
Sign up to exclusive daily email
More Stories from Politics