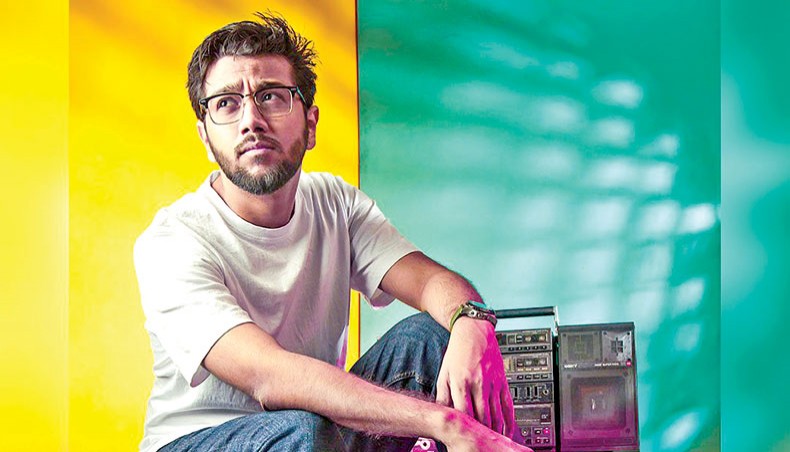 Popular singer-composer Pritom Hasan strives to conquer hearts of music lovers with works that are out of the box. To him understanding the audience is the key to success.
'A singer-composer must understand what the music lovers want and make an effort to produce songs which explores new horizon of sound and sensibilities which are sure to leave an impression on the listeners,' said Pritom Hasan.
Pritom began his music career at the age of twenty. He has received huge response from younger generation listeners for his songs namely 'Local Bus', 'Asho Mama Hey', 'Jadukor', 'Girlfriend Er Biya', 'Beainshab' and others, all of which have garnered millions of views.
He has released a new music video titled 'Bhenge Porona Ebhabe' on the YouTube channel of Gaanchill Music on September 9. It has received raving reviews and garnered 855,850 views till Wednesday.
'A lot work went into the music video. After working on it for the seventh time, it still didn't seem perfect. Finally, in its eighth attempt, I could come up with a perfect and smooth composition. I think any aspiring singer can benefit by using technology,' said Pritom.
Apart from giving voice to the song penned by Rakib Hasan Rahul, Pritom Hasan himself has composed the music. The music video for the song was jointly directed by AK Porag and Bhaskar Johnny. Adit Rahman helped to arrange the story.
The song is based on a true event which portrays the emotional relationship between a brother and his little sister, who was suffering from cancer and died at an early age.
In this music video, Pritom Hasan played the role of brother and Shifa portrayed the sister.
Regarding the song Pritom said, 'I have already received a huge response from the audience. The story of the song has touched my soul. I urge music lovers to listen to the song.'
The popular singer and music composer has also composed music for films namely 'Rajniti', 'Devi' and others.
Pritom Hasan, son of the late renowned singer Khalid Hassan Milu, grew up amid music.
'Music has always been a part of my life. I grew up playing with musical instruments, especially the keyboard. But it was after my secondary examinations that I started taking music and singing seriously. Later, I started working with Habib bhai as his assistant music director. I have learnt valuable lessons while working with him,' said Pritom Hasan.
He mentioned that he always felt at home portraying human emotion, love, relation, festival, etc through his songs.
Speaking about his future projects, he said, 'I have a plan to release a number of music videos this year but cannot make an effort due to COVID-19. However, I am looking forward to my two new upcoming works which are now in their pre-production stages. If everything goes well, I will release those this year.'
Want stories like this in your inbox?
Sign up to exclusive daily email