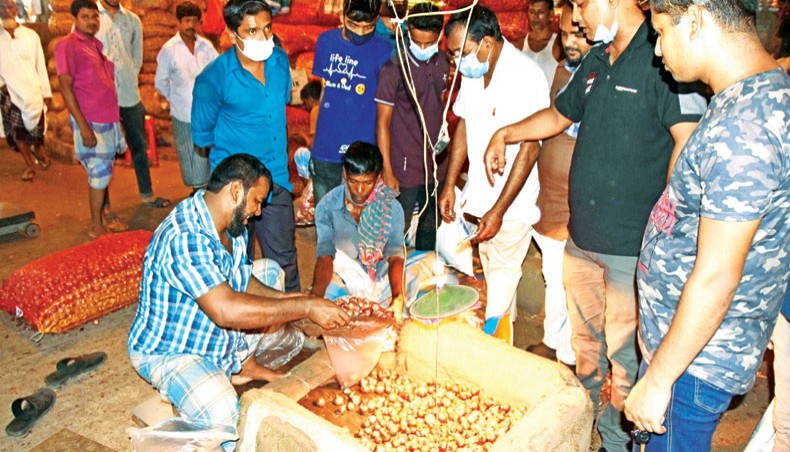 AFTER a long one year, onions have again started making the headlines on front pages of newspapers and prime places in television bulletins and on other electronic media.
An increase in onion prices is going to destabilise the kitchen market equilibrium. Onions are reported have sold for Tk 30 to Tk 35 a kilogram a couple of weeks ago. Vendors sometimes even went from door to door with their pushing their vans full of onions, selling three kilograms of them for Tk 100. But price soared up to Tk 70 a kilogram on September 15.
Interestingly, this increase in onion prices coincided with big catches of hilsa fish along the estuary of the Meghna and other rivers, causing a decline in hilsa prices on the markets all over the country. Witty people started saying that a gluttonous consumption of hilsa requires a huge amount of onions for the kitchen and, perhaps, this additional demand has pushed the prices high.
The crisis of onion started at almost the same time this time it did in 2019. A glance at issues of a newspapers published on October 2, November 22 and November 29, 2019 shows that prices of onions on the days were Tk 110, Tk 170 and Tk 250 respectively. The main crisis period in 2019 spanned from September to December.
With the arrival of the local varieties of onions harvested prematurely before season in January 2020 with a view to boosting the supply somewhat mitigated the scarcity in the long run, bringing about an equilibrium. This year, the situation has reached a similar pass. Increase in onion prices started going up at the advent of the second week of September. Onions were selling for Tk 70 a kilogram on September 15. It was Tk 35 to Tk 40 a week earlier. The prices are now reported to have increased to Tk 120 a kilogram.
In 2019, the crisis began with India's discontinuing the export of onions to Bangladesh on September 29, 2019. This year, the export has been at a deadlock since September 10. The same is the reason for the incidents in both the years after low harvest of onions because of rain and storm in India. Importers are trying to convince exporters of India to acquiesce to a lower price than is demanded which is three to four times higher.
In the wake of the deadlock of import of onions from India, onion markets in Bangladesh started behaving restively as we are dependent on Indian onions to a great extent. Out of the total demand of 2.4 million tonnes, 1.1 million tonnes come from India. We have seen in grocery shops that the two piles of onions, Bangladeshi and Indian, are almost the same size. The supply chain of Indian onions having been cut, the price is going up.
Onions when cut with choppers emit a pungent odour that blinds our eyes. But onion stories of the two consecutive years have opened our eyes, telling that we should produce the whole amount of onions on our own soil or search for a third country that can supply a sizeable volume to us. The latter proposition has a very limited prospect.
So, we must increase the production by providing incentives for farmers. If our spending on onions in the three months of crisis period is equal to that of the rest nine months' normal period, the total spending average becomes not less than Tk 50 a kilogram a month. if this Tk 50 a kilogram of onions can give incentive for producing onions on a large scale and can establish our self-sufficiency, no harm is there for neither consumers nor farmers.
We should remember that principles of economic profits and losses is a great factor. A country that has a monopoly in onion export will take the advantage whenever possible. We cannot also expect that someone from beyond our borders will sell commodity to us with an altruistic attitude when there is scarcity of that item он the prospective exporter's own local market.
Gazi Mizanur Rahman, a former civil servant, is a writer.
Want stories like this in your inbox?
Sign up to exclusive daily email
More Stories from Opinion