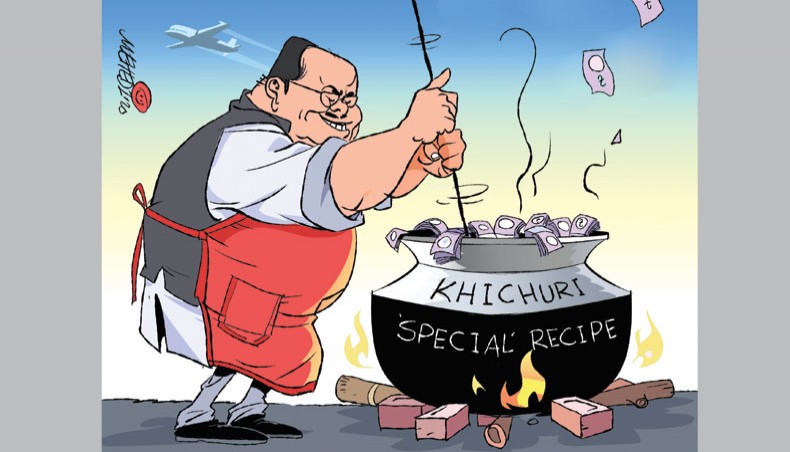 State minister for primary education Md Zakir Hossain on Wednesday defended the ministry proposal of sending 500 officials abroad saying that it took the move to train officials on midday meal distribution.
'Training is important for implementing a project, so the ministry included the provision. That does not mean that the proposal had been adopted and ready for implementation. Our proposals are corrected and reviewed in different layers,' Zakir told reporters at his office.
'What's wrong if the officials take their experiences? It will rather help them execute the project in Bangladesh,' Zakir said, adding that he visited Brazil to see their midday meal disThe ministry presently serves khichuri as a midday meal in primary schools of three upazilas and high-protein biscuit in primary schools of 104 upazilas.
Zakir blasted the journalists for what he said 'twisted' reports on the matter.
'Newspapers twisted the news out of ignorance but we faced criticism from the VIPs to the common people,' he said.
'BNP-Jamat-minded people, who became journalists, were intentionally misinterpreting the facts in their news report to malign the image of the government,' added the state minister.
Zakir claimed that he did not know about the segment related to sending 500 people abroad for training when the ministry last week sent the project proposal to the planning commission for approval.
He also claimed that countries like Brazil, India and Vietnam had such midday meal distribution projects and Kerala state of India had vast experience.
The primary education ministry's Tk 19,296 crore midday-meal-project proposal got criticism by the planning commission on Monday.
The ministry proposed the project to serve biscuits and khichuri on alternate days to an estimated 1, 47, 80,000 students of 65,620 government primary schools across the country for five years, beginning from January 2021.
The proposal sought Tk 5 crore for sending 500 people to foreign countries to see the midday meal distribution process and Tk 10 crore for training of other officials at home.
On Tuesday, primary education secretary Md Akram Al-Hossain also underlined the need for training of government officials for the project implementation despite widespread public criticism over the move.
Want stories like this in your inbox?
Sign up to exclusive daily email
More Stories from Country