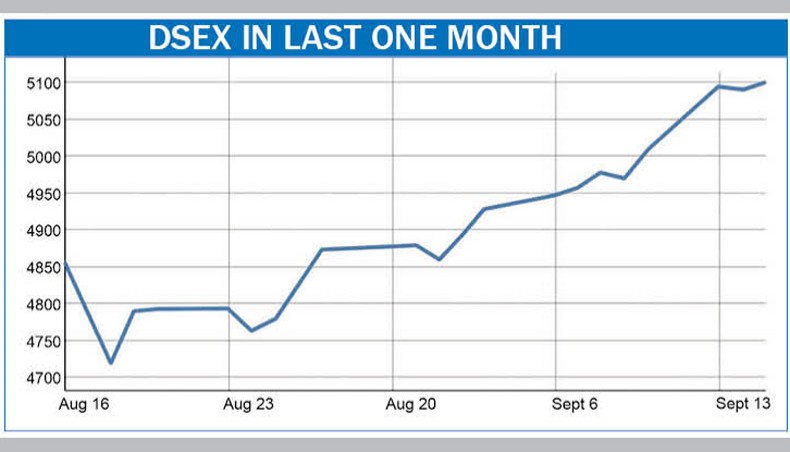 Dhaka stocks gained marginally on Tuesday as a section of investors went for buying shares of insurance, energy and pharmaceutical companies while others booked profits after the recent surges in share prices.
DSEX, the key index of the Dhaka Stock Exchange, gained 0.16 per cent, or 8.4 points, to close at 5,100.54 points on the day after losing 1.9 points in the previous session.
Tuesday's index was the highest after August 28, 2019 when it was at 5,139.99 points.
The DSEX gained 240 points in the last 10 sessions with just two negative sessions.
The key index was choppy throughout the session as investors were active on both sides of the trading fence, market operators said.
They said that some investors went for profit booking after a sharp rise in share prices of most of the companies.
Despite a fall in share prices of most of the companies on Tuesday, the market managed to gain marginally as share prices of a number of large capitalised companies advanced on the day.
Share prices of Bangladesh Submarine Cables Company, Square Pharmaceuticals, British American Tobacco and United Power Generation Company advanced on Tuesday.
Market operators said that the continued rally in share prices lured many investors into investing in the market.
Besides, lower interest rates at banks pushed a group of investors to the capital market to get higher returns, they said.
Funds have been increasing in the financial sector amid record remittance inflow and export earnings.
Moreover, a number of companies which remained short of mandatory 30 per cent joint shareholdings moved to buy shares to comply with the Bangladesh Securities and Exchange Commission rules.
High net-worth investors brought shares of the non-compliant companies to get directorship in the companies, market operators said.
They said that company directors who fell short of 2 per cent mandatory shareholding were also trying to fulfil the requirement while some investors were also buying shares of those companies to get directorship as per securities rules.
BSEC chairman Shibli Rubayat Ul Islam at a programme on Saturday said that directors non-compliant with 2-per cent shareholding rules must be removed from the companies' boards and investors who held 2 per cent shares in the companies might be appointed as directors of the companies as per securities rules.
Out of 47 traded insurance companies, 39 advanced and just eight declined on the days.
After being listed on August 24 this year, Express Insurance declared no dividend for the financial year 2019 despite making better profits by the company.
The company's decision faced criticisms from its investors, BSEC officials said.
Earnings per share of the company advanced to Tk 1.32 in 2019 from Tk 1.12 in the previous year.
BSEC executive director and spokesperson Rezaul Karim told New Age that the commission held a meeting with officials of the company on Tuesday and asked them about the matter.
The regulator expects that the outcome of the meeting would benefit the investors, he said.
Of the 357 scrips traded on the DSE on Tuesday, 128 advanced, 174 declined, and 53 remained unchanged.
Turnover on the bourse plunged to Tk 995.59 crore on Tuesday compared with that of Tk 1,148.95 crore in the previous trading session.
Shariah index DSES increased by 0.01 per cent, or 0.14 points, to settle at 1,170.56 points.
DSE blue-chip index DS30 gained 0.3 per cent, or 5.33 points, to close at 1,761.33 points on the day.
Beximco Pharmaceuticals led the turnover chart with its shares worth Tk 32.3 crore changing hands on the day.
Bangladesh Export Import Company, BRAC Bank, Orion Pharmaceuticals, Orion Infusions, Monno Ceramics, Express Insurance, Delta Brac Housing Finance and Western Marine Shipyard were the other turnover leaders on the day.
Want stories like this in your inbox?
Sign up to exclusive daily email