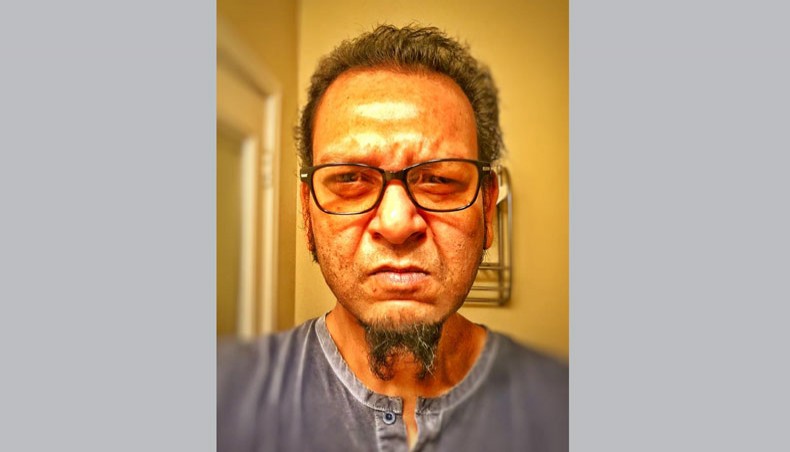 Popular rock singer, bassist and founder of the rock band Aurthohin Saidus Salehin Khaled Sumon, popularly known as Bassbaba Sumon, and his son Ahnaf Salehin Khaled are undergoing treatment for COVID-19 at home.
Razu Ahammed, manager of Aurthohin, confirmed it to New Age.
'He [Sumon] was suffering from high fiver and breathing complications for a week. He gave his swab samples for COVID-19 test along with his family members on September 10. The test result returned on Sunday. He and his son tested positive and other family members tested negative for the virus. Both of them are self-isolating and taking treatment at home,' said Razu Ahammed.
Sumon, in a facebook post on Monday, informed his fans that he and his son were tested positive for COVID-19 and urged all to pray for their recovery.
Sumon was diagnosed with stomach cancer in 2011. He underwent surgery and received chemotherapy. He was pronounced cancer-free in 2013.
'He was scheduled to fly to Germany for medical check-up in March but couldn't follow through due to the COVID-19 crisis,' added Razu Ahammed.
Sumon last performed at the Joy Bangla Concert on March 7 where he said, 'This might be my last concert, my last stage performance.'
Sumon was born in January 8, 1973. He started learning bass when he was 15. He played in 11 bands by the age of 19. In 1997, he joined Warfaze and later appeared in the band's 1998 hit album 'Antisocial'. He founded Aurthohin in 1998.
He is also the director of Khaled Group of Companies.
Want stories like this in your inbox?
Sign up to exclusive daily email