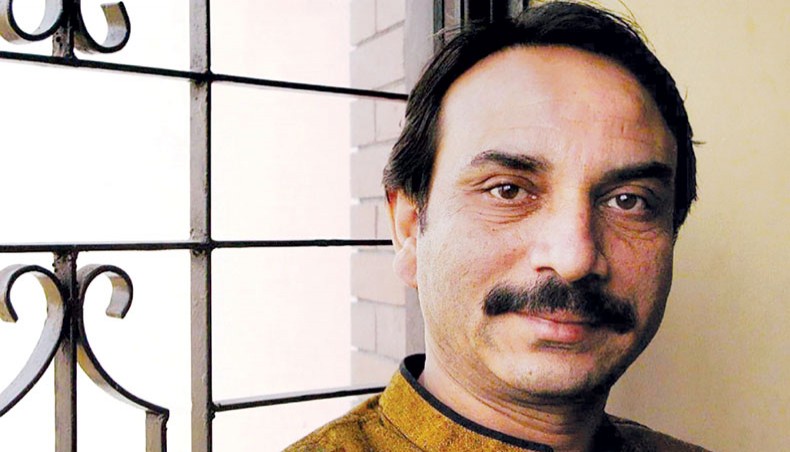 Ahmed Swapan Mahmud started writing poems in the late 1980s. His works in the 90s noticeably drew the attention of the readers for his eloquent verses that sought to blend the prosaic with the poetic. His poems explore nature as a living spirit and create thresholds leading to philosophical reflections on life, exploring its known and unknown facets.
When his first book of poems 'Atikramaner Rekha' was published, it attracted a wider readership. His tone is essentially sublime and imbued with personal memories, which helps draw the readers to his poems.
Ahmed Swapan has received Bagura Lekhak Chakra Literary Award in 2015, Shabdaguchchha Postmodern Poetry Award in 2015, Loke Literary Award in 2016 and Boipattar Sammanana from Kolkata in 2000.
New Age recently interviewed the poet and listened to what he had to say about the role of poetry in society, especially during the coronavirus crisis.
New Age: What is your take on the role of poetry? Especially during this time of the epidemic, do you think the future generations will benefit from poems written during the COVID-19 crisis?
Ahmed Swapan Mahmud: Literature has always been an efficacious medium to reflect on contemporary situations. And there is no hard and fast rule to follow through which to give such concerns artistic shapes. However, what is present also has a linear connection to the future and the contemporary also provides the material for history. Bangla literature has many examples of engaging in love and conflict, life struggles, political upheavals, and lived experience. Works on our language movement and the liberation war have enriched our literature and they also produced history in the form of art. For example, Kazi Nazrul Islam and Shamsur Rahman in their poems explored the contemporary. These artistic creations link the present with the future. Readers are benefited through such write-ups and line of thinking. When a writer maps a region, he or she works like a historian.
New Age: Do you think poems written on coronavirus crisis would actually leave a lasting impact on the minds of the readers?
Ahmed Swapan Mahmud: The poems that are being written on COVID-19 are of different types. The effect of the epidemic on people's psyche, the miserable condition of the state and the institutions that were supposed deal with coronavirus is one side of the story. The other aspect has to do with the effect of separation — lovers remain separated, children are forced to keep a distance from their parents even in the event of death of their parents. And poetry written on these aspects will undoubtedly have a long-term effect on people's minds. Reality and the portrayal of reality, they both are stuffs of history. A thing called corona literature is developing in our literature.
New Age: Is the impulse to respond to contemporary situations essential to literature?
Ahmed Swapan Mahmud: Usually, artists, writers, poets, being sensible human beings, respond to the contemporary issues in their own ways using their own styles of expression. Being a poet, I do respond to contemporary aspects, including political affairs through poetic expressions. During the COVID-19 crisis, shocked and moved as I am by the situation, I am delving into both political satire and love poems as part of my reaction to misrule and mismanagement. Add to that my urge to address the feeling of separation from the loved ones.
New Age: You have written many pieces on the corona crisis —'Gupta-Ripurekha', 'Chaitrasandhyar Agun', 'Ghum, Lockdown', 'Coronar por', 'Sarbadoy', 'Corona', etc. What are you working on now?
Ahmed Swapan Mahmud: During COVID-19, I prepared a new manuscript titled 'Mahimar Bagan', which poetically combined love and political concerns to form into an aesthetic whole.
At present, I am keeping myself busy writing poems and political essays on contemporary issues. I am outlining a book of essays titled 'The Ways of Destruction and Resurrection: State, Politics, and People'. Besides, I am doing a research on communication crisis and misinformation during COVID-19 in Bangladesh.
Want stories like this in your inbox?
Sign up to exclusive daily email
More Stories from Literature