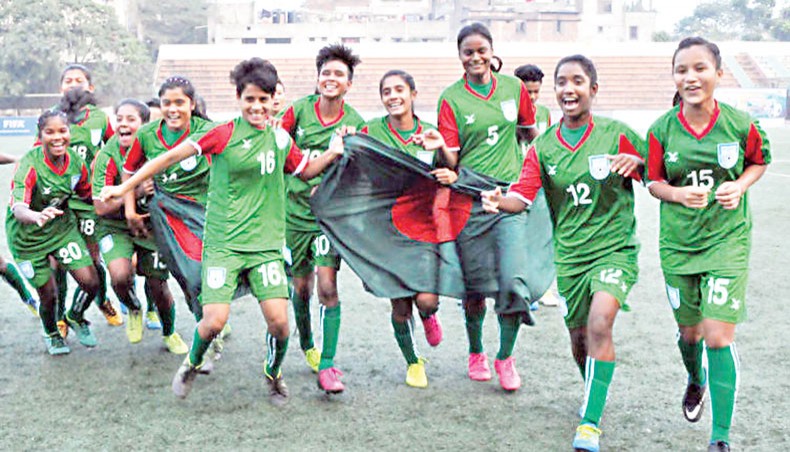 Bangladesh Football Federation continues to ignore FIFA's advice to increase female representation at its executive level with there being just one female candidate in BFF's forthcoming election, scheduled to take place on October 3.
In October, 2015, FIFA reform committee recommended its associations to ensure a minimum level of gender equality in its executive committees by 2016 and enact measures to have at least 20 per cent female representation in its committees by the end of 2018.
But there is only one female face, Mahfuza Akhter Kiron, in the current BFF executive committee and she has been the only female running in the BFF election since 2012.
Kiron first ran for a membership post as an independent candidate in 2012 but didn't get elected. But she turned her fortunes around in the next election in August, 2016 where she got elected as a member.
In the forthcoming elections Kiron will run for the third consecutive time for a membership post, again as the only female candidate out of 47 aspirants against 21 posts.
Moreover, there is only one female voting councilor – Feroza Karim Nelly from Bangladesh Women's Sports Association – in the list of BFF's 139 councilors who will give their mandate in the election to form the committee for a four-year tenure.
Kiron, who is currently serving as BFF women wing chairman, was elected as a member in the FIFA Council in May 2017, three years after getting elected as a member of AFC's executive committee.
Kiron felt that the absence of a female quota in the executive committee and the lack of opportunities for female organisers to emerge in a male dominant sector were the main reasons behind their being no other female candidates.
'There is no quota system for women to be a representative in BFF executive committee. So, a female candidate must fight against her male counterparts, which is a difficult task,' Kiron told New Age.
'I think, it is because of the lack of availability of women football organisers in the male dominated society of Bangladesh,' he added.
BFF president Kazi Salahuddin said that there should be at least two female representatives in the BFF executive committee.
'I agree that there should be at least two female representatives in BFF executive committee for more balance in gender representation,' said Salahuddin, who is running for the top post for the fourth consecutive time in the forthcoming election.
'But it is difficult for a female organiser because no one can come in without competing in the election and there is no quota system for female representatives in BFF constitution. We need to amend our constitution, which is not possible before BFF's next congress,' he said.
National team's former star striker and a current committee member of BFF Sheikh Mohammed Aslam claimed that he had tried to speak up about the lack of female organisers in the federation, but his voice was silenced by other committee members.
'I agree there should be gender balance in the committee…But I was muzzled by the Salahuddin-led committee in each BFF meeting and was not kept in any subcommittees of BFF in the last 12 years. So, how would I raise the issue?' said Aslam, who recovered from a COVID-19 infection with his test result coming negative on Monday.
'As there is only one female representative in the committee, we have no way of judging Kiron's performance in the FIFA or AFC,' said Aslam, who is running in the coming election for the senior vice-president post.
Bangladesh Athletic Commission chairman and Bangladesh Women's Sports Association vice-president Zobera Rahman Linu said that nepotism and lack of opportunity for female organisers plagued every sports federation in the country.
'Everyone here is trying to create a monopoly. Everyone chooses their own people, whether they are fit or unfit for that position. Due to nepotism, the worthy women don't get in while incapable people are inside the committee,' said Linu, a 16-time national Table Tennis champion.
'I don't see a lack of women organisers, though there are social barriers. But male organisers do not give the opportunity to their counterparts to show their capabilities. If you do not give a chance, how can the women prove their ability?' she raised the question.
Want stories like this in your inbox?
Sign up to exclusive daily email
More Stories from Football