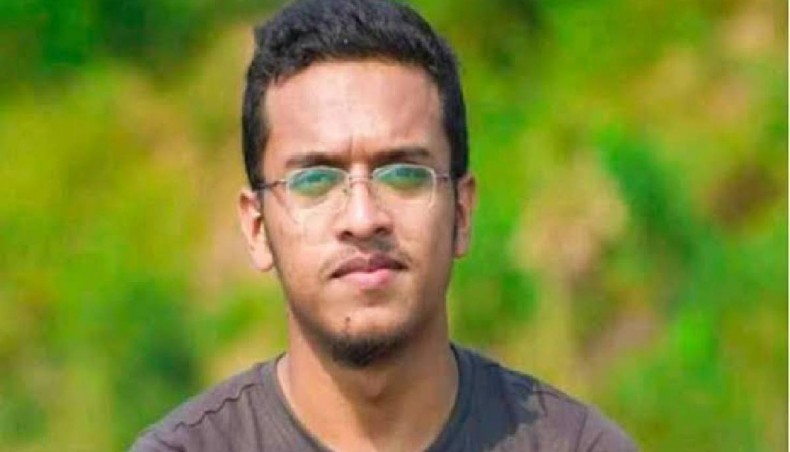 The Dhaka Speedy Trial Tribunal-1 on Tuesday charged 25 Bangladesh University of Engineering and Technology students and ruling Awami League-backed student body Bangladesh Chhatra League leaders and activists with torture and murder of fellow student Abrar Fahad in their hall on October 7, 2019.
Tribunal judge Abu Zafor Mohammad Kamruzzaman posted for September 20 for the formal beginning of the trial with the recording of the testimony of the complaint and Abrar's father Barkat Ullah.
The judge framed the charges rejecting petitions filed by 22 of the 25 accused for their discharge from the case. The 22 were in the dock and pleaded not guilty to the murder.
Abrar, 21, a second-year electrical and electronic engineering student at the university, was beaten to death by Bangladesh Chhatra League leaders and activists at the university's Sher-e-Bangla Hall on October 7, 2019.
The murder, which followed Abrar's Facebook posting on critical views over India-Bangladesh deal, had triggered protests nationally and internationally.
Emerging from the court, special public prosecutor Mosharraf Hossain Kajol told reporters that all the accused were charged with murder under the Section 302, murder with common intention under Section 34, abatement under Section 109 and abatement with presence during the murder under Section 114 of the Penal Code.
Defence lawyers, including Faruque Ahmed, argued in the hearing that the accused were not habitual offenders and had no intention to kill their fellow so they should not be charged with murder and common intension.
Of the accused, Mehedi Hassan Rasel, Muhtasim Fuad, Anik Sarker, Mehedi Hasan Robin, Ifti Mosharraf Shakal, Moniruzzaman Monir, Meftahul Islam Zion, Mazedur Rahman, Muzahidur Rahman Muzahid, Tabakhkharul Islam Tanvir, Hossain Mohammad Toha, Md Akash, Md Shamem Billah, Nazmus Sadat, Morshed Amartya Islam, Moaz Abu Huraira, Muntasir Alam Jemi, Amit Shaha, Ishtiaq Ahmed Munna,
Samsul Arefin Rafat, Mizanur Rahman and Mahmud Setu were in the dock.
The rest three — Mohammad Jisan, Aztesamul Rabbi Tanim and Muztaba Rafid — are still in hiding and they are being tried in their absence.
The 25 enrolled at the university between 2014 and 2017 on civil engineering, mechanical engineering, chemical engineering, biomedical engineering, water resources engineering, naval architecture and marine engineering, materials and metallurgical engineering, and computer science engineering courses.
After the court order, the accused BUET students were taken to jail in handcuffs in tight security.
According to the charges, Abrar was beaten to death after he had been called to room-2011 from his room 1011 at Sher-e-Bangla Hall on October 6, 2019 and his body with bruises on different parts was later found on the staircase in the morning on October 7.
Abrar was taken to room-2005 and the attackers asked mess assistant Jahid Hasan to clean room-2011 where he was beaten up first, stated the charges.
The charges said that Abrar was tortured in room-2005 branding him a supporter of an Islami Chhatra Shibir. As his condition deteriorated further, the students called the BUET physician with ambulance. The physician, who was also named as a prosecution witness, examined and found him dead and declined to carry him to medical centre.
The police on information visited the place and arrested few of the leaders at the spot. Later they arrested the 22.
According to the charges, Abrar used to live at room 1011 with his three others including Mizanur Rahman. Mizanur informed BUET unit Chhatra League organising secretary Mehedi Hasan Robin on October 4, 2019 that he suspected that Abrar had link with Islami Chhatra Shibir.
Rohin along with others held meeting and inquired about Abrar who was at his village in Kushita and decided to attack him. On October 6, 2019, Abrar return to the campus and he was called to meet his seniors at room-2011 where his mobile phone and laptop were examined. He was beaten for hours with cricket stamps by Ifti and Anik and kept without treatment. Abrar was repeatedly asked whether he was involved with the politics of Islami Chhatra Shibir. Other accused took part in the attack.
On November 13, 2019, the Detective Branch of Dhaka Metropolitan Police submitted the charge sheet against the 25 naming 60 prosecution witnesses.
On January 13, 2020, the case was shifted to the Dhaka Metropolitan Sessions Judge's Court from Dhaka Additional Chief Metropolitan Magistrate's Court for trial.
On March 12, the case was shifted to Dhaka Speedy Trial Tribunal-1 after his parents met law minister Anisul Huq.
Police take the accused of Abrar murder in a prison van after a hearing in the case at Metropolitan Magistrate Court in Dhaka on Tuesday. — Sony Ramany
Want stories like this in your inbox?
Sign up to exclusive daily email
More Stories from Country