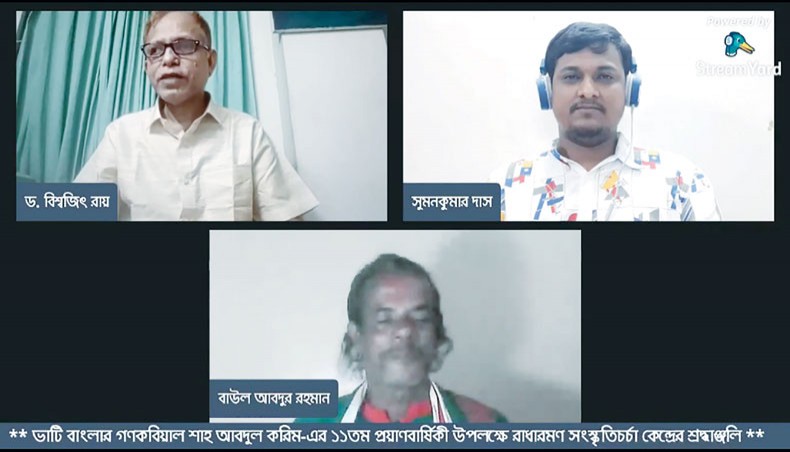 Radharaman Sangskriti Charcha Kendra paid tribute to the late folk bard Baul Shah Abdul Karim organising an online programme on Saturday.
The event, titled 'Shraddhanjali', was organised marking the 11th death anniversary of Shah Abdul Karim, who passed away on September 12, 2009.
Folk singer Baul Abdur Rahman and folklorist Sumon Kumar Das were present at the programme, which was anchored by the general secretary of the organisation Bishwajit Roy.
Abdur Rahman commenced the programme rendering Shah Abdul Karim's song 'Ager bahaduri ekhon gelo koi'. He also sang 'Bandhe maya lagaichhe', 'Saral tumi nam je tumar sarola' and others.
During the programme, he also reflected on life and works of Shah Abdul Karim.
'I consider myself very fortunate because I have had the opportunity to meet Shah Abdul Karim. I first saw him when I was a child, and I instantly fell in love with his singing. He had written and composed numerous songs that were collected in six books namely "Aftab Sangeet", "Gana Sangeet", "Kalnir Dheu", "Dholmela", "Bhatir Chithi" and "Kalnir Kule". I thank Radharaman Sangskriti Charcha Kendra for arranging this programme,' said Baul Abdur Rahman.
'Shah Abdul Karim made immense contribution to the country's music scene. His songs portray social issues, nature and others. He also devoted his life in serving humanity,' said Sumon Kumar Das.
'Though we observe the death and birth anniversaries of Shah Abdul Karim organising colourful programmes every year, we celebrated the occasion through an online event on Saturday due to COVID-19 outbreak,' said Bishwajit Roy, the general secretary of the organisation.
Baul Shah Abdul Karim was born on February 15, 1916 in Derai upazila of Sunamganj. He had written and composed over 1,500 songs.
Shah Abdul Karim was awarded Ekushey Padak in 2001 for his contribution to music. He also received Drohi Kathasahityik Abdur Rouf Choudhury Award in 2000.
Want stories like this in your inbox?
Sign up to exclusive daily email