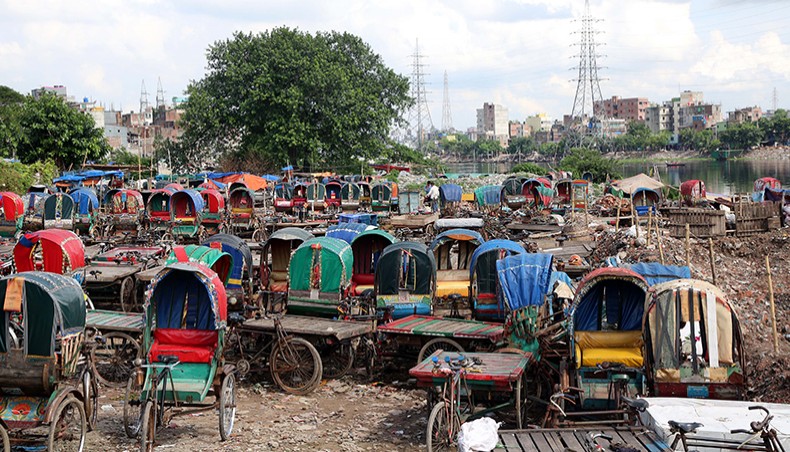 Dhaka South City Corporation has announced after 32 years that it would issue and renew licences for non-motorised rickshaws.
In a public announcement in newspapers on Wednesday, the city corporation invited licence applications from rickshaw and rickshaw-van owners.
Dhaka North City Corporation officials, however, said that they had not taken any decision on the issue yet.
DSCC chief revenue officer Ariful Haque on Saturday told New Age that they were yet to decide on the number of rickshaws and other non-motorised vehicles, including van and horse cart, which would get licences.
'We will issue a specific number of rickshaw licences after analysing the public demand and traffic situation,' he said.
DSCC officials said that the rickshaw licence issuance was suspended in 1988 as per a decision of the local government ministry.
The then Dhaka City Corporation had issued licences to 79,554 rickshaws and 7,807 rickshaw-vans in the undivided city before the suspension.
Bangladesh Institute of Planners president Akter Mahmud welcomed the decision of the DSCC and asked it to take legal actions against the illegal ones.
He said that the city corporation should be careful about the traffic plan of DTCA of not allowing rickshaws on primary roads.
'A specific number of rickshaws are needed for particular areas and roads,' said Akter Mahmud, a Jahangirnagar University urban planning professor.
He suggested that the authorities should customise old model of rickshaws to make them user-friendly and suitable for the city.
According to rickshaw owners' associations, there are 10-12 lakh rickshaws in the two city corporations. City corporation officials said that most of the rickshaws were illegal.
DSCC official Ariful said that in 2015 they renewed licences of only around 52,000 rickshaws.
DNCC chief revenue officer Abdul Hamid Miah said that the city corporation had not issued any new licence as there was a ban.
People involved in the sector have said that cliques comprising ruling party leaders in collusion with law enforcers are making at least Tk 12 crores monthly by allowing the illegal rickshaws to operate in the capital.
The rickshaws having no valid documents from the authorities concerned hit the streets daily contributing immensely to the chronic traffic congestion in the city.
Want stories like this in your inbox?
Sign up to exclusive daily email
More Stories from Country