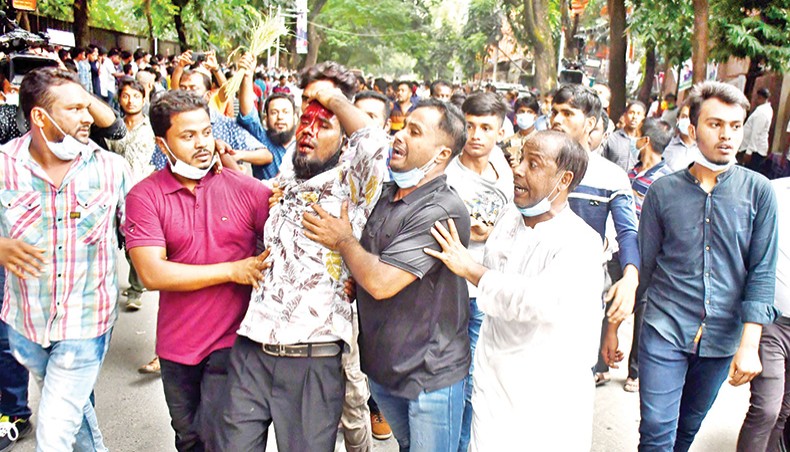 Supporters of prospective candidates got into a clash outside the office of BNP chairperson Khaleda Zia at Gulshan in Dhaka on Saturday when the party leaders were in a meeting to select candidates for four parliamentary by-elections.
The nomination board of the Bangladesh Nationalist Party started interviewing prospective candidates at 5:30pm.
The nomination board was comprised of standing committee members and district presidents and general secretaries of the respective constituencies.
Hundreds of supporters of aspirants to the nominations took position outside the party chairperson's office and shouted slogans in support of their favourite leaders.
During the meeting, supporters of SM Jahangir Hossain and Kofil Uddin, both are aspirants to Dhaka-18 nomination, got into the clash.
About 15 BNP leaders and activists were injured and they were taken to nearby hospitals.
They, however, were released after primary treatment.
Shayurul Kabir, a member of BNP chairperson's media wing, told New Age that the incident was not significant at all and claimed that it as an isolated incident.
A total of 29 prospective candidates submitted their forms to the party office on Friday seeking nominations to contest in parliamentary by-elections.
The candidates included Salahuddin Ahmed, Selim Bhuiyan, Nabi Ullah Nabi, Mohammad Jumman Miah and Akbar Hossain Nantu for Dhaka-5 constituency, Bahauddin Sadi, M Kofil Uddin, SM Jahangir Hossain Ismail Hossain, Mostafa Zaman Segun, Ishtiaq Aziz Ulfat and Mohammad Akhter Hossain for Dhaka-18, Abdus Shukur, MM Faroque James, Mahmudul Arefin Swapan, Eshak Ali, Atiqur Rahman Ratan Mollah, Sheikh Mohammad Rezaul Islam, Mohammad Shafiqul Islam and Abu Syeed Rafiqul Alam Rafique for Naogaon-6.
For Siranjganj-1, singer Kanak Chapa, BM Tahbibul Islam, Nazmul Hasan Talukder Rana and Robiul Hasan submitted their forms.
According to the Election Commission schedule, Dhaka-5 and Naogaon-6 by-elections will be held on September 17.
The EC schedules for Dhaka-18 and Siranjganj-1 have not been announced yet.
Last week, the party nominated Habibur Rahman Habib as a candidate for Pabna-4 by elections which will be held on September 26.
Want stories like this in your inbox?
Sign up to exclusive daily email
More Stories from Politics