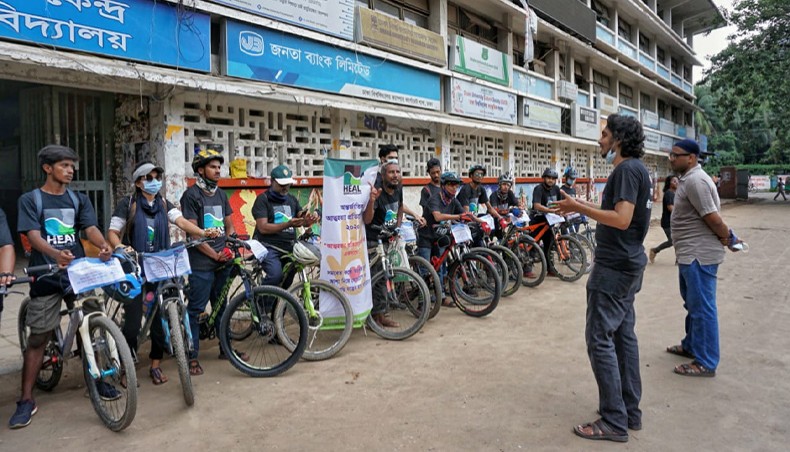 Bangladesh experiences, on an average, 11000 suicides per year and students are a vulnerable group, at least statistically. World Suicide Prevention Day is on September 10 and the students of Bangladesh have been stuck inside their homes since March, without any proper policy or directions about their educational life. Nahid Riyasad argues that the uncertainty is making them even more vulnerable
HISTORY is a glaring example that during crisis time, particularly in the time of pandemics, more people tend to commit suicide. In the USA during the influenza epidemic of 1918-19 and in Hong Kong during the SARS outbreak in 2003, suicide rates escalated among the senior citizens, studies have found.
As we are passing through another such crisis period, mental health issues and suicide are becoming even more relevant. Also, September 10 is World Suicide Prevention Day. This article will talk about how the situations created by the pandemic are creating mental pressure on people especially young students, how to mitigate the pressure and a few initiatives marking the day.
A study published online on April 15 titled 'Multidisciplinary research priorities for the COVID-19 pandemic: a call for action for mental health science' stipulates that mental health effects of the COVID-19 might be profound and suggests that suicide rates may rise worldwide.
In an international consensus statement on suicide risk and prevention during the COVID-19, published in The Lancet Psychiatry journal, a global panel of mental health experts said, 'Suicide is likely to become a more pressing concern as the pandemic spreads and has longer-term effects on the general population, the economy, and vulnerable groups.'
A casual glimpse on the suicide data of Bangladesh is enough to comprehend the seriousness of the matter.
According to World Health Organisation data, every year 800,000 people commit suicide and the attempt number is some 25 times higher. The suicide rate is 16 in per 100,000; that number is 6-10 in Bangladesh.
The Bangladesh Police are the only authorities to keep track of suicides, according to their data, 11,095 people committed suicide in Bangladesh in 2017. This means, on an average 30 people kill themselves in the country every day. In 2016, the total number of suicides was 10,600 and in 2015, the number was 10,500, said the police data.
The same statistics showed that from 2002 to 2009, at least 73,389 people committed suicide. A 2019 study also suggests that both the rate or suicide attempt and suicide commit, female are even more vulnerable than the males. Few recent incidents are testament to that.
On April 11, a ten-year-old girl in Sirajganj committed suicide, as media reported, due to shortage of food. Her father could not tolerate her nagging for food and scolded her which led her to suicide.
Belonging to a different social and economic class, Loren Mendes, a 26-year old model committed suicide at her Gulshan Residence on August 30. Police sources told the media that she committed suicide after an altercation with her parents as they did not approve her love affair.
Considering the numbers, Bangladesh lost a lot of lives to suicide every year and as reports suggest, the current pandemic can ever boost the numbers. As the COVID-19, financial crisis has gripped the ordinary peoples' lives and social distancing measures have locked people inside their homes meaning — more and more people are mentally vulnerable without any professional help. This situation also means that they are more prone to committing suicide.
Tertiary level students can be equally vulnerable as they are frustrated at this moment because of the uncertainty looming large over their educational life and financial career. Schools and colleges are still closed, likewise the public universities, however, private universities and many schools are conducting online classes.
While the online classes have become a burden for many students, the uncertainty is for all. Combine that with the financial conditions of many families and the students who have lost their part-time job or tuition — this is a serious recipe for disaster.
In 2018, at least 11 students of the University of Dhaka committed suicide for various reasons. Those conditions like failure in love, financial crisis or lack of peer-acceptance are still there and the COVID-19 scenario is pilling more on the situation.
People who are younger than university students, are not completely out of danger. A study by the Bangladesh Child Rights Forum says that the trend of suicide among teenagers and children is increasing in the country. At least 293 children committed suicide in 2018.
In 2017, the number was 213. The tendency for children to commit suicide has risen by 5.7 per cent. According to the report, most of the reasons for the suicide of children are family feud and failure in exams.
Jhenaidah, the south-western district experiences the highest number of suicides in Bangladesh with at least 3152 suicides in between 2010 and 2018. With 450 suicides on an average per year, women and young children make up the majority of the victims, media reports show.
To mark the day, there different initiatives in Bangladesh and around the world. International Association for Suicide Prevention is an international body that works towards preventing suicides and creating awareness among people.
For World Suicide Prevention Day 2020, they have decided the theme — Take a Step. Because of the COVID situation, most of the programmes in Bangladesh are online, mainly webinars with mental health specialists.
Bangladesh Medical Students' Society to mark the World Suicide Prevention Day organised a webinar on September 10, 2020. Suicide rate among medical students are particularly high and there are a serious lack of required data and measures to address this issue.
However, University of Dhaka hosted a bicycle rally, by maintaining the proper safety measures to mark the day and create awareness at the same time. Heal Bangladesh Foundation organised the campaign with the theme — Chakay Chakay Mile Pari (We will cross miles on wheels).
Students of educational and counselling psychology department of DU, members of South Dhaka Cyclists and Bangladesh Cycle Lane Implementation Forum attended the rally. The major goal of the programme was to promote the importance of responsible communication among individuals.
This year's suicide prevention day is marked when most of the students of our country are aimlessly procrastinating with their education and subsequent career because of the COVID-19 situation. There are no specific government directions about education of different levels putting them under even more uncertainty.
Such situation is bound to make people frustrated and the younger students are even more vulnerable. During such time, the guardians should mentally support their children and make them feel safe.
Only meaningful communication and strong mental support among individuals can effectively reduce the rate of suicide and stop many preventable ones.
Nahid Riyasad is a member of the New Age Youth team.
Want stories like this in your inbox?
Sign up to exclusive daily email