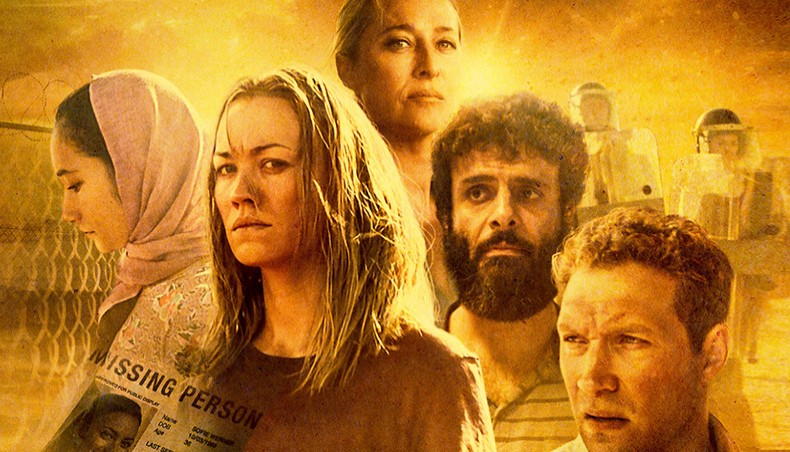 Stateless is a six-episode television drama series on Netflix. The series is partly inspired by the stories from Australian immigration detention centres. It tells the tales of sorrow and misery of more than 70 million stateless people. MD Talebur Islam Rupom reviews the drama series
STATELESS is a six-episode drama series which is partly inspired by the stories from Australian immigration detention centres and represents the real-life struggles of the more than 70 million exiled people globally who are currently seeking sanctuary from war and persecution, half of whom are children.
Each character in this Netflix mini-series describes the stories in their own way echoing the fate of millions of asylum seekers. Initially, the refugees are referred to as UNCs, or unlawful non-citizens in Australia in the series.
In Stateless, Fayssal Bazzi portrays the role of Ameer, a man with two young daughters and his wife. Ameer is originated from the long-time warzone Afghanistan and was a school teacher by profession in his homeland. Ameer left his birth place to protect his daughters and wife and fled to Pakistan.
After saving some money, eventually he steps forward to have a better and safe life. Still he has to face smugglers in this horrific journey who grab money in exchange of arranging a boat. He does every possible thing to protect his family and give a safe passage but not all of them survive eventually to cross the Red Grande Sea.
His wife and their younger daughter sank before reaching to the shore of the sea. His journey to Australian soil is like millions of others.
Can you remember the picture of little Aylan Kurdi from Syria who was found dead on the shore of Mediterranean Sea in 2015? The three years old Syrian kid instantly grabbed the sympathy of the world and reminds us the tragedy of the refugees. Like Aylan Kurdi, Stateless shows the vulnerable chrematistics in a televised way based on the true stories.
After buying a new boat all alone, Ameer makes it to the immigration and detention centre located out of nowhere in the desert and meets his daughter, Mina, the only surviving member of his family. He comes to know about the death of his wife and daughter by her elder and immediately went in extreme depression.
Soraya Heidari as Mina carries the face of a displaced child who is lost in this shady system. Ameer tries every possible way to give the dream of a beautiful world to Mina. His magnificent acting as a father will certainly give you goose-bumps and remains in your heart for a long time.
Apparently, Ameer and other supporting characters illustrate not only the refugees but also many of the developing counties such as Bangladeshi migrant workers who cross all the way through the Mediterranean Sea to Europe to seek a good life and support their family. Unemployment and broken economy let people into stage of forcing themselves to take such risks.
Equally as important as Ameer's character, Yvonne Strahovski plays the fictionalised version of Sofie Werner, an airhostess seeking escape from her troubles. Her character was inspired by an Australian citizen, Cornelia Rau, who in 2004 was imprisoned in one of Australia's immigration detention camps.
She was deemed mentally ill and suffered severe trauma after spending time in a dangerous cult. To escape her troublesome life, she pretended to be a German citizen. She had no papers to prove her identity and was trapped for 10 months before her family found out where she was. Her story led to a national scandal and was the impetus for change. Eventually, it forced the Australian government for a quick reform.
In the telecasted version, Strahovski's character is suffering from extreme post-traumatic stress disorder after a brutal rape that occurred when she was in a cult run by Gordon and Pat Masters (Dominic West and Cate Blanchett). Gordon is a dominant chauvinist whose aim is to exploit woman, especially those who are in existential crisis.
On other hand, Pat helps him in his every wrongdoing just to keep herself established. After they kick Strahovski out, her mental state deteriorates even more leading to her final attempt at escape to Germany via a detention centre but eventually ended up in Australian detention centre mistakenly.
Marta Dusseldorp gives a breath-taking performance as Sofie's sister Margot, who does everything to find her sister. Strahovski and her family perhaps resemble the typical postmodern era consisting with materialistic, sceptic and isolated individuals where the family has distant relationship with their family members.
Strahovski represents the millions of lost souls who are in desperation to seek care and affection from the family. She does not know what she actually wants but try whatsoever to get rid of all the troubles by fleeing to another country. She is actually the opposite of other detainees and only wants to be deported out of Australia, unlike all other shelter seekers who never wants to be deported to their home country.
It is also the reminder for all of us to treat the vulnerable people with more care and befriending them, listening to them before it becomes too late. Additionally, such social stigmatisation ignites existential crisis even more.
Jai Courtney plays as Cam Standford who is a married Australian man with children and tries hard to earn as much as possible to fulfil the demands of his family. He takes the opportunity for being security guard of the detention centre to earn more. Initially, he is generous person and treats the detainees with kindness. But his surrounding environment makes him rude. Sandford is full of dilemma and then shows the courage to choose the path in favour of humanity.
Asher Keddie perhaps turns up the actual face of refugee politics as Claire Kowtiz, a high prolific immigration officer who comes in to oversee the immigration situation of the detention centre. Unlike Standford, she was extremely hardened officer in the beginning who spent her entire life at the Australian Immigration Department.
Later, she is becoming soften after witnessing Mina. In fact, Kowtiz presents the behind the scenes alongside other supportive characters of what usually governments do with refugees and how do they treat them. Mina's helplessness makes her soften and reminds her the significance of having a family. Her strong affection to Mina keeps changing things drastically. Kowti plays the important role to understand the inside situation.
There are also heartfelt characters whose short appearance will blow your mind and keep in your heart for good. Someone's escape after a brutal rape and torture or someone's desperation to make a family and so on will add extra values on the main characters of the series. Each one echoes their escape from their homeland.
After the scandal of detaining Cornelia Rau mistakenly, Australian government went for a quick reform. But any outsiders such as lawyers, journalists and human rights activists are extremely strict to those immigration detention centres. However, Bangladesh has accepted around 1.7 million displaced Burmese population, widely known as Rohingya who lives in Rakhine state in Myanmar and is forced to leave their homeland. It is imaginable how barbarous ethnic cleansing and condition they have faced by Myanmar government.
Taking Australia as a case study through Stateless, top developed countries have the unwillingness to accept refugees despite vast resources and lands. On contrast, in Bangladesh, a developing country with tiny land and extremely vast population, how long 1.7 million Rohingyas will sustain?
So, the international community should make such environment for passaging these displaced people safely and peacefully or open the door of developed and big economy countries. Because living freely is the right from the moment a person is born.
MD Talebur Islam Rupom is a contributor with the New Age Youth.
Want stories like this in your inbox?
Sign up to exclusive daily email
More Stories from Art Culture