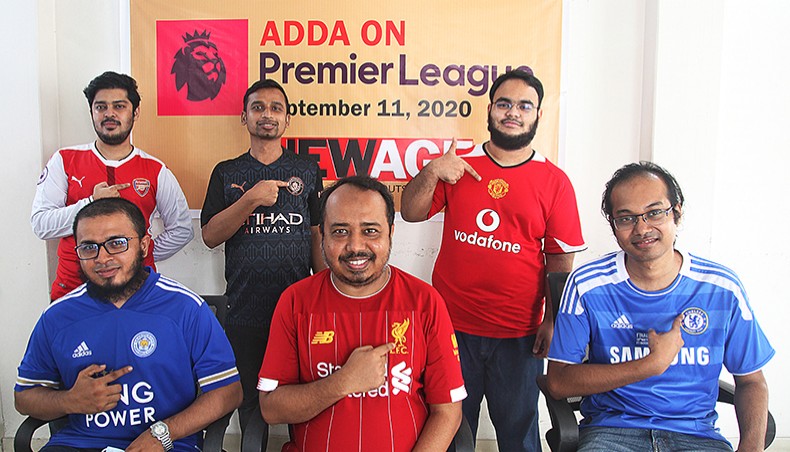 With the new English Premier League season set to kick off on Saturday, New Age invited some fans of top teams at its office to join a discussion. Fans of Liverpool, Manchester City, Manchester United, Chelsea, Leicester City and Arsenal joined the Adda on Friday and shared thoughts about their favourite clubs, oppositions and the league itself. New Age joint news editor Azad Majumder moderated the programme, which was also attended by senior sports sub-editor Mehedi Hassan. Here are the excerpts:
Azad Majumder: Hello and welcome you all to our Adda on English Premier League. You are all aware that EPL is starting from tomorrow [Today]. Due to COVID-19 pandemic, global sports scenario is on the halt and amid this crisis, the new season of EPL is perhaps only sporting event now to bring some excitement. In Bangladesh, many of the EPL clubs have a wide following and audience. We would like to know your viewpoints and expectations regarding your favourite club. We would like to start with Kazi Ehsanul Haque, who is a Liverpool fan, the club that won the title last season. What is your expectation this time?
Kazi Ehsanul Haque: Thank you. Liverpool is probably one of the few teams in the Premier League which has a set starting XI. They know who the players for each position are and for almost two-and-a-half years it is almost the same team. Every team goes through a transition period at some point, Liverpool also went through that part but Jurgen Klopp came in as manager he revamped the team. As a result, for the last two-and-a-half seasons the team is almost in the same shape. Even after the departure of Philippe Coutinho and inclusion of Virgil van Dijk and Allison Liverpool has reached a formation and style of play which might be called as Gegenpressing or Pressing Football which demands high physical fitness. We saw that at times many coaches arrive with their own philosophy and their own style of playing, so if we look at Liverpool's opposition we will find that only Manchester City, coached by Pep Guardiola has that sort of stability. For [Ole Gunnar] Solskjær, Manchester United is relatively new. For Frank Lampard Chelsea is almost a new venture, Brendon Rodgers is an experienced coach but for him also Leicester City is a new project through his philosophy matches with his predecessors. But still, we can't call these teams as Lampard's Chelsea or Solskjær's Man United, which we can term Man City as Guardiola's team or Liverpool as Klopp's team. From that perspective, we can call that the top two sides are Liverpool and Man City and the title race will be between these two teams more or less.
Due to pandemic, transfer market was a bit dull so far and Chelsea had a transfer ban last season. When Lampard was brought in the last season, he was promised that he would have a good purse to complete his team with some good signings. So they are spending heavily this season and have already bought some good players but the team is yet to gel. Therefore I don't take Chelsea as a big threat.
Last season, Liverpool took a remarkable lead before Christmas, which is half of the league. They were like a winning machine. They all believed that they could win the title. The toughest game Liverpool played last season was against Aston Villa, after trailing by 1-0 up to 86th minute but the end of the day Liverpool won. When the team is in a rhythm, play in a certain system, they believe in that and it ultimately makes them a winner. For Liverpool, the biggest success in the transfer window was to hold their key players like [Mohammed] Salah and [Sadio] Mane from the lucrative offers by clubs like Real Madrid.
Due to pandemic, the timeframe of the league is a bit short. It will be a crunch season so bench strength is very important. Any moment someone could get injured, or get infected by a coronavirus and become unavailable for 14 days. These factors pose some risks but I think they have got the backup players to meet the style of play which Liverpool has adopted. I am cautiously optimistic that Liverpool will be in the championship fight this year.
AM: Thank you Ehsan. Now we would like to hear from Aqib Zaved who is a Manchester City fan. Aqib, last year there was a big margin of 18 points between Liverpool and Manchester City in the points table, do you expect your team to overcome the deficit this year or can do even more?
Aqib Zaved: Yes, I also agree with Ehsan that Liverpool will be the biggest threat for Man City in the title run. Chelsea has made some good signings but most of the players have come from different leagues like Timo Werner came from Bundesliga, Hakim Ziyech from Ajax. So if nobody becomes an instant hit, it will be tough for Chelsea. As they spend 200 million pounds, I think Lampard will be under a bit of pressure. Man United badly needed a Center Back and Arsenal's defence improved after the arrival of Michael Arteta.
Ehsan Bhai pointed it rightly that Man city has good bench strength. But I think they will feel the absence of someone like David Silva. On many occasions, the team did not perform well but Silva with his own brilliance made the team through. His direct replacement is Phil Foden, [but] he is relatively new. Only 20 years of age, I think he can't take the pressure of Silva. As Bernardo Silva and Ilkay Gundogan are there, I think Foden will not be under too much pressure but I think what we need is a right-footed centre back. We bought Nathan Ake who is left-footed and Aymeric Laporte is also left-footed. If we could sign Kalidou Koulibaly then it could be neck-to-neck but now we are slightly behind. If we take four best defenders from the last season, three of them would be from Liverpool; Virgil van Dijk, Trent-Alexander Arnold and Robertson. This creates a huge difference with the other teams. The main problem in the last season was I think the injury of Aymeric Laporte. We struggled with injury almost throughout the season. Man City hardly could keep the clean sheet. They conceded one or two goals despite playing better, mostly in the last part of the league, which mostly occurred due to lack of a proper centre back.
For the last 10 years, Man City is the most consistent team. They never went past last four of the Champions League whereas every other team we are talking like Liverpool, Chelsea, Arsenal, and Man United they all have slipped. The most important thing is after Pep Guardiola came as a manager, he injected a different kind of confidence into the players' minds. The season before the previous season (2018-19), we had a tough fixture at the end but we overcame which showed a strong will to win.
AM: True that. Liverpool and Man City, these two clubs were champions and runners up in the past two seasons and we heard from their fans about their next move. Now we would like to hear from Arsenal fan, the team which holds the FA Cup at present and has got a large fan following in Bangladesh. Mushrif Ahmed Omi, secretary of Arsenal fan club Bangladesh, can you tell us about what you expect from the Gunners in the upcoming season?
Mushrif Ahmed Omi: Thank you so much. Before I speak about the coming season, I just want to briefly tell about the previous season, which we believe that we overachieved despite having three coaches round the season. It was very hard for the players to adjust with three coaches in a single season. Moreover, no coach could get the players he wanted. After Unay Emery lost control of the dressing room and eventually got fired, Freddie Ljiunberg came in as interim coach and finally Arteta took charge but he could not play his style of football because he did not have the players. Arsenal's defence was very shaky, but the way Arteta regrouped the team is really remarkable. I am very optimistic about Arteta in the new season because he showed his tactical flexibility during the post lockdown period when the league took a re-start. The gunners managed to defeat stronger sides like Man City, Liverpool with a comparatively weaker side, especially in crucial matches like the semi-final and the final in FA cup. After seeing these moves, I have full confidence in Arteta.
Earlier Arsenal had problems with player signing. Either they didn't buy players or they didn't buy the right players for the right positions. This time they drafted some players according to their budget. There are also some players who were playing poorly under the previous coaches but Arteta totally transformed them after taking charge, boosted their confidence level and now they are showing high intelligence level on the field. While Arteta was assisting in Man City, he had a reputation of developing players, so in every aspect, I am very hopeful about him and I believe we will finish among top four in the new season. We lack a good central defensive midfielder if we can grab one we can even fight for the title or challenge the contenders.
AM: Very well put. Now we are moving on to Man United fan Shihab Rahman. I think Man United is the most popular or one of the most popular English clubs in Bangladesh, not even Bangladesh in the whole world. May be their recent performance is a bit down which kept their supporters mum for a while but a trophy can again make them roar. What are your views about Man United in next season?
Shihab Rahman: Actually it's a never-ending tale if we start to talk about Man United, especially regarding the last five years. The issues we faced is 2013 like poor defence, absence of guide figure, no depth in the squad, the same issues we are facing in 2020 as well. We cannot overcome these issues because there are huge gaps in communication between our team management and club directors. For example, if you take Chelsea who came fourth last year and this time they are trying to fill in every hole with new players. What Man United did? They bought only one player, even after bargaining for two months! Even after Man United got Jadon Sancho that will be in such a nick of time of the transfer window that after that maybe Man United can't buy another new player. A centre back along with Harry Maguire is very much needed as he is a bit slow. But probably we are not getting a centre back. Nemanja Matic is 32 years old and he is not fit enough to play every match of the season. We don't have any backup defensive midfielder. The central midfielder is playing as a defensive midfielder. For years, Man United is focusing on bagging a star player, a famous player from the transfer market. Instead of making the team better, they went for a big signing.
AM: Does the current MU squad pose a threat for EPL, CL titles?
Shihab Rahman: Transfer market is not over yet, but the way things are transpiring, it's very unlikely that we can achieve anything more than the top-four. Maybe top-three at best, even though I don't see it happening as Chelsea is very strong this season. I think our fight this season will be with Arsenal, which is not very good, but most likely that will be the case.
AM: Leicester was in the title picture at the start of the previous season. What do you think will be the case this season?
Ebnul Karim: Leicester City's doesn't have a lot of team depth. City, Liverpool, United, Chelsea; all of them have a strong bench. If you check each of the top team's main playing XI's playing minute last season, you will see that nine-ten Leicester players have played close to 3,000 minutes, at least over 2,500 minutes. That's not the case for other top Premier League sides. That means Leicester is playing one team consistently. Whenever a player is getting injured, they have to bring in a player from their academy. That's because they have not made any big buys. Leicester's previous season also had gone badly. They did not qualify for UCL or Europa. So, their financial backup wasn't as strong as other teams. But as a team, they began really well under [Brendan] Rodgers. Their playing style was close to Barcelona's 2009-10's passing style. For that, other teams couldn't cope up with them in the starting and they won a lot of match at a stretch. They made history by winning 9-0 against Southampton, the biggest win in EPL history. As a supporter, these were good moments for me. But after lockdown, some players got injured like [James] Maddison but the injury made us suffer the most was Pereira's. We had no player at right-back, and there was no backup. If a player gets red-carded, there was no proper replacement for the next match. Morgan, who is quite old and can't move very swiftly, had to be used. That's why Leicester struggled a lot in the latter part. Post lockdown, after Crystal Palace, Leicester got the least points.
AM: What do you think Rodgers as a coach?
Ebnul Karim: Rodgers is definitely a good coach. He could've won the league with Liverpool had [Steven] Gerrard not slipped against Chelsea. Even then he could've won if some other matches had gone their favour and if [Luis] Suarez's biting incident hadn't happened. Even in his run with Celtic, he did very well. Rodgers is a good coach. He can bring the best out of his players, even an average player could perform well under him.
AM: Why is Jeremy Vardy still not viewed as one of the best strikers in the world?
Ebnul Karim: In 2014-15, when Leicester returned to EPL, he was a bit irregular in the side. Since becoming a regular starter from next season, Vardy is the most consistent EPL striker. He and Sergio Aguero are most probably scored the most goals against the top-six. Even Kane struggled against the top-six. But comparatively, he wasn't in the limelight as much. As an English player, he should have been more hyped. Maybe because of Kane already being there, he didn't get that recognition, he remained under-rated. Maybe that's the reason why he has decided to retire from the England team at an early age.
AM: There is a lot of hype surrounding Chelsea's big purchases before the league. How do you think Chelsea is going to end up in this season?
Nafis Zaman: Before speaking about what I think will happen this season I first want to talk about the previous season. Before last season [Maurizio] Sarri left, we were handed a transfer ban and our most influential player of the previous season Eden Hazard left the club. The club couldn't sign any new player. Despite all of this, Lampard built a competitive new team with academy players and loan returnees, which I think is one of his biggest achievements. For a new manager, who had his first season in EPL and second season overall, to remain in the top-three of the league for the majority of the season was a super achievement. When Lampard arrived, Roman Abramovich had given him assurance that the team will now have some stability, like Pep Guardiola's Manchester City. In the last 10-15 years, Chelsea had only one lasting identity, when it was Jose Mourinho's team. After him, no other coach stood out for Chelsea. Chelsea has been following Jose Mourinho's blueprint for 10-12 years. Lampard's philosophy is a little different. Lampard has played under Mourinho, Carlos Ancelotti and other great managers. He even played under Guardiola in City. His philosophy is to attack. He likes to play the team 4-3-3, with one central defensive midfielder, two attacking midfielders. But last year he didn't have the options. From the academy, he promoted Mason Mount, Tammy Abraham and they played well. But our defence was not good. Goalkeeping problems are still there. If Kepa doesn't start giving decent performance it's going to be very difficult. Last season there was a 33-point difference between us and Liverpool and a 19 or 21 point difference with City. This season Chelsea has bought five first-team players. Maybe they will buy one more. The new five purchases were needed. In our defence, there was no leader. With the arrival of Thiago Silva, we hope that our defensive line will benefit. In left-back Marcos Alonso couldn't return to his defensive position from attack quick enough.
Ben Chilwell is stronger defensively. He will be counted in the top-five EPL left-backs. In striking, Timo Werner will replace Tammy. Pulisic will start at left-wing, Hakim Ziyech right-wing, Kai Havertz, Kovacic and Kante will play in the midfield. Azpilicueta, Zouma, Silva, Chilwell and Kepa will constitute the backline. Kepa will be the first choice unless we bring in any keeper. I personally think surpassing or competing with Liverpool and City for the title will be very difficult. I want the difference between second and third to be fewer this season. And when a club spends over 200 million before a season, they would at least want to win one trophy. So in this season, I hope they won at least one cup like the FA Cup.
Mehedi Hassan: According to me, Liverpool and City will be competing for the title this season. But Chelsea has also built a very strong side. United have brought in Van Der Beek from Ajax Amsterdam. They are doing better than before under Ole Gunner Solsjkaer. I think these four teams will be at the top. Liverpool and City will fight for the top-two spots and for the remaining slots of the top-four, Chelsea and United will compete. Under Arteta, Arsenal has been playing better football. Arteta was Pep's deputy for many seasons in City. He has been a bit successful at emulating Pep's style in Arsenal. They beat Chelsea to win the FA Cup and then beat Liverpool to win Community Shield. They will give a fight for a top-four finish. In Leicester's case, I think their bench is very weak. They have to heavily depend on Jamie Vardy for goals and in the midfield, they depend on James Maddison to provide. Despite buying Werner, Havertz, Ziyech, I don't think Chelsea compete for the title this year.
AM: As a MU fan, say something about United's championship chances this year.
Mehedi Hassan: They can finish in the top-four. But United's game is not as fluid as Liverpool or City's. United are playing boring football, depending mainly on counterattacks, which is a problem. Another problem for United is that they don't have a right-winger. Since Nani, United haven't had a good right-winger. United need someone like Jadon Sancho to fill in that gap and United is trying to get him. But Borussia Dortmund is asking for 120 million Euros for him, which is an astronomical price. If United manage to get him, United will certainly finish at top-four.
AM: The tide of Liverpool-United rivalry has changed, with Liverpool now being the more dominant team. Will that continue this season?
Aqib Zaved: I think they will do well. They will undoubtedly stay in the top-two. I think the title fight will be between Liverpool and City, which has been happening for the past three seasons. There was a one-point difference in 2018-19 season and then Liverpool won. It will be the same this season. It will be a very close fight. Yes, they have one of the best sides I have seen in recent memory in the Premier League. So, they will do well. Liverpool could struggle with one thing. When strikers stop scoring for their teams, every team struggles. Whenever Salah or Mane stop scoring a lot of goals, we see Liverpool struggle. Liverpool doesn't have any backup scoring option. That's why Liverpool is in a risky position. On the other hand, the City's bench is very strong. So it seems like City will walk away with the trophy this year.
Liverpool needed a player like Timo Werner. Firmino scored eight goals last season. He scored only once at Anfield against Chelsea. They needed a player like Timo Werner, who would score and also assist in scoring. Firmino helps to score, but he doesn't score that many. Maybe it's part of Klopp's philosophy. I was happy that Werner went to Chelsea because currently, our main rival is Liverpool. In this season I am more confident than last season. If Koulibaly arrives, I am 70 per cent sure that we will win the title.
AM: Are you disappointed that Messi is not coming?
Aqib Zaved: Not at all! Because for City Koulibaly is more important than Messi. We have players for Messi's position, but we don't have anyone for Koulibaly's position. For this reason, we struggled a lot in the past two-three seasons. This is also one of the main reasons for not performing well at the Champions League.
AM: Quite a big statement. Coming back to Liverpool fan, who you think a threat for a title other than City?
Ehsanul Haque: Firmino is labelled as a striker in fantasy football. Firmino is not at all a striker. When Firmino doesn't play for Liverpool in a match, only then his importance in the side is truly felt. Firmino is not playing to score goals. Firmino builds up the link-up of Liverpool's play. Without Firmino, Liverpool can't play like itself. We see many small viral clips in social media. In most of Liverpool's moves, Firmino is involved. He is seen playing a dummy to create space for Salah, Mane. Firmino is invaluable for these attributes. When Coutinho left Liverpool, he was the team's main player. But with that fund, Liverpool filled its gaps by purchasing a goalkeeper and by bringing Van Djik. Liverpool is not a Salah team or Mane team, I don't believe that. Liverpool is a system depended on team. Liverpool has tried two players in place of Firmino, Minamino and Naby Keita. But none of them has been able to become the new Firmino. Last season after winning the championship, post lockdown Liverpool hasn't managed to score a lot of points. I think people are forgetting how dominating they were before the lockdown. In the latter part of the season, Klopp worked on those problems with the squad. He tried different formations post-lockdown. Actually, Klopp's hands are tied. He can't buy new players. He is trying to use existing resources. Another thing, I don't think someone like Hakim Ziyech , Kai Havertz is ready to play with the same intensity for 90 minutes in Premier League. They are still not ready for heavy-metal football. That's why I am not considering these players as a threat, Chelsea as a threat. Ziyech will of course shine in the left-wing with Willian no longer there and for fantasy football players Ziyech could be a diamond. Post-lockdown United over-achieved. In the last 10 games, [Anthony] Martial played the best football of his United career. Solsjkaer made Martial his main striker, putting [Marcos] Rashford on the left. [Mason] Greenwood is a revelation and for them, I think Greenwood is a better player than Sancho. I feel jealous that Greenwood is playing for my rival team. I see shades of Van Persie in Greenwood. His both left and the right foot is very good. There is also some boldness in him. Maybe as there are no crowds, he is expressing himself more in the field. I think in front of 76,000 people at Old Trafford, Greenwood wouldn't be playing this kind of football. United is not that good a team to finish so high up. Their front-four played really well. Signing Van Der Beek was a long term signing for them. Van der Beek will develop into the next Xavi Alonso. Pogba is still in United because the market is deflated after the COVID-19 pandemic.
We know that footballers earn a lot of money so they have a social life. They need a place to spend the money. Manchester and London are places like that. That's why players don't want to go to cities like Liverpool and Leicester. When clubs from Merseyside and London offer the same amount of money to a player, then the player chooses London. There are also few exceptions but rarely do we see a player from Brazil or Argentina come to play in the Premier League at their peak. The reason behind this is cold weather, rough tackling and they have to play like machines. But there is a lot of money in the English Premier League. Another problem is that many players don't want to come to the Premier League as they need to play a lot of taxes. I think Arteta is rebuilding Arsenal. I don't see any threat from United. I'm not confident about Chelsea but Lampard is a Chelsea boy and he has the power to dominate a player. But I'm sure whether he would be able to become influential figures like Ancelotti [Carlo] or Mourinho [Jose]. So, I don't know Chelsea's expensive players could execute Lampard's instructions or they can gel. So I'm ruling all three. What I want to say about Leicester is that after the death of their owner, his son is not investing that kind of money. They are not utilising the money that they have got after selling Maguire [Harry] and Chilwell [Ben]. I'm not also sure that Brendon Rogers has the charisma to attract the rising players.
AM: Thank you Ehsan. I would like to come back to Ebnul. It seems beside Leicester you have got a good insight into other teams also. As Leicester is the underdog, how do you assess the other five teams?
Ebnul Karim: As everyone present here is saying that either Liverpool or Man City are favourites to lift the little I almost agree with them. If you talk about United, they have got a good bunch of young academy players. They will give a fight for the top four and in two years' time, this squad will flourish. But I don't think this year they will finish in the top four. This is the second season for Mourinho. Tottenham have a good team, have good players like Harry Kane, their defence is also good. They have a goalkeeper like Lloris [Hugo]. So Spurs can be a very good contender for the top four. Arsenal is looking for a Lyon player, if they can buy him they can fight for top-four. If not, Chelsea and United have the strongest squads to finish in the top four. As a Leicester fan, I think due to pandemic we are not very sound in the transfer market. So I would be happy if we could finish in the top 10 this season.
AM: Thank you Ebnul. Actually, Leicester never expects big in the league but somehow they finish well. Going back to Nafis, you said that despite signing a lot of players you are not expecting too much this season. Your team finished on par with United last season. You have discussed your team but what do you think about other teams?
Nafis Zaman: I think in terms of squad depth, City is the best but if I think about the first XI, Liverpool is the best. But they struggle when Firmino [Roberto] doesn't play. They struggle when Henderson [Jadon] doesn't play. I also consider Liverpool as title contenders if they don't suffer any major injury setback.
AM: Arsenal fans are avid readers of New Age. I want to give Omi another chance to speak. Could you please tell us who will finish in the top four?
Mushrif Ahmed Omi: I think Arsenal fans are more active in social media. Like others, I also think either City or Liverpool will win the title. But it's Liverpool to lose as they have a settled team. Last season, City suffered defensively, if they cannot sort out that problem they might fall in trouble. The other problem for City is that they have lost David Silva. I don't know how they will fill up his position. I think Arsenal, Chelsea and Tottenham will fight for the other two places. Sadly, I'm underestimating United as they buy a high profile player, but eventually, they don't get the service they want.
AM: Now I want to ask my colleague Mehedi Hassan who he thinks has the best chance of winning this year's title?
Mehedi Hassan: Manchester City because they have the best squad depth. The city will be followed by Liverpool, Chelsea and United.
AM: What do you think Shihab? Everyone seems to downplay your Manchester United.
Shihab Rahman: I would probably say Manchester City because they have the best squad depth. Then Liverpool and I are a bit confused about the third place but my heart says Man United and then Chelsea.
AM: Nafis, what do you think?
Nafis Zaman: I would say Manchester City will finish as champions, then Liverpool, then Chelsea and Manchester United.
Mushrif Ahmed: Liverpool, City, by heart Arsenal, Chelsea.
AM: What about Ebnul?
Ebnul Karim: I think City will finish on top, second Liverpool and Chelsea at three or Spurs. If Manchester United cannot fix their defence, they will struggle to fight for a top-four place.
AM: Manchester City supporter Aqib is listening curiously. What do you think?
Aqib Zaved: We are seeing ourselves as champions and then Liverpool, Chelsea and Arsenal.
AM: Thank you. Let's go back to Ehsan. We have started with you. Now want to finish with you. What do you think, who will be the champions?
Kazi Ehsanul Haque: I think it will be a neck-to-neck fight between Liverpool and Manchester City. But whoever will manage the injury problems better, they will likely finish on top. My heart is also saying its Liverpool but brain is saying it will be neck-to-neck. I think the Liverpool team is much, more set than Man City. I think Arsenal and Spurs will fight for the top four. Chelsea will finish fifth.
AM: With this, we end our discussions. On behalf of New Age, I want to thank everyone for coming here.
Transcribed by Samiur Rahman, Ashfaq-ul-Alam and Mehedi Hassan,
photos Abdullah Apu
Want stories like this in your inbox?
Sign up to exclusive daily email
More Stories from Football