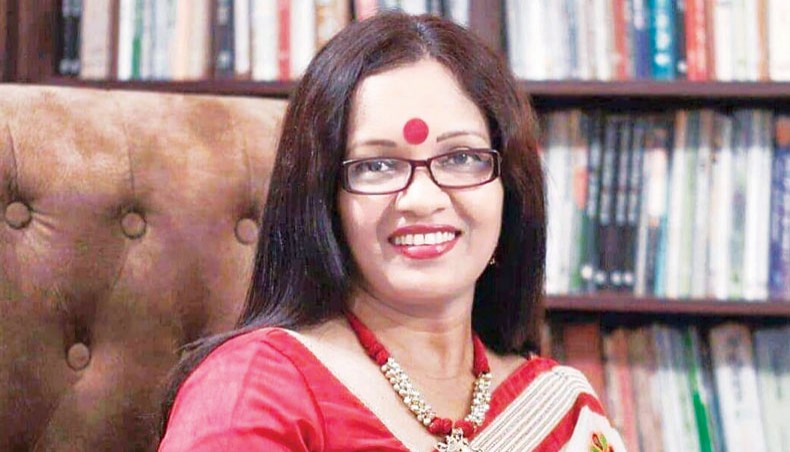 Playwright and writer Ruma Modak said that theatre activists in rural areas are often looked down upon and as a result theatre troupes outside Dhaka struggle to move forward.
A senior member of Habiganj-based theatre troupe Jiban Sangket, Ruma Modak has penned 18 plays till date for the troupe, which has produced 36 plays so far.
'Theatre practice is not viewed as a respectable occupation outside Dhaka. Theatre activists are looked down upon by the people in rural societies and that makes it very difficult for a person involved in theatre. We are constantly losing talented artistes, who are giving up theatre practice because of the social and religious constraints,' Ruma Modak told New Age.
'Theatre troupes in rural areas also suffer from financial difficulties due to lack of sponsors. Our theatre troupe didn't even have an office or place for rehearsing our plays until recently,' added Ruma Modak.
Jiban Sangket began its journey in Habiganj in 1986 with the street play 'Royal Bengal Tiger'. Ruma Modak has been working with the troupe since 1999. Her husband Aniruddha Kumar Dhar is the president of the troupe, which has performed more than 20 times at different festivals held in Assam, Tripura and West Bengal of India.
'My first short story was published in 1985. I started writing plays after I came to Habiganj due to my profession. Later, I married Aniruddha Kumar Dhar. I have been involved with theatre fulltime since 1999. Though I started writing stories before I started writing plays, my identity as a playwright came to the fore as my stories have not been published much while my plays have been staged many times by the troupe,' added Modak, whose repertoire includes 'Kamalabatir Pala', 'Bibhajan', 'Jyotisanghita', 'Phoenix-er Pakha' and others.
'The journey of Jiban Sangket started with anti-authoritarian street play. Nowadays we are experimenting with the plays which will give viewers a chance to peer into the thousand year old tradition and culture of Bengali theatre,' mentioned Ruma Modak.
Ruma Modak has penned five short stories portraying the COVID-19 outbreak and its impact on people. The stories are — 'He Pragarh Pitamahee,' 'Bhorer Abhas', 'Shudhu Pran Dharaner Glani', 'Amogh' and 'Matro Hajar Panch'.
'The COVID-19 outbreak has defeated all our technology and weapons. Today, the coronavirus has claimed lives of over 9,00,000 people worldwide. People are saying that the outbreak will be over in one year, but we still do not have any vaccine or antidote. Our country should focus more on health research. I hope the vaccination process will be free of corruption and people from all walks of life will get it,' said Ruma.
Ruma Modak has published five collections of stories including 'Byabachchheder Galpaguli', 'Prasangati Bibratakar', 'Nadir Nam Bheramohana' and others. She has finished two novels and her sixth collection of stories will be published soon.
'Two of my novels — "Bhasan" and the "Dwitiyar Chand" — and my sixth collection of stories "Eisab Prem Moho" will be published from Jaladhi soon. I hope readers will enjoy those,' concluded Ruma.
Want stories like this in your inbox?
Sign up to exclusive daily email
More Stories from Theatre