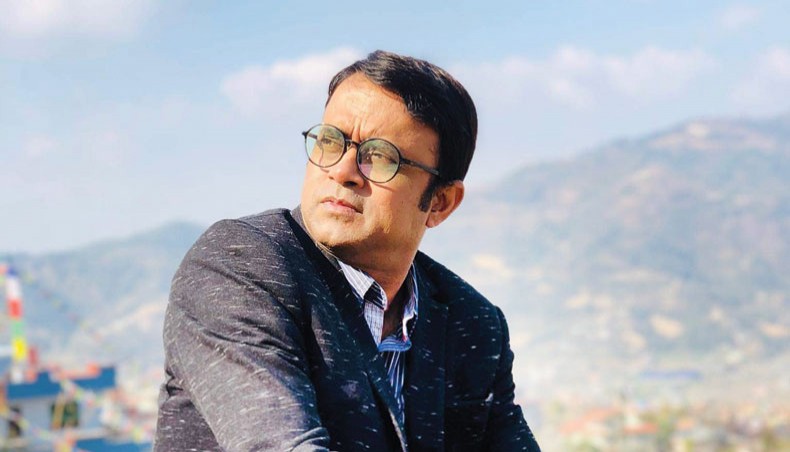 Actor Abu Khayer Mohammed Hasan, popularly known as AKM Hasan, said he enjoys playing roles that give urbanites a crucial glimpse into the rural life and culture.
The actor made his small screen debut with Salauddin Lavlu-directed 'Ranger Manush' (2004) where he played the character of a rural cowboy and he gave so much to the role that his demand soared and he never had to look back.
'I enjoy playing comedy characters in small screen productions that depict rural life. Besides, teleplays and drama series which revolve around village life give the urbanites
a crucial glimpse into village politics, way of life and people living in villages,' AKM Hasan told
New Age.
Hasan has acted in nearly two hundred teleplays and drama series. Though he is known for playing comedy characters, if he gets the chance, he does not shy away from serious roles.
'I play comedy characters because people like to see me in such roles. However, I have also played serious characters in many productions. If I come across a story where I am cast in a serious character and I really feel that the character will suit me, I go for it,' mentioned Hasan, who also spoke on his recent ventures.
'Now I am acting in seven drama series for different TV channels, namely Ahsan Alamgir directed "Swapna Adda" for Baishakhi TV, Shariful Kobir Manik's "Cheating Master" for RTV, Syed Shakil's "Ananda Bhraman" for ATN Bangla and others. I play comedy characters in all the productions,' said Hasan.
When asked why he chose acting as a career, he replied, 'I have always felt a special affinity to acting since I was a child. So when it was time, I decided to pursue acting as a career.'
AKM Hasan returned to the shooting floor in July with 'Cheating Master'. The actor never seems unconcerned about the proliferation of the novel coronavirus during shooting. He always wears mask and uses hand sanitiser when he is not performing in front of the camera.
'The COVID-19 outbreak has changed shooting trends. After returning to the shooting floor, I saw that people in shooting units are doing their best to follow the government-set health directives. Besides, the numbers of crew members have been reduced to ensure safety.'
Hasan also spoke about his upcoming venture, 'I am looking forward to joining the shooting of Emdadul Hoque Khan's teleplay "Bidyar Bhar", which will begin soon.'
When asked whether he has any messages for his fans, he replied, 'I urge everyone to stay at home and follow the health directives when they go outside. I also urge all to watch our local TV channels.'
Want stories like this in your inbox?
Sign up to exclusive daily email