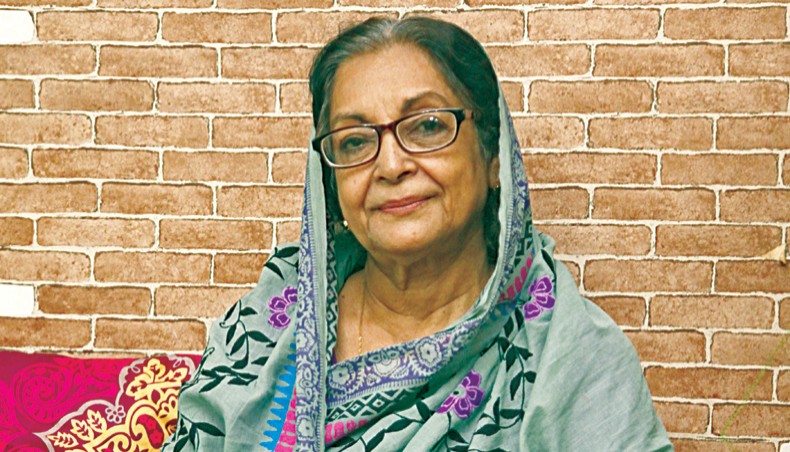 Ekushey Padak and National Film Award-winning veteran actress Dilara Zaman said that elderly artistes will have to ensure their own safety and take extra care on shooting floor until the COVID-19 crisis ends.
The actress returned to the shooting floor before Eid-ul-Azha. She is currently attending shootings for drama series namely Tauquir Ahmed directed 'Rupali Jyotsnay' and Habib Shakil directed 'Porer Meye', which are being aired respectively on Channel-i and ntv.
'I returned to the shooting floor with Tauquir Ahmed's drama series "Rupali Jyotsnay" before Eid-ul-Azha. I am also attending shooting for Habib Shakil directed "Porer Meye". The coronavirus has changed shooting trends. After returning on shooting floor, I saw that the cast and crew members are following the health directives to curb the spread of COVID-19. However, as between 40 to 50 people work on the shooting floor at a time it is prudent for elderly artistes to take extra care during shooting,' Dilara Zaman told New Age.
'When I attend shooting, I take my own food from home. I always carry hand sanitizer with me so that I can keep my hands germ free. Besides, I wear mask at all times when I am not performing in front of the camera,' she added.
Besides drama series, she is also acting in an upcoming feature film on country's founding president Sheikh Mujibur Rahman titled 'Tungipara'r Miya Bhai'.
'I participated in the shooting for the film on Monday. I play the character of mother of Sheikh Mujibur Rahman in the film,' mentioned Dilara Zaman.
Dilara Zaman does not leave her home unless she is going to shooting floor. She spends her free time cooking, praying and reading books.
'I am suffering from various age-related diseases including diabetes and high blood pressure. So I do not go outside unless it is absolutely necessary. I spend my free time watching TV, reading books and praying. I also speak with my daughters and grandchildren whenever I can,' she added.
When asked about her upcoming ventures, the actress replied, 'I am looking forward to attending the shooting for an upcoming drama series which will be aired on BTV. The shooting for the series named "Pichhutan" will commence on October 1. It will be directed by Zahid Hasan. Besides, I will be acting in two upcoming feature films namely "Arjan 71" and "Amar Babar Naam" this year.'
When asked whether she has any messages for her fans, Dilara Zaman replied, 'Coronavirus has forced us to change our lifestyle. It is an enemy which we cannot see but if we wash hands frequently, maintain social distancing and wear masks we can keep ourselves safe. If we all follow the health directives, we will win.'
Want stories like this in your inbox?
Sign up to exclusive daily email