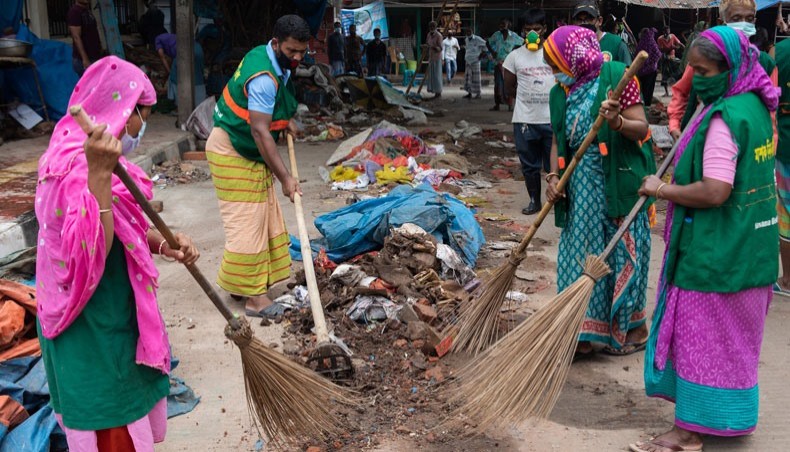 Sanitation workers in Bangladesh and other South Asia countries are working amid the COVID-19 pandemic with little protective equipment and poor access to hand washing and cleaning facilities, according to a new report from WaterAid.
The report, Safety and Wellbeing of sanitation Workers during COVID-19 in South Asia, explored how the ongoing COVID-19 pandemic was impacting the lives and work of sanitation workers in South Asia.
Sanitation workers provide an essential public service that does not stop even during lockdowns. But despite this, they often work in terrible conditions with low pay, job insecurity and face social stigma and discrimination.
The research was carried out in Bangladesh, India, Nepal and Pakistan over a period of approximately six weeks from the end of April till mid-June.
Different types of sanitation worker were interviewed, including sweepers, latrine cleaners and hospital cleaners, said a press release.
The report found that fear of infection and concern for family members was a common concern in all the countries involved in the study.
Eight in ten workers interviewed in Bangladesh thought their job would put them at high risk of infection.
Despite a high level of awareness amongst workers about the need for personal protective equipment to reduce the risk of infection, supply and use of equipment was mixed. Where PPE was provided by employers, it was rarely sufficient in terms of fit, quality, and regularity of supply.
While use of masks and gloves was relatively higher, supply and use of more specialised equipment such as aprons or goggles was much lower, even amongst high-risk groups such as hospital cleaners.
In Nepal, one third of the workers had received no PPE from their employers at all. Workers across India, Pakistan and Bangladesh also complained of suffocation while using PPE in hot weather.
Sanitation workers are exposed to multiple hazards and suffer debilitating infections, injuries and even death while carrying out their work.
In India, most workers reported washing or sanitising hands at least twice during a workday.
However, 40 per cent of the workers reported lack of handwashing stations at workplaces, and handwashing was not consistently carried out at times most relevant for COVID-19 prevention.
Want stories like this in your inbox?
Sign up to exclusive daily email
More Stories from Miscellany