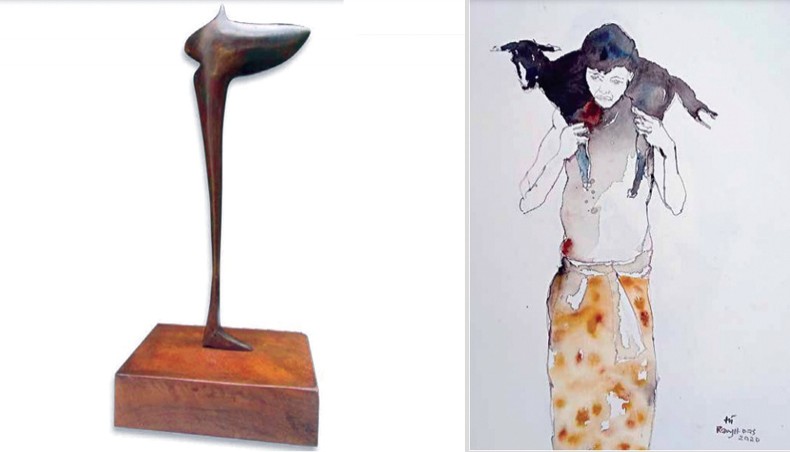 A group art exhibition featuring works by modern and contemporary artists from Bangladesh and India commenced at Gallery Kaya in Uttara on Monday.
The 24-day exhibition titled 'September Select', organised by the gallery, features a total of 176 works by 44 modern and contemporary artists.
The exhibition features drawings, paintings and sculptures that used mediums such as acrylic, oil, watercolour, ink, pastel, pencil, charcoal, etching, aquatint, relief process, stainless still, bronze, and others.
The participating artists include K G Subramanyan, BR Panesar Amitabha Banerjee, Aminul Islam, Sanat Kar, Lalu Prasad Shaw, Samarjit Roy Choudhury, Jogen Chowdhury, Monirul Islam, Rafiqun Nabi, Hamiduzzaman Khan, Mansur-ul-Karim, Aditya Basak, Tarun Ghosh, Ratan Mojumder, Jamal Ahmed, Kazi Rakib, Ranjit Das, Ahmed Shamsuddoha, Masuda Kazi, Ajit Seal, Sheikh Afzal Hossain, Shishir Bhattacharjee, Chandra Bhattacharjee, Goutam Chakraborty, Atin Basak, Mohammad Iqbal, Aloptogin Tushar, Anisuzzaman, Nagarbasi Barman, Md Safin Omar, Jayanta Naskar, Sheikh, Md Rokonuzzaman, Ashraful Hasan, Kamaluddin, Bishwajit Goswami, Ruhul Amin Tarek, Shohag Parvez, Shahanoor Mamun, Sumon Wahed, Didarul Hossain Limon, Fahad Uddin, Kamrul Khan and Ritusree Das.
A slew of subject matter have been explored by these artists, including women, flower, elephant, scenic beauty of Bali, monsoon, autumn, human body, birds, Buriganga river, life of fishermen, mountains, nature and others.
To mention a few works, KG Subramanyan's untitled etching work depicts a girl walking holding flowers in her hands. The bottom portion of the work shows a couple watching their reflection on a mirror and on the left side of the work geometrical shapes and forms comingle.
Amitabha Banerjee's serigraph on paper entitled 'Waiting' shows a girl waiting for someone.
Samarjit Roy Choudhury's watercolour painting titled 'Sea coast in Bali, Indonesia-2' depicts the scenic beauty of Bali beach in Indonesia.
Hamiduzzaman Khan's watercolour painting titled 'Crossing the River' shows fishermen catching fishes in the river.
Tarun Ghosh's watercolour painting titled 'Blooming Lotus' shows a beautiful girl covered by lotus flower.
One can visit the gallery by making an appointment by sending an email to [email protected] and [email protected]
'If anyone contacts us through an email, we will send him or her the exhibition catalogue,' Rajen Gain, exhibition coordinator of Gallery Kaya, told New Age.
'Most of the works displayed in the exhibition are from our collection,' added Rajen.
The exhibition has been sponsored by ADN Group and the online partner is www.artitude.com.bd and online media partner is bdnews24.com. The exhibition will remain open till September 30.
Want stories like this in your inbox?
Sign up to exclusive daily email
More Stories from Exhibition