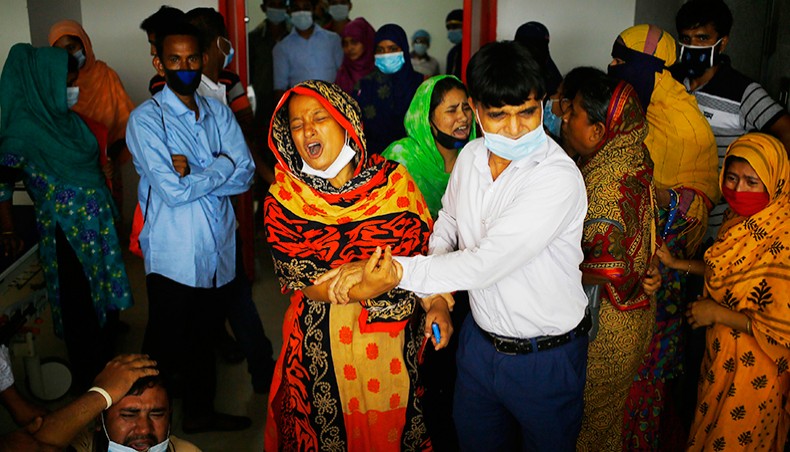 The Titas Gas Transmission and Distribution Company has suspended eight of their officials and staff on Monday amid allegations of mismanagement in gas supply line maintenance that led to the leakages and final a devastating blast on Friday.
Meanwhile, the fire service official found heavy presence of gas in Narayanganj mosque even hours after the accident as there were at least five to seven leakages in the gas pipeline that passed beneath the mosque.
Two more victims of fire accident of Baitus Salat Jame Masjid of Paschim Talla under Fatullah have succumbed to their burn injuries on late Sunday night and Monday afternoon, taking the death toll to 27.
Partha Shankar Paul, a resident surgeon on Dhaka Medical College Hospital burn unit, said injured Monir Farazi, 31, died on Sunday night while another injured victim Imam Hossain Imran, 33, died around 1:30pm on Monday.
RGM worker Imran sustained over 90 per cent burns and was in the intensive care unit since Sunday, doctors said.
Imran's brother-in-law Amjad Hossain, 32, was taken to the ICU on Monday morning as his condition deteriorated, said Amjad's mother-in-law Rowshan Ara.
She said that both of her son-in-laws were offering their Isha prayers in the mosque when the explosion took place.
Another deceased Monir Farazi was at a dormitory in the mosque building. He also suffered over 90 per cent burns.
Meanwhile, a Supreme Court lawyer on Monday filed a public interest litigation writ petition seeking a government directive to pay Tk 50 lakh each as compensation to all the victims who died and were injured after the explosion in Baitus Salat Jame Masjid at Fatullah in Narayanganj on Friday.
The High Court bench of Justice JBM Hassan and Justice Md Khairul Alam posted Tuesday (today) for hearing of the petition filed by the lawyer Mar-e-um Khondaker.
All 37 victims were brought in to Sheikh Hasina National Institute of Burn and Plastic Surgery after the blast ripped through the mosque.
Fire service director general Brigadier General Sazzad Hossain told New Age that even four to five hours after the fire accident they found gas continued coming out of the pores and cracks on the ground floor.
'There was 17 per cent methane gas in the air on the mosque's ground floor prayer room even four hours after the accident. It was enough to turn the place into a high-grade explosive,' said the DG.
A member of fire-service probe team said that the prayer room was in fact turned into a 'gas chamber' as gas was still leaking through five to seven cracks.
At least nine more people were still fighting for their lives in the burn institute as their family members were waiting in anxieties with fear of worst.
A victim of the accident Md Mamun, a readymade garment worker, was released from the hospital on Monday afternoon.
The youth is the only victim who was out of danger and had not sustained inhalation burn, said doctors.
Thirty-year-old Mamun sustained 10 per cent burns in his left hand and the abdomen. The burn institute director professor Abul Kalam said that all the victims, except one, had suffered inhalation burns.
Most of the victims sustained 80 to 90 per cent burns and suffered carbon monoxide poisoning which led to the rapid deterioration of their conditions, hence the high rate of deaths, the director said.
He also added that at least four victims were in the intensive care unit and five others in the post-operative ward and they were all in critical conditions.
Meanwhile, Titas officials have started gas line monitoring at Paschim Talla area on Monday to identify the leakages. Locals said that while monitoring the pipelines, Titas staff members found two leakages in a gas supply pipeline in front of the mosque.
Titas also suspended four officers and four other staff members on charge of negligence in relation to the explosion.
'The company's image has suffered immensely because of the explosion that also caused massive damage to lives and properties,' read one of the two suspension orders issued by Titas.
The officers and other staff members were suspended in two separate orders that also asked them to explain their actions.
The suspended officers are manager Mohammad Sirajul Islam, deputy manager Mahmudur Rahman Rabbi and assistant engineers SM Hasan Shahriar and Manik Miah.
The other suspended staff members are supervisor Monibur Rahman Chowdhury, senior developer Ayub Ali, helper Hanif Miah and worker Ismail Prodhan.
They were all stationed at Fatullah in Narayanganj.
The action was taken as the mosque management committee complained that the Titas officials claimed Tk 50,000 as bribe when they approached them. They did not attend to the leakage problem as the committee failed to pay the amount.
Meanwhile, families of the injured were still unsure about the fate of their near ones.
Chunnu Mia, a farmer from Patuakhali, was waiting anxiously with a medical report of his 24-year-old son Kenan Hossain, who is in the ICU of burn unit and is struggling for his life.
'My son talked to me on Sunday, but now he can barely talk. He wanted to have coconut water. We brought it for him, but he could hardly drink,' Chunnu broke into tears while saying this.
Want stories like this in your inbox?
Sign up to exclusive daily email
More Stories from Country