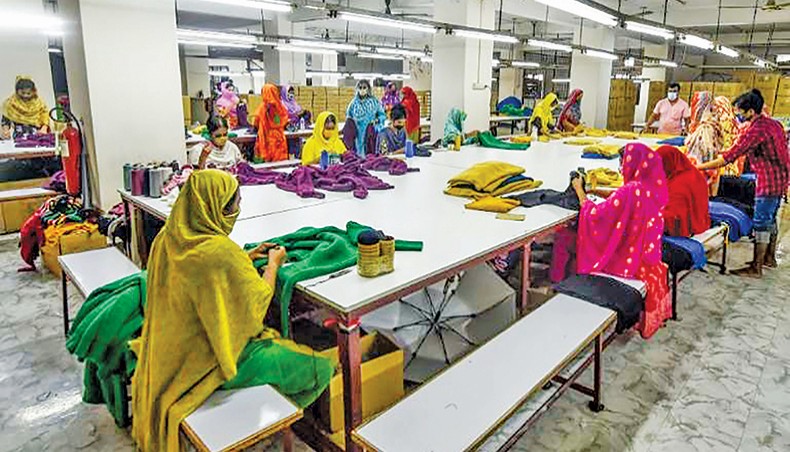 The coronavirus outbreak has affected the livelihoods of 82 per cent of readymade garment workers in Bangladesh and more than half of the affected workers had been forced to spend savings and borrow money to cover their expenses, according to a survey released on Monday.
The survey, conducted by the South Asian Network on Economic Modeling and the Microfinance Opportunities, found that 51 per cent of the workers had been sending money to their family before the COVID-19 crisis but 18 per cent of the remittance senders were no longer sending money due to the pandemic.
Of the remittance senders, 58 per cent said they were sending either less money to family or sending it less frequently while 22 per cent said there had been no impact of COVID-19 on their family remittances, according to the report.
In response to the survey's questions on the impact of the ongoing pandemic, only 18 per cent of the respondents reported that the COVID-19 crisis had had no impact on their livelihoods while the remaining respondents reported at least some impact.
It showed that 25 per cent of the surveyed workers had been forced to spend savings and 18 per cent were borrowing money to cover expenses.
It also found that 15 per cent of RMG workers had disobeyed quarantine rules to earn an income and nine per cent relied on extended family assistance due to the pandemic.
The report identified that as the impact of the coronavirus pandemic, many RMG workers moved to cheaper places, looked for another job, moved back to their hometowns and sold assets to cover expenses.
To assess the impact of the ongoing COVID-19 pandemic on the overall working and living conditions of garment workers in Bangladesh, the SANEM in partnership with the MFO conducted the survey under a project titled 'Garment Worker Diaries'.
Around 1,269 workers, who were employed in factories in Chattogram, Dhaka City, Gazipur, Narayanganj, and Dhaka's Savar, were interviewed to collect data.
The survey asked the respondents about the workers' control over the earnings they sent to their households and found that among those who were able to respond, 58 per cent said that it was some other family members while 42 per cent said they themselves were the decision makers.
'The vast majority of garment workers in our study migrated from their place of birth, and most of them did it for work. A sizable minority has migrated more than once,' the report said.
It found that 89 per cent of respondents migrated at least once for any reason and of them 91 per cent of women reported they had migrated compared to 83 per cent of men.
Want stories like this in your inbox?
Sign up to exclusive daily email
More Stories from Apparel