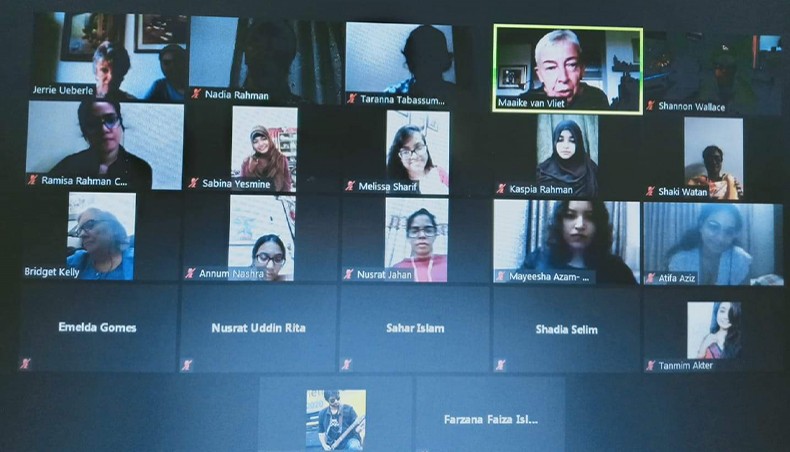 Domestic violence is rising around the world and Bangladesh is also experiencing similar phenomenon. My Sister's Keeper is a youth led initiative working to address the issue. Nahida Shabnam Urmi, part of the 25-member all female team, talks about how they are organising their activities online and helping those who need support
THE COVID-19 pandemic is one of the greatest global crises of our time that we are facing together. But even before COVID-19 existed, domestic violence was already one of the terrifying human rights violations.
Unfortunately, the term 'domestic violence' is so much familiar to us that we hardly consider it as violence until it becomes deadly. Domestic violence is never simply an argument, rather, it is a pattern of coercive control exercised by the males. Abusers use physical and sexual violence, threats, emotional insults and economic deprivation as a way to dominate their victims.
According to a recent survey of Manusher Jonno Foundation, at least 4,249 women and 456 children were subjected to domestic violence in 27 out of 64 districts of Bangladesh in April 2020, where 1,672 women and 424 children faced violence for the first time in their lives. The report revealed that 848 women were tortured physically, 2,008 were mentally, 85 were sexually and some 1,308 were faced financial demands or dowry.
The main reason of this sudden increase of abuse incidents is because the frustrated men have started lashing out to the helpless women during this pandemic more. The survey also said that in April alone, four women were raped, one killed, and 20 women were sexually assaulted by strangers.
As we tend to accept these phenomena as nothing in our country and let men continue to do this crime in the name of 'masculine attitude', is another reason for leading the wives and children be killed or abused. Many women who shared their stories believe that as male members are working from home due to this pandemic situation or struggling financially, it is understandable if they are not behaving normally and so violence is somewhat 'acceptable'.
In one of the cases, a victim from a village of Gopalganj said, 'I have been married for five years. In these five years, I have never seen my husband behave like that. He never raised his hand before. Since this lockdown has started, at first, I thought it was just his anxiety as he was not receiving his regular salaries. But last night it was beyond my imagination. I still cannot believe that he beat time like this for dowry after five years of marriage. My three years old son was so scared that he was even afraid to be near to his father. I have informed my family and they said that I already have a child and they do not have a good financial condition to take me back to the home.'
In most cases, women and their families do not even know that in our country the law is in their support. Even if they know, they mostly prefer to stay quiet in the fear of losing family's social reputation as well as for their financial dependency, instead of taking legal help. Not only poverty but also lack of the sense of women empowerment is responsible for this. The pandemic is exposing this even more.
The United Nations Entity for Gender Equality and the Empowerment of Women said, 'We see a shadow pandemic growing, of violence against women.' World Academy for the Future of Women at University of Liberal Arts Bangladesh decided that this is high time to stand for each other. For the sake of womanhood, members of World Academy for the Future of Women, Bangladesh has initiated a project called 'My Sisters' Keeper' to help and support women.
As part of this project a total of 25 young women who are also mainly students of ULAB are promoting positive stories of men shared by women to help both men and women to understand that a good man does not abuse and the difference between exercising rights as spouse and abusing them.
The projects are run under the guidance of foreign facilitators of WAFW. They are offering a safe space to talk via social media tools, reaching out to women and men individually on online who need mental support, raising awareness on social media against domestic violence. By hosting webinars, the women members are trying to ensure a better understanding of women's rights, the kind of violence they face (mental, physical, emotional, sexual), when to raise voice and how to take legal action et cetera.
Members during a meeting.
In this country, there has always been hesitation to raise our voices, especially among women, as they do not get enough support for that; their families abandon them if they choose not to live with the abusers, who are mostly husband or in-laws or any beloved person.
This project is helping them to raise their voice, to make their own choices, to take legal actions, and also supporting them to find a safe rehabilitation centre if needed for them and their children. With the project, members are also promoting the national helpline number 109 to reach for any violence against women and children for emergency and legal supports.
WAFW Bangladesh is working along with Rokeya Sadan, Bondhu Foundations, KNH Ahsania Mission, and Centre for abandoned children and destitute women to find them shelter and legal help. The organisation is helping the helpless women and children to have a safe shelter and food, but only for the women who reside in or near Dhaka. As there is not enough rehabilitation centres or safe homes for women and children, it is hard for the women who live in the rural areas or villages to have this support. More shelter for abandoned children and women are required in those areas.
World Academy for the Future of Women, a US-based non-profit organisation working for the advancement and acceleration of women leaders globally, has launched its chapter in Bangladesh in partnership with ULAB in 2018. They provide eight modules of one-year training to develop leadership skills along with other skills for women to increase women contribution in achieving SDGs determined by the UN.
The training areas include project development, project management, meaningful communication, digital marketing, content writing and development, PR, partnership, SDGs, active listening, and many more. The facilitators also work voluntarily for the academy.
In the upcoming days, science may help us to defeat the COVID-19 pandemic but only humanity and respect for each other can stop violence against women. Members of WAFW Bangladesh are living the oath of WAFW and are committed to fully contribute their potentialities to the advancement and acceleration of women empowerment.
My Sisters' Keeper is a not just a project to support women, but also to show solidarity to womanhood, to help them to recognise their potential, to tell them they are strong enough and they do not deserve any kind of abusive behaviour. And we need an equal contribution to practice such humanity and equity to have a world of equality and zero discrimination.
Nahida Shabnam Urmi is a student of University of Liberal Arts Bangladesh.
Want stories like this in your inbox?
Sign up to exclusive daily email
More Stories from Initiative