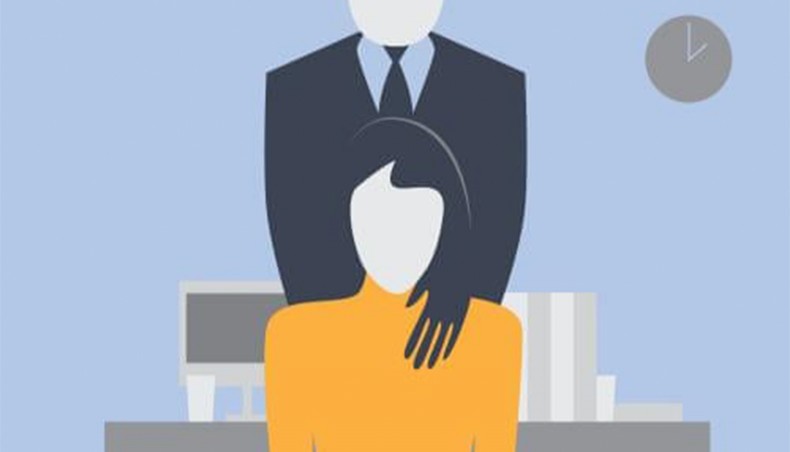 Benajir Anjum Chandni talks about the existing legal frame of addressing sexual harassments, the loopholes and suggests proper use of the legal tools to ensure a safe society for the women
RECENTLY an incident in Chittagong went viral in the social media. The incident was such that in day light, a young man was threatening a young woman of rape by showing his private parts publicly. It is quite shocking and unbelievable but the incident took place in the presence of his mother and sister-in-law. Living in a country like Bangladesh, a guy being unclothed, threatening to rape a girl in front of his mother and another female family member is showing where we stand as a society and the level of morality we are holding amongst our young stars.
Furthermore, we frequently observe an alarming number of rape cases now a days and the victims are from different ages. Unfortunately, baby girls are also not being spared from these acts.
Now the question arises, how are these keep happening? Why our values and morality are degrading day by day? Why there is no effective measures to prevent such inhuman acts? How can a young man get naked and threatening someone publicly? Where do we stand now as a society with such moral values?
As a legal researcher, it made me thinking that, how law can help to shape society's moral values? Do we have adequate legal frameworks in our country to address such social issues that are destroying our young minds? If we observe such incidents then we will see that girls and women are always being victims of such immoral behavior in our country. Therefore, the central question is that whether we have enough legal protection for our girls, women and children for such inhuman and immoral acts.
Law is essentially a set of rules and principles that control human behavior. Laws are primarily created and enforced by the state. On the other hand, morals are a set of beliefs, values, principles and behavior standards which are enforced and created by the respective society. However, the popular conception of the connection between law and morality is that in many ways the law exists to promote morality, to preserve those conditions which make the moral life possible, and then to enable men to lead sober and industrious lives.
In light of the above discussion, it appears that a number of laws in Bangladesh has been enacted to control human behaviors from any immoral acts. More specifically a number of legislations are being available to protects our girls, women and children from such immoral and inhuman acts.
For instance, section 294 of the Bangladesh Penal Code 1860 states that whoever, to the annoyance of others, (a) does any obscene act in any public place, or (b) sings, recites or utters any obscene song, ballad or words, in or near any public place, shall be punished with imprisonment of either description for a term which may extend to three months, or with fine, or with both. However, what is interesting is that the most critical element of this provision, obscenity, is not defined. Which means that whether or not an immoral act in a public place is an 'obscene act' is entirely a matter of interpretation. Furthermore, whether the described maximum punishment under this section is enough in current social context to prevent such acts.
Additionally, in the post-independent Bangladesh the Dhaka Metropolitan Police Ordinance (DMPO) of 1976 first addressed the issue of women teasing directly. Before that there was no specific law with regards to prevent eve teasing or immoral acts by harassing girls and women. Section 76 of the DMP Ordinance defines women teasing as, 'willful and indecent exposure of one's person in any street or public place within sight of, and in such manner as may be seen by, any woman, whether from within any house or building or not, or willful pressing or obstructing any woman in a street or public place or insulting or annoying any woman by using indecent language or making indecent sounds, gestures, or remarks in any street or public place'.
In this section it has been declared that women-teasing is punishable with a maximum one year of imprisonment, or with a maximum two thousand taka fine, or with both. This provision definitely can play a positive role to control eve teasing which is a very common phenomenon in our country. Although this provision was initially enacted in DMP but, likewise, all other metropolitan police acts/ordinances made similar provisions to penalise the offence of teasing women in a similar manner.
Unfortunately, these provisions have no jurisdiction outside their respective metropolitan areas. Therefore, this becomes exclusively a local and urban based offence. A large number of areas are being outside of this provision to protect women rights and honor. Accordingly, it is now high time to take necessary steps to enact or introduce special laws penalising the offence of teasing women with a nationwide jurisdiction. Such new law can also play a very important role to shape society's values and norms based on mutual respect for all human being and more specially respecting girls and women.
Furthermore, in the year of 2000, the Prevention of Women Children Oppression Act, 2000 was enacted which was more important and stronger one to protect the vulnerable women and children of the country from various types of offences. The 2000 Act came down strongly on the oppressors of the women. This act, inter alia, defined the now-much-talked-about sexual torture and sexual harassment and this act greatly helps to shape the value and morality of the society by restricting any behavior that may cause harm to girls, women and children.
In the section 10(1), the law defines sexual torture as, 'if a man touches the sexual organ or any other organ of a woman or of a child by any of his organs or by any other objects with a view to fulfilling his illegal sexual desire, such act of the man will be termed as sexual torture'. This definition, in fact, includes the attempt of rape or outraging the modesty of a woman by actual physical contract. The law punishes the offender with rigorous imprisonment of minimum 3 and maximum 10 years and also an indefinite amount of fine.
According to the section 10(2), sexual harassment is an offence that can be committed by not coming in actual physical contract to the victim. A rigorous imprisonment ranging from 2 to 7 years and additionally an indefinite amount of fine is rewarded for this offence.
However, the section 10(2) was abrogated when the law was last amended in 2003. A new provision has been added under section 9(ka) of the present law that states, if a woman is forced to commit suicide as a direct consequence of somebody's willful dishonor/sexual harassment/assault, then the offender will be liable to a maximum of ten years and a minimum of five years of imprisonment. The amendment actually denied the remedy of sexual harassment of non-contract nature. The new provision though punishes the offender, it will not happen until the victim is dead. A legal ridicule, indeed!
After the amendment of 2000 Act in 2003, there remained no legal provisions in the country addressing directly the problem of sexual harassment. At this backdrop Bangladesh National Women Lawyers Association (BNWLA) filed a Writ Petition (No 5916 of 2008) to the High Court Division. The Court, after examining the pros and cons of the problem issued their judgment on May 14, 2009 giving the government an eleven-point directive which will fill up the legislative vacuum in the nature of law.
In these directives the Court suggested a detailed definition of sexual harassment that included all other existing definitions of non-contract sexually connoting offences. It also incorporated the modern means of erotic insults against the women that are prevalent in our present age of information technology. However, though the ingredients of the offence of eve teasing or any immoral acts that hurt any girls or women feeling in a negative way are easily distinguishable from the order, although the court did not use the term eve teasing in the judgement.
On the basis of the above discussion, we can conclude by saying that, there are existing legal structures that can help to shape our society's value and norm and more specifically these laws can help to create a society where women's rights can be protected and respected. However, it is also time to review some of the provisions of law namely, section 294 of the penal code and section 76 of DMPO and other similar sections.
In addition to this, strict implementation of these laws will help to create a society where there will be respect for all; where our children, girls and women, will feel safe.
Benajir Anjum Chandni is a trainee lawyer and a research associate at Mahbub and Company.
Want stories like this in your inbox?
Sign up to exclusive daily email
More Stories from Mindspeak