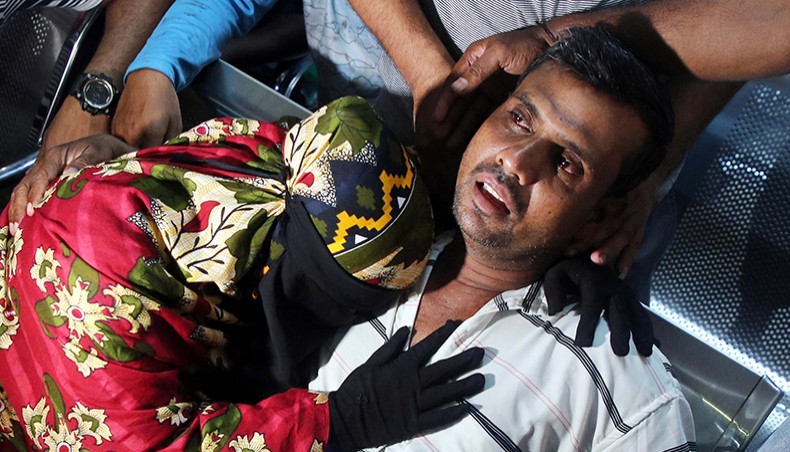 At least 21 victims of Friday evening's gas explosion in Narayanganj mosque succumbed to their burn injuries while the condition of the remaining 17 was still critical.
The burn victims died while undergoing treatment at Sheikh Hasina National Institute of Burn and Plastic Surgery where 38 victims were brought after a blast ripped through Baitus Salat Jame Masjid of Paschim Talla under Fatulla in Narayanganj.
At least 40 people were injured in the gas explosion while more than 70 people were present there to offer the isha prayers, according to locals.
'Most of the victims are in critical conditions as more than 60 per cent of their bodies suffered severe burn injuries,' said health secretary Abdul Mannan after visiting the victims at the institute on Saturday afternoon.
Gas line leakage underneath the mosque is suspected as the cause of the explosion, said fire service officials.
Local people said that they complained to Titas Gas Transmission and Distribution Company officials and the mosque committee about the leakage, but the authorities did not pay heed.
Samanta Lal Sen, coordinator of Sheikh Hasina National Institute of Burn and Plastic Surgery, said that they received 38 victims from the mosque explosion incident.
Of them, 21 succumbed to their burn injuries from until Saturday 9:00pm, he said.
The deceased have been identified as the mosque Imam Abdul Malek, 60, Muazzin Delwar Hossain, 48, Jewel 7, Rashed 30, Rifat 18, Mostafa Kamal 34, Zubair 18, Sabbir 21, Kuddus Bepari 72, Zunayed 17, Humayun Kabir 70, Ibrahim, 43, Jamal 40, Joynal 38 and Mainuddin, 12, Nayan, 27, Rasel, 30, Bahar Uddin, 55, Mizanur Rahman, 35, Kanchan Hawlader, 50 and Nadim, 45.
The institute director Abul Kalam said that 17 more were in a critical condition as they suffered inhalation burns.
The injured are mostly of Paschim Talla area and many families have several burn victims, as some of them are dead or fighting for lives.
The mosque's imam Abdul Malek was rushed to the burn unit's intensive care unit in a critical condition, but he died at about 8.30pm, said doctors.
Meanwhile, panic, anxiety, anger and grief grip the Paschim Talla area of Narayanganj after the disaster as many families have lost their dearest and nearest ones.
Some families found themselves in the throe of anxiety over the fate of their closet ones as uncertainty still overshadows their lives.
Masum, grandson of deceased Kuddus Bepari, said that the blast immediately sent shockwaves through the neighborhood as members and relatives of many families were in the mosque to offer their prayers.
Narayanganj fire service deputy assistant director Abdullah Al Arefin said that the explosion took place at about 9:00pm from gas leakage.
He said that the mosque was a three-storey structure and it was fitted with a gas line that passed underneath the mosque.
There was a leak in the gas line and the ground-floor of the mosque was filled with gas, he said.
During the isha prayers, the explosion occurred, he said, adding that six air-conditioners in the room were also damaged and the windows were all shattered.
Four units of fire service rushed to the spot and put out the fire in no more than 20 minutes, Arefin said.
A witness Mohammad Rasel told New Age that in his estimation there were around 70 people during the isha prayers.
Rasel came out of mosque after offering farz portion of the prayers.
Around 40 people were inside the mosque offering the remaining part of prayers when the explosion took place suddenly and the ground floor of the mosque was set on fire, Rasel added.
He said that there was gas line leakage in the mosque for a long time and they had complained about it to the authorities, but none took it seriously.
When approached, Titas director for operations Rana Akbar Haideri told New Age that primarily they were suspecting that it was an illegal gas connection that finally exploded.
If negligence of Titas officials is detected, we will take action immediately, he said, adding that the authorities formed a five-member committee to investigate the matter.
Narayanganj superintendent of police Jayedul Alam said that the district administration formed a five-member probe committee to probe the incident.
Fatullah police station officer-in-charge Aslam Hossain said that police filed a case with allegations of negligence to death in the incident.
The FIR mentioned that negligence from the mosque committee, electricity and gas utilities service providing authorities have led to the blast, the OC said.
Meanwhile, relatives were seen waiting restlessly outside the hospital since Friday night for update on the condition of their near and dear ones.
A family member of a victim, Nasir Ahmed Sayem said that his brother-in-law Nadim Ahmed, who works for a local newspaper named Bhorer Kotha, initially could not be found.
Nadim went there to meet one of his friends who went to offer prayers as he lives next to the mosque.
Nasir said that they were searching for him desperately and had been to the nearby hospitals looking for him after the accident, but could not find him at first.
Then they went to Dhaka Medical College Hospital and the burn institute on Friday midnight, but none could confirm whether Nadim was taken there. The family finally came to know about Nadim's severe burn injuries in the morning. However, he died at about 10:00pm on Saturday.
Anxious family members and friends of the injured were seen desperately asking anybody who came out of the hospital about the condition of their patients. They wanted to know if their relatives were still alive.
Md Sumon has been living beside the mosque with his family for years. His cousin Mizanur Rahman (35) died in the blast, brother-in-law Nazrul Islam and another cousin Kenan are among the injured and was being treated at the institute.
'We have heard that my brother-in-law and cousin are alive, but we don't know how badly burnt they are, and we are yet to meet them,' said Sumon.
He said that Mizanur lived in a mess on the building where the mosque is housed. He was in his prayer when the incident occurred.
'We haven't been able to meet the victims yet,' said Sumon, who took part in rescuing the injured last night.
At least 16 bodies were handed over to their families by 9.00pm without running autopsies.
The Narayanagnj district administration was supervising the burial procedures, officials said.
Want stories like this in your inbox?
Sign up to exclusive daily email
More Stories from Country