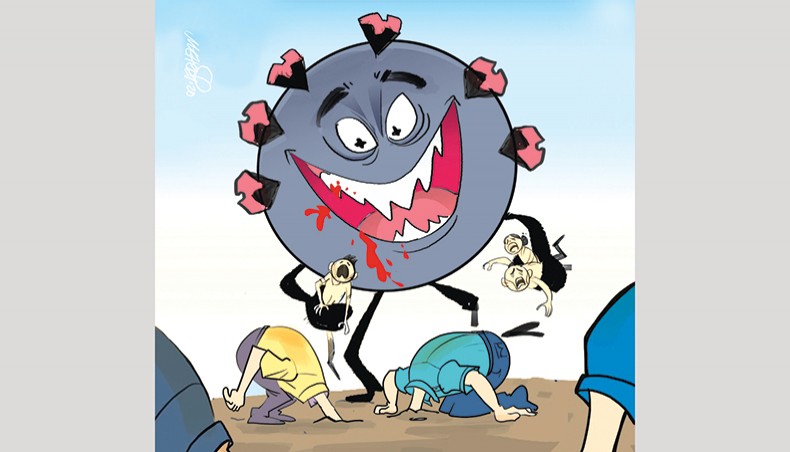 Bus services across the country fall back into chaos while health experts fear that the lifting of restrictions on running at full capacity would intensify the risk of COVID-19 infection.
Regular bus fare with regular services came into effect on Tuesday while bus operators' noncompliance to health regulations and charging of extra fares were witnessed at different places.
The Cabinet Division on Monday said in a notification that the respective ministries, divisions and other authorities should take necessary measures for the implementation of the safety guidelines regarding public movement and other activities.
The respective authorities would ensure that people wore face coverings, maintained distances and followed other health safety guidelines when they venture outdoors, it also said.
The restriction on public movement was lifted at a time when the country was still reeling from high rates of COVID-19 infections and deaths.
Until Tuesday morning, the country's COVID-19 cases rose to 3,14,946 with 4,316 deaths, including 1,950 new cases detected and 35 more falling prey to the novel virus in the past 24 hours ending at 8:00am.
The positivity rate still stood at 20.16 per cent at present and the fatality rate has been recorded at 1.37 per cent.
Many passengers and transport workers were seen not wearing masks inside city-service and long-route buses.
During office hours, buses in the capital were seen taking standing passengers while they said that lack of transports triggered this violation.
Around the city, bus staff members were not seen spraying sanitisers on the hands of the passengers, let alone cleaning the buses before setting out on a trip in most of the cases.
On the day, executive magistrates of Bangladesh Road Transport Authority filed several cases against buses for taking extra passengers and charging extra in the capital and the port city.
Meanwhile, the Cabinet Division issued the notification after the expiry of the previous order on August 31, which slapped several restrictions on public movement and activities, including a complete prohibition on staying outdoors from 10:00pm-5:00am, unless there is an emergency.
The previous order, effected from August 4 ordered closure of all shops, bazaars and malls after 8:00pm and prohibited all types of meetings, rallies and mass gatherings.
The new notification did not mention any such restrictions.
Directorate General of Health Services additional director general Meerjady Sabrina Flora told New Age on Monday that the overall infection rate was declining, but in some places a surge in COVID-19 patients was witnessed.
She said that the need for wearing masks, maintaining social distancing and hygiene was still crucial.
'We may see a surge of infections if people start rampant movement without following the health guidelines,' she said.
Virologist Nazrul Islam said that the lifting of the temporary restrictions on movement would only intensify the risks.
'The government might have tried to strike a balance between life and livelihood, but people should now act to keep themselves safe from COVID-19,' he said.
Former World Health Organisation regional adviser Muzaherul Huq said that the case positivity rate in Bangladesh was still above 20 per cent and it was still far from what may be dubbed as a 'controlled situation'.
'Such pandemic could not be controlled effectively without the vaccines, but some countries have already become successful in controlling the situation by enforcing WHO guidelines,' he said.
'The lifting of the temporary restrictions on public movement, the country's COVID-19 situation will linger,' he said.
On Saturday, the road transport and bridges minister Obaidul Quader asked the bus operators to charge regular fare with effect from September 1, withdrawing increased fare and restrictions on the number of passengers.
He also said that buses would be able to carry passengers on every seat, but they must not take any standing passenger.
Bus employees and passengers must also wear masks inside a bus and there must be soap, water and sanitisers available on each bus while it must be cleaned properly before and after every single trip, he added.
On Tuesday, in the capital, many passengers, drivers and their assistants were seen not wearing masks, with the only exception of staff members working for some of the well-known operators such as Midline Paribahan, Rajanigandha Paribahan, Bikash Paribahan and Trans Silva.
Some passengers at Science Lab intersection in the capital alleged that the bus staff members were not spraying sanitisers.
During office hours, standing bus passengers were seen inside buses in areas including Farmgate, Karwan Bazar, Science Lab intersection, Mouchak intersection and Rampura.
Some of the passengers in the capital alleged that on some routes like Uttara-Motijheel and Hatirjheel circular routes, they had to pay an Tk 5 to Tk 15 extra as bus fares.
New Age correspondent in Chattogram reported that in the city, since morning, some of the bus operators were charging fares at an increased rate, more than 60 per cent the usual rate.
Many passengers and bus staff were seen wearing no masks on the day in the port city.
BRTA chairman Nur Mohammad Mazumder told New Age on Tuesday that 11 executive magistrates of the authority on the day conducted eight mobile courts in the capital and four mobile courts in Chattogram city for implementing the order of the ministry.
They filed total 123 cases out of which 30 were filed for taking extra passengers inside buses and charging extra bus fares, he said.
Replying to a question, he said that they were monitoring the situation on roads, though with limited manpower, while he also pointed out that people also should shoulder the responsibility to follow the rules.
At a virtual meeting on Tuesday, the road transport minister Obaidul Quader said that though many transports follow these rules some do not and legal action would be taken against them.
He urged the bus owners to hang fare charts inside every bus.
Earlier in June, the government announced a 60-per cent increase in bus fare and directed all bus operators to carry 50 per cent passengers as it allowed resumption of bus services which had remained shut since March 26 to contain the spread of the novel coronavirus.
Want stories like this in your inbox?
Sign up to exclusive daily email
More Stories from Country