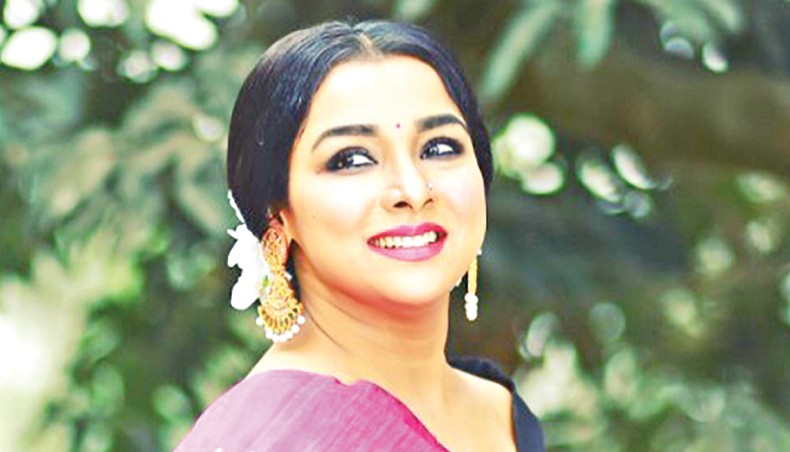 National Film Award-winning actress Runa Khan said that it is challenging for artistes to follow health directives on shooting floors unless every single person at a shooting spot remain committed to do the same.
Actresses need to put on makeup and cannot wear masks while performing opposite fellow actors in front of the camera and as a result it gets hard to stick to the health guidelines, she added.
'Artistes have to interact with a lot of people on shooting floors when they are in their makeup or giving close-up shots without wearing masks. Besides, at shooting spots we come into contact with people not donning masks. Therefore, I would say that it is very difficult for artistes to follow health directives on shooting floors unless all the cast and crew members are keen to maintain social distancing, wear masks and follow other guidelines,' Runa Khan told New Age.
Runa Khan didn't participate in any shootings before August.
'I returned to the shooting floor after a hiatus of five months. I acted in the teleplay titled ''Buffer Zone'' in August. It has been directed by Abu Hayat Mahmud. The teleplay was shot within two days. It also stars Mosharraf Karim, Missouri Rashid, Rigan Shohag and others. I have enjoyed acting in the teleplay,' said Runa Khan.
'I stopped going to the shooting floor on March 19 and returned once again to face the camera on August 4. Though many of my colleagues participated in shootings before Eid-ul-Azha, I decided to stay at home as my father was unwell,' she added.
When asked about her recent ventures, she replied, 'I have been acting in two drama serials, namely "Family Crisis" and "Chander Haat". Besides, I am also acting in a number of teleplays.'
Runa Khan has acted in many films including 'Lalon', 'Sapludu', 'Chitkini', 'Kalo Megher Bhela' and 'Halda'. She won the National Film Award for best supporting actress in 'Halda'.
When asked to share her experiences of acting in silver and small screen productions, Runa Khan replied, 'We have to shoot a teleplay within two to three days and we often do not get enough time to rehearse properly for the small screen productions. However, we get enough time to prepare ourselves before portraying a character in a film and rehearse a lot which, I think, is a positive side of all silver screen productions.'
'I am familiar with most of the films artistes and directors and, therefore, I enjoy acting in silver screen productions. I am also in talks with a director regarding my upcoming silver screen venture,' mentioned Runa khan, who also shared her concern over people not following health directives in the streets amid COVID-19 outbreak.
'When we go outside, we can see that many people are cramming the shopping malls and gathering at public places without paying any heed to the health directives. Most of the people are not even wearing masks in the street as if COVID-19 has disappeared from Bangladesh. If such practices continue, things will take a turn for the worse in the future,' she ended.
Want stories like this in your inbox?
Sign up to exclusive daily email