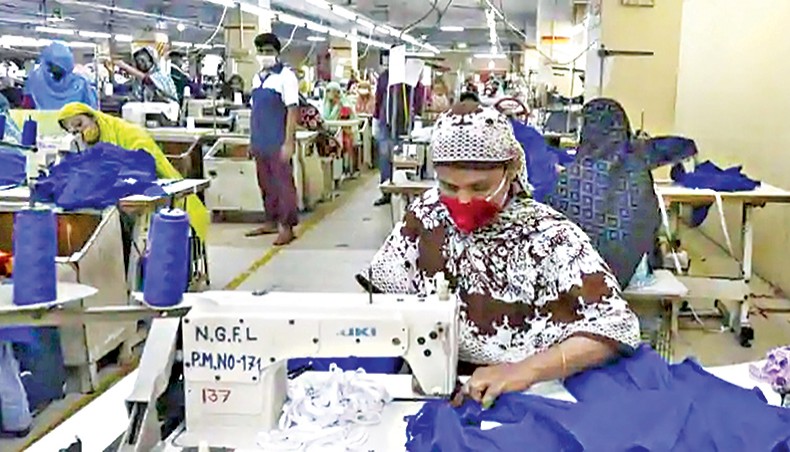 The country's readymade garment export growth turned positive in August this year with a robust 44.63 per cent year-on-year growth after seven months of negative trend.
Exporters termed the trend encouraging and said that the revival of export orders which were put on hold and cancelled due to the coronavirus pandemic resulted in the rebound in the export earnings.
In the month of August (August 1-30) this year, export earnings from RMG stood at $3.24 billion from $2.24 billion in the same period of August in 2019, according to National Board of Revenue data compiled by the Bangladesh Garment Manufacturers and Exporters Association.
Asked about the robust export earnings growth in August, BGMEA president Rubana Huq told New Age that while cotton trousers had maintained the biggest share in terms of increase, man-made fibre-based product categories in tops had also started witnessing a growth.
'And, especially women's/ girls' cotton trousers have seen significant growth and their share in our total export is also higher,' she said.
The BGMEA president also said that a six-month average would be a better depiction of the export growth situation instead of year-on-year-based monthly figures.
The country's export earnings from readymade garment witnessed a negative growth for seven month in a row from January to July this year.
The export earnings witnessed a 54.79-per cent decline in the March-May period of 2020 over that of the corresponding period of last year as the coronavirus pandemic hit the sales of manufacturing goods and the global buyers cancelled or suspended import orders.
The country's export earnings started increasing from June this year although the RMG export declined by 18.84 per cent to $27.70 billion in the fiscal year 2019-20 from $34.13 billion in the FY 2018-19 due to the adverse impact of the coronavirus outbreak globally.
With the reviving of export orders by the global buyers, Bangladesh's exports in July this year fetched $3.91 billion, the highest-ever earnings in a single month in the country's history.
The export earnings from RMG, however, decreased by 1.98 per cent to $3.24 billion in July, the first month of FY21.
Fazlul Hoque, a former president of the Bangladesh Knitwear Manufacturers and Exporters Association, said that it was a good thing that the export earnings growth was back to the positive track.
He said that like July, a good portion of shipments in August was the revived orders that were kept on hold or cancelled due the coronavirus outbreak.
Want stories like this in your inbox?
Sign up to exclusive daily email
More Stories from Apparel