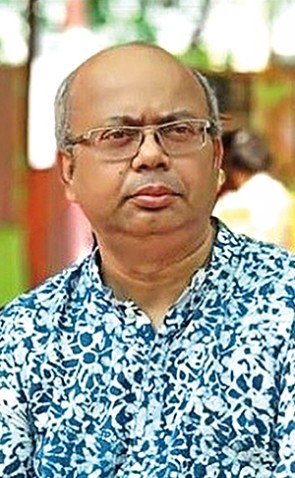 GH Habib has made a name for himself as a translator of world literary gems. Habib, who teaches at English department of Chittagong University, with his flair for what many call cultural mediation, has translated into Bengali a series of works by writers who still preside over the world literary scene. Habib's first translation appeared in February 1988. Over the years, 20 of his books saw the light of the day, much to the delight of the Bengali readers. Among them are Umberto Eco's The Name of the Rose, Gabriel García Márquez's One Hundred Years of Solitude, Jostein Gaarder's Sophie's World, Tore Janson's A Natural History of Latin, Isaac Asimov's Foundation, Roland Barthes' The Death of the Author, Arthur Conan Doyle's The Sign of Four and others.
Recently, he spoke with New Age about his literary journey, upcoming ventures and more.
NEW AGE: You have spent a lifetime translating literary masterpieces, we would like to know the importance of translation and how it benefits the readers.
GH Habib: I am rather apprehensive that this process that we call translation might disappear, thanks to the ongoing advancement of machine translation. Well, joking apart, translation is inevitable, and we have been translating almost all the time. And according to Octavio Paz language is, above all, translation (translation and literature are synonyms), translation being always a literary operation. It goes beyond saying that translation is at once ethnocentric and trans-cultural. That it has begun to cast off its 'secondary status' is also an old story. The focus has been, for some time, on what is found in translation, not on what is lost, with every translation being seen as a unique creation and the translator conferred the authorial status. How translation has rejuvenated the stagnant flow of literary activities in a particular language, directing it to a completely new avenue is also not news to serious readers of literature. The study of the corpus of translated text in a particular language can yield information regarding not only literary tendencies and interests embedded in the psyche of a given nation, revealing its proximity to languages and cultures of lands both near and far, but also regarding aspects that have deep sociological, political and economic impacts on the nation. The importance of translation of literature lies not merely in the fact that it helps readers to read texts that otherwise would have been impossible for most of them to read. Budhhadeb Bosu has aptly said this in the section entitled 'Translator's Words' to his translation of Meghdut by Kalidas.
NEW AGE: What are your thoughts on the freedom that one allows oneself and the fidelity that the original text demands?
GH Habib: Translation theory is beset with so many pitfalls and arguments that the going gets tough. And it is one thing to prescribe rules for translation and another to translate. Interestingly, those who translate do not openly theorise, though, surely, they have some theories that they follow while translating, and it is quite possible that they are not much conscious about all the theories they apply to their translations. On the contrary, those who produce formal translation theories and advocate for them, rarely engage themselves in translation. Anyway, I personally subscribe to the golden mean, with the readers in my mind. As I consider translation as a compromise, I don't cry for the spilt milk — what is lost in translation — since the loss is inevitable. Comprehension of the readers of the target language matters a lot to me, though not at the cost of the writing style of the fiction writer. At the end of the day the translators sit alone before their writing tables and I think, while translating, their personal decisions reign supreme.
NEW AGE: What made you choose this vocation?
GH Habib: Since childhood, I imbibed a lot of translated works published by Seba (Bangladesh) and Pragati Prakashani (Progress Publishers of the then Soviet Union). It was an immersive experience. They sparked my imagination during my teen years. I might become an author someday of a translation and get it published by the former. Had I been much exposed to so-called 'original' works by different authors, my path could have been different, I think.
NEW AGE: You have published Umberto Eco's The Name of the Rose occurs after 16 years, what are the challenges you faced translating this book? If this is a successful translation, how do you measure such success?
GH Habib: The challenge was two-fold. First off, between a reader and a translator, the second role outweighs the first by many counts. We know that this postmodern whodunit novel challenges readers on many levels. Apart from the setting (a Benedictine monastery in Northern Italy at the beginning of the late Middle Ages, 1327 AD to be precise, that is almost 700 hundred years back), a mixture of different aspects of theology, medieval history, aesthetics, semiology, metanarrative, intertextuality, and language full of untranslated texts in Latin, French, German created a complex labyrinth that both a reader and a translator must overcome in order to get a grasp of the novel. But as a translator, I had an added responsibility of easing the burden for the readers. Interestingly, the original novel and its sole English Translation by William Weaver do not provide explanatory notes or footnotes, posing a great hurdle for the readers, especially Bengali readers who are not familiar with the constituent elements of the novel. Providing footnotes for these readers was one of the great challenges for me.
The second and even more daunting was to keep the narrative style of Umberto Eco (or rather that of William Weaver since my rendition was from his English translation) intact without doing injustice to the Bengali readers, that is, translating the intricate, lengthy sentences in a way that the readers here can cope with the unfolding nattative. As regards the last leg of this question, I think I have provided an answer to it already.
NEW AGE: Eco said that translation is an impossible task and one can only mirror one language into another. You have translated One Hundred Years of Solitude, Sophie's World etc, what is your take on this?
GH Habib: Eco also said translation is the art of failure. But I certainly do not subscribe to that. Anyway, to put it simply, one of dreadful as well as delightful experiences of translating One Hundred Years of Solitude entailed the great challenge of transferring the unique narrative technique employed by Gabriel Garcia Marquez to Bangla which does not cordially accommodate lengthy complex sentences. As regards Sophie's World, the challenge was to accomplish the translation using a lucid type of language that easily communicates the philosophical discussions the book contains. Apart from that, coming up with precise philosophical terminologies posed some problems too, as certain common philosophical terms have more than one words in Bangla.
NEW AGE: Would you please share your thoughts about the translation of foreign literary works into Bengali and Bengali books into foreign languages.
GH Habib: To put it simply, we are lagging far behind in both these endeavours. There are so many books, important books, both fiction and non-fiction, that need to be translated into Bangla and vice versa. This is not to say that not many books have been translated into Bangla. But certainly, that is not enough, rather far from that, given the overall standard or status of Bangla translations as well as the vast expanse of uncharted territories in this realm. As regards translating into Bangla, a considerable disregard of the common norm of translation is overlooked or not practiced here, that is, translating from the original language. A lion's share of the books so far translated into Bangla have appeared via English, be the original ones written in Greek, Latin, French, German, Spanish, Italian, Norwegian, and so on, the notable exceptions being Sanskrit, Arabic, Urdu and Russian. But then, there is no guarantee that translating from the original always provides the best rendition. Though this is preferable for fiction, non-fiction remains comparatively free from this obligation – we have the case of Renaissance to bear us out.
And translation of Bangla literature into other languages is in a very sorry state indeed, both in terms of volume and quality, hardly noticeable and as a consequence insignificant in terms of creating any influence in the arena of world literature. Last but not least, it is preferable that translators of Bangla literature need to be amply initiated into the realm of the language and culture of the people for whom they are supposed to translate.
NEW AGE: What are the projects you are working on now and what is your future plan?
GH Habib: I have just finished translating a tiny little book on the Feminist Art History, prior to which I translated another book written in the same vein by Guerrilla Girls, a group of feminist artists. Translation of the one by this group is expected to be published within a month or two, while the latter may see the light of day in February next year. Right now I am working on, that is translating, a biography of Rosa Luxemburg, the famous Polish Marxist, philosopher, economist, ‍anti-war activist and revolutionary socialist. As for my future plan, I do not have my eyes set on any fiction for translation yet, Golaper Naam, the translation of Umberto Eco's world famous novel The Name of the Rose being the last fiction that came out in last February along with the translation of Brigit Viney's The History of the English Language.
Want stories like this in your inbox?
Sign up to exclusive daily email
More Stories from Interview