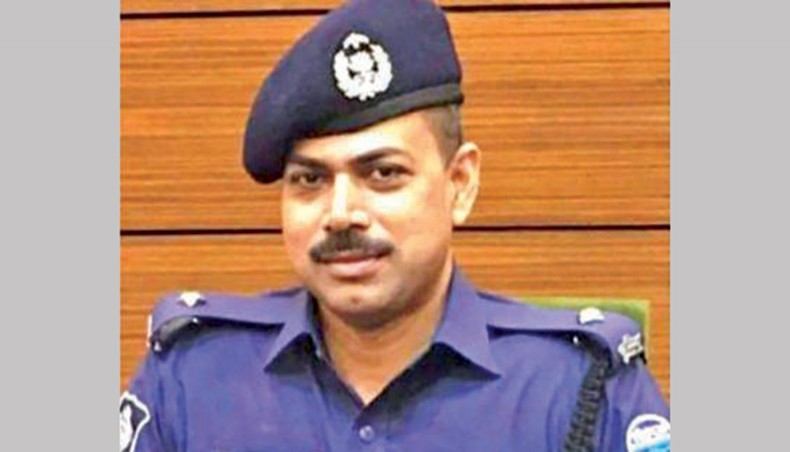 The wife of a victim of extrajudicial killing on Monday filed a complaint with the court of a senior judicial magistrate in Cox's Bazar against suspended Teknaf police station officer-in-charge Pradeep Kumar Das and 40 others, including 34 policemen.
Sultana Razia Munni, the wife of victim Syed Alam, who was killed in a reported 'gunfight' on May 6, alleged that police killed her husband and two relatives after they were unable to meet the demand of Tk 50 lakh.
Cox's Bazar Senior Judicial Magistrate Mohammad Helal Uddin ordered Teknaf police station officer-in-charge to investigate the matter and submit a report to the court by September 15.
District public prosecutor Faridul Alam said the court would decide whether to accept it as formal case or not after it received the report.
Other accused in the complaint are Mosiur Rahman, in-charge of Whaykong police outpost under Teknaf police station, sub-inspectors Rasel Ahmed, Nazim Uddin, Kamruzzaman, Jamsed Ahmed, Sojit Chadra Day, Arun Kumar Chakma, Md Nazim Uddin Bhuyian, assistant sub-inspectors Kazi Saifuddin, Fakruzzaman, Jamal Ullah, Md Mazharul Islam, Mainuddin, Namimul Hoque, Miskat Uddin, Ram Chandra Das, Ameer Hossain, Ohid Ullah, Sanjib Dhatta, Miton Kumar Bhoumic and constables Sagar Day, Abu Hanif, Helal Uddin, Amjad Hossain, Mohammad Mamun, Nazmul Islam, Md Jasim Uddin, Md Amjad Hossain, Md Kamrul Hassan, Md Jahangir, Md Habib, Md Noor Nabi, Anwar Hossain, Saikat Barua and Gias Uddin, son of Gora Meha, Anwar Hossain, son Ruhul Ameen, Lutfor Rahman son of Arsad Ullah, Sarwar Alam son of Noor Ahmed, Nurnabi son of Abdur Rasid and Borhan Uddin son of Gora Meha of Ranffikhai village of the same union under Teknaf police station.
Petitioner claimed that her husband Syed Alam, brother-in-law Nurul Alam and nephew Syed Hossain were villagers and farmers.
Suspended Teknaf OC Pradeep and other accused picked up her husband Syed Alam, his brother Nurul Alam and nephew Syed Hossain from their home on May 6 about 2:00am and demanded Tk 50 lakh as extortion for their release, the petitioner alleged.
But they told Pradeep it was not possible to pay the money and police then killed them around 4:30am and dumped the bodies in a paddy field near their house, she said.
Pradeep is now in jail as an accused of retired army major Sinha Mohammad Rashed Khan killing.
With this, at least seven cases were filed against Pradeep following the murder of Sinha in Cox's Bazar.
Sinha, 36, who took early retirement from the Bangladesh Army in November 2018, was shot dead at a police check point on Cox's Bazar-Teknaf Marine Drive at Shamlapur under Teknaf upazila in Cox's Bazar on July 31.
Want stories like this in your inbox?
Sign up to exclusive daily email
More Stories from Country