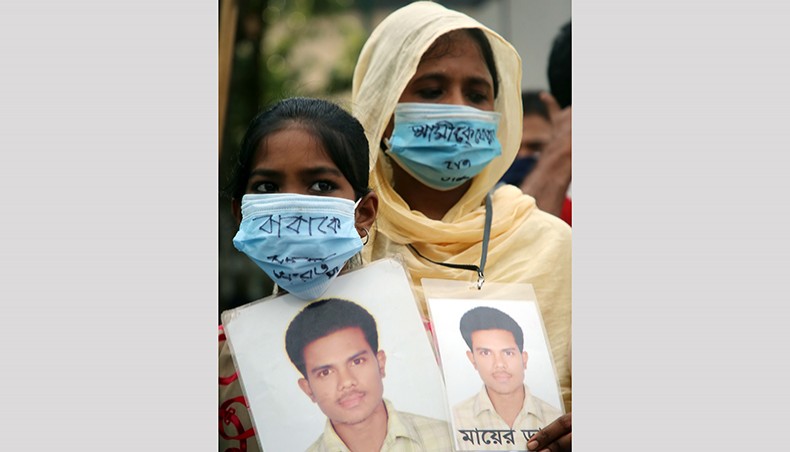 Mothers, sisters, children, spouses and their sympathisers holding photos, banners and placards on Saturday gathered in front of the National Museum in Dhaka and urged the government to find out their dear ones who were victims of enforced disappearance even for many years.
In the demonstration, victim families blamed security, intelligence and law enforcement agencies for taking away their family members as they were not sure about their whereabouts.
The human chain was organised by Mayer Daak, a platform of the families of victims of enforced disappearance, on the eve of International Day of the Victims of Enforced Disappearances, observed every August 30.
Echoing the victim families, jurists, human rights activists, politicians and student activists also called for unity to put pressure on the government to stop repression.
They warned the government that the persons behind the crime against humanity must be prosecuted in future as it happened in Latin American and other military-ruled countries.
Addressing the human chain, Saleha Begum said that her son SM Moazzem Hossain Tapu was a victim of enforced disappearance, who went missing the from Basundhara residential area in the capital on January 26, 2016.
Tapu, she said, was a popular leader of the ruling Awami League's student association Bangladesh Chhatra League in Rampura.
The mother said that she personally met prime minister Sheikh Hasina three times, the home minister 35 times, the inspector general of police five times and the Rapid Action Battalion director general three times so far to trace her son.
Her husband died of the shock over his disappearance, she added.
Jharna Khanam at the human chain said that the whereabouts of her husband Shamim Akhter had still been unknown since September 29, 2011.
'I want to know whether he was killed or not. The truth should be revealed,' she told the gathering.
Many family members held the microphone but could not describe how their dear ones went missing or were taken away by law enforcement agencies but only cried on.
Marufa Islam Ruma joined the human chain with her son Ramimul lslam Rifat, who was wearing a facemask written with 'Return my father'.
She said that her husband, an opposition Chhatra Dal activist Mafizul Islam Rashed, was picked up from Mirpur in 2013 and his whereabouts remained not known.
Several dozen family members regardless of their political ideology or religion narrated their ordeal at the gathering.
Asif Nazrul, a law professor at Dhaka University, said at the human chain that all the perpetrators behind the enforced disappearance would be prosecuted no matter when.
Gonosasthaya Kendra trustee Zafrullah Chowdhury said that he believed that foreign and local hands were behind enforced disappearances and the prime minister was kept isolated from the people.
Meanwhile, rights activists on Saturday criticised the government for continued rights abuses and said that evidence was being collected about the reported cases of enforced disappearance for future trial of the people behind the crime against humanity.
The rights campaigners said that more than 600 people became victims of enforced disappearance since the Awami League government assumed power in 2009.
Rights activist Nur Khan Liton said that none would be speared in the cases of enforced disappearance as evidence was being collected for future prosecution.
Odhikar director ASM Nasiruddin Elan alleged that 'fascism' was implemented in the country curbing the right to and freedom of expression.
BNP leader Sajedul Islam Sumon's sister Sanjida Islam Tulee said that the government was not responding to the calls made by the victims' families although witnesses saw Rapid Action Battalion-1 members picking up her brother and cousins week before the January 5, 2014 national elections, boycotted by all opposition parties.
The friends of missing United Peoples Democratic Front leader Michael Chakma said that their leader had remained missing since April 9, 2019 when he left a house at Narayanganj for Dhaka.
Nagorik Oikya convenor Mahmudur Rahman Manna called for unity as no autocratic government could continue till the last.
Civil rights platform Moulik Adhikar Surakkha Committee (Committee for the Protection of Fundamental Rights), meanwhile, organised a webinar on Saturday on the same occasion calling for unity among the rights campaigners from different ideologies and political beliefs.
Jurist Shahdeen Malik said that those who were behind the enforced disappearance would be prosecuted one day and the victim families would see their trials as happened in Latin America.
Ali Riaz, a distinguished professor of political science at Illinois State University in the USA, called for forming a common platform to find the solution as a culture of fear existed in Bangladesh, and it should start from the country.
Odhikar secretary Adilur Rahman said that the rights activists should find their way on how they could be united for a greater good.
Indian Supreme Court lawyer Nitya Ramakrishnan and Supreme Sourt lawyer Sara Hossain, among others, discussed the international instruments to counter the systematic repression on the people.
Apart from Dhaka, human rights defender networks formed human chains across the country voicing the same demands.
Want stories like this in your inbox?
Sign up to exclusive daily email
More Stories from Country